Stalwart D-FW sports reporter George Riba is ready to hang 'em up
01/05/15 11:29 AM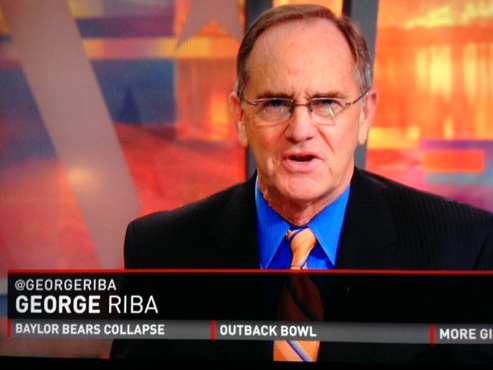 George Riba on the job during Gannett8's New Year's Day newscasts.
Photo: Ed Bark
By ED BARK
@unclebarkycom on Twitter
The new year rings in with the impending departure of D-FW's longest-running TV sports reporter/anchor.
George Riba, who joined WFAA8 in September 1977 after much briefer stints at KTVT-TV and KXAS-TV, will be retiring on Feb. 20th. His departure was recently announced during a WFAA8 newscast, but the exact date of his leaving wasn't specified.
"The decision is really based on age," Riba said in an email to unclebarky.com. "I turned 65 in May, so a February retirement brings me even closer to 66, which I had targeted. Although the target did change a time or two."
Riba, a University of Texas at Arlington graduate, came to WFAA8 during the early years of President Carter's administration. Those were the days when D-FW television stations were known by their call letters rather than their corporate ownerships. KXAS is now billed as NBC5, KTVT is CBS 11 and WFAA8 is dubbed Gannett8 in these spaces after Dallas-based Belo Corp. unloaded it late in 2013.
Raised on a farm in Stonewall, TX and formerly a country music disc jockey with KNAF radio in Fredericksburg, TX, Riba has run close to as many marathons ("29 and counting," he says) as the years he's spent at Gannett8.
"I'm not checking out entirely," he says. "Hopefully I'll be able to do something like voice-over work, commercials, part-time radio, maybe even bring back some drama-related activities. Who knows? I'm wide open to anything that's fun and hopefully less time-consuming. Even though I still love to run, I am getting older. So it's time to recognize that."
Riba's personal best marathon time, according to his Gannett8 biography, is a very impressive 3 hours and 1 minute.
We'll have more on Riba as his retirement date grows nearer. For now, here's the video of his on-air interview with Gannett8 anchor/reporter Marcus Moore.
Email comments or questions to:
unclebarky@verizon.net