Former D-FW entertainment reporter Christina McLarty continues to mix business with eye-catching L.A. hookups
11/07/11 01:20 PM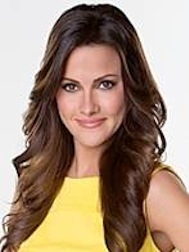 By ED BARK
Former CBS11/TXA21 entertainment reporter Christina McLarty, who left the D-FW market for L.A. in late 2006, is steadily working her way up via a combination of high-profile dating and more visible TV venues.
McLarty lately has been named to co-host CBS' coverage of The Macy's Thanksgiving Day parade. She'll join Kevin Frazier of
The Insider
for the 8 to 11 a.m. festivities.
McLarty spent four years on glitz patrol at KCBS-TV in Los Angeles before joining
Entertainment Tonight
and
The Insider
in February as a full-time correspondent. She's also currently dating recently bounced
Dancing with the Stars
contestant David Arquette, whose separation from Courteney Cox continues to pop in and out of the pages of tabloids and gossip mags.
Arquette
told People magazine
last month that his relationship with McLarty is "going well." He first identified McLarty as his girl on
Howard Stern's radio show
, where Arquette recurringly shows up to bare his soul. "We try to see each other as much as possible," he said.
Before hooking up with Arquette, the adventuresome McLarty was very briefly married to
Girls Gone Wild
impresario Joe Francis. They were wed in November of last year, but McLarty reportedly
moved out after Thanksgiving
, making the recent 72-day marriage of Kim Kardashian and Kris Humphries seem like a long-distance runner.