There's no "King" in team (nor "humility" in Jean-Jacques Taylor): Mavericks exude grit, class in winning first NBA title
06/13/11 12:21 PM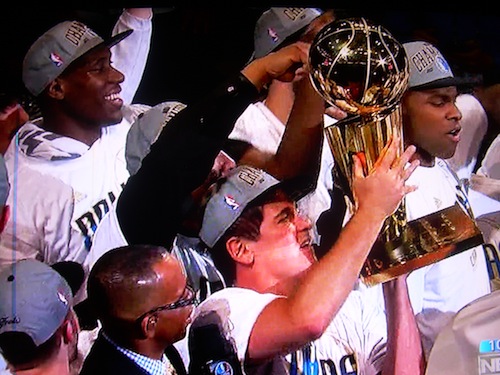 Mavs owner Mark Cuban finally wins the NBA's grand prize game.
Photos: Ed Bark
By ED BARK
The Texas Rangers' surprise ride to their first World Series felt pretty damned good, particular when they used the New York Yankees as a steppingstone to get there.
And before my time here in Dallas (which dates to 1979), the Dallas Cowboys first-ever Super Bowl win in 1972 surely was seen as the city's landmark sports event. Particularly after all those "can't win the big one" setbacks under legendary Coach Tom Landry.
The Dallas Mavericks' championship win Sunday night beats any and all contenders, though, for the feel-good D-FW sports event of all time. Or at least it seems that way to me, particularly after the team's first ever title came at the expense of the sense-of-entitlement Miami Viceroys and their incessantly analyzed superstar triumvirate of LeBron James, Dwyane Wade and Chris Bosh.
The LeBron Broadcasting Network (ABC) perhaps still hasn't gotten around to the idea that the Mavericks actually won. The Viceroys-centric coverage, with analyst Jeff Van Gundy particularly grating, reportedly prompted tons of dissenting viewer comments from around the country. And rightly so. Yes, the fall of a would-be empire is a good story. But not to the comparative exclusion of all those aging Dallas Knights intent on claiming the NBA throne before AARP beckoned.
Dirk Nowitzki, Jason Kidd, Jason Terry, Shawn Marion, Peja Stojakovich, Tyson Chandler, DeShawn Stevenson, Brendan Haywood and Brian Cardinal all had spent 10 or more years in the NBA (including this season) without having a championship ring on their finger. For this entire group to get one at once coulda shoulda been of constant interest to ABC, which instead never managed to satiate itself when it came to James/Wade angles.
In the end, though, the real hero here is owner Mark Cuban. He stifled himself during the entire playoff run, which likely was the equivalent to him of a dog going vegan. He hired coach Rick Carlisle to wide yawns from many commentators. And he kept this aging Mavericks team together despite running into brick walls of resistance from all the experts out there.
Re-signing Nowitzki -- and convincing him that the Mavericks would prevail someday -- was Cuban's masterstroke. Adding the oft-injured Chandler to the team ended up being a calculated risk that paid huge dividends. Cuban can be hard to take at times. But he had a plan and the fortitude to carry it out. So the team that had no chance became the heart and soul of the NBA and the country at large in its steep uphill fight to successively eliminate the Trail Blazers, the Lakers, the Thunder and finally, the Viceroys. Fairytales are taken more seriously than the Mavs' chances were at the start of this gantlet. But now the bandwagon is well beyond its seating capacity.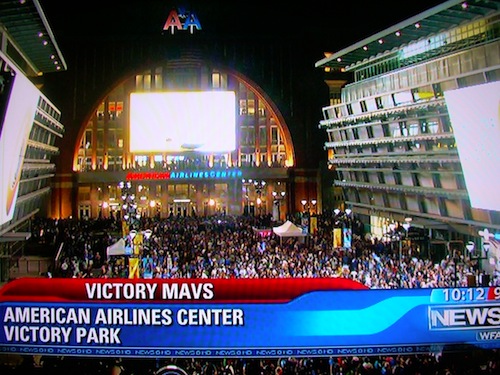 The post-game scene outside the AAC, as captured on WFAA8.
And now for a
mea culpa
from me and a jab at a
Dallas Morning News
sports columnist who's seemingly incapable of ever sucking it up and admitting he was wrong.
In an April 3rd post on unclebarky.com, I had this to say after the Los Angeles Lakers had humiliated the Mavericks by a score of 110-82 just over two weeks before post-season play started.
"Lakers coach Phil Jackson will always be Mavs owner Mark Cuban's daddy. Always," your friendly content provider wrote. Not quite. Dallas shocked the defending champs in a four-game sweep that climaxed with an incredible 122-86 blow on the Mavericks' home court. Jackson limped away to alleged retirement. Not only wasn't he Cuban's daddy anymore. He wasn't worthy of being Cuban's ineffectual brother, Fredo.
So yes, I was about as wrong as one could be. And it doesn't matter if a lot of other people felt the same way. I put my name to those words, and they were flat wrong. Period.
Now let's spend a little time on
Morning News'
sports columnist Jean-Jacques Taylor. Here's some of what he wrote on May 4, 2007 after the Mavericks were embarrassed in the first round of the post-season by the No. 8 seeded Golden State Warriors.
"The Mavs will never win a championship as long as Dirk Nowitzki is their best player," Taylor wrote in his lead paragraph. "Can you say total embarrassment? Blame it on Nowitzki. Avery Johnson and Mark Cuban disagree. Too bad. It's the truth. You know it is. Like spanking your kids. It hurts."
Taylor reloaded this past April after the Mavericks infamously blew an 18-point 4th quarter lead at Portland in Game 4 of the first round playoff series. After branding the team "gutless," he wrote, "They showed, one more time, why they're labeled soft. And chokers. They've earned every one of those monikers." Taylor concluded that the Mavericks "lack coconuts . . . These are the Mavs. they collapse in the playoffs. It's what they do."
Taylor since has chosen not to revisit any of those comments. Instead he's become Nowitzki's latter day caddy, writing earlier during this playoff run that the know-nothing "talking heads" suddenly are saying that that Dirk is "unguardable." According to Taylor, "most of us in Dallas-Fort Worth have known that for years, despite the incessant complaining about a few of the flaws in Dirk's game."
The short-on-guts Taylor also has chosen to forget that he ever called the Mavericks "gutless." Instead he blithely watched them run off seven straight playoff wins while writing a series of love letters to the team. His sports columnist colleagues at the
DMN
have the courage of their convictions and the willingness to come clean when they're egregiously wrong. Not Taylor. He's instead the kind of writer who cops to the lame plea of telling others they were mistaken without ever taking personal responsibility for his own scribblings. Who does he think he is -- Newt Gingrich?
Take it from Jean-Jacques, though, "The Mavs will never win a championship as long as Dirk Nowitzki is their best player." And he'll never be a championship sports columnist until he learns how to man up and stop being so "soft."
Let's end on a higher plane by noting that Cuban's gesture to original Mavericks owner Donald Carter was nothing short of magnificent Sunday night. He called on the cowboy-hatted old galoot to accept the Mavs' first NBA trophy while the team whooped it up on a national TV stage. It was a heartfelt cap to a season that just couldn't have gone any better.