It's triplets at 5 for WFAA8 newscasts
08/05/09 01:18 AM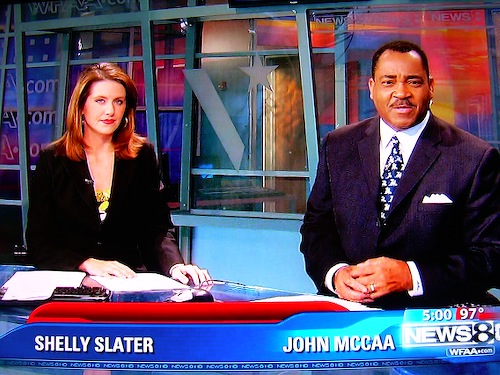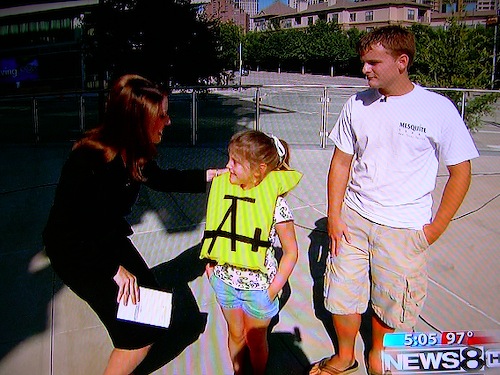 New duties: Shelly Slater joined John McCaa Tuesday at the 5 p.m. anchor desk before enduring the makeup-melting 97 degree heat outside the studio for a segment on child swim safety. Photos: Ed Bark
By ED BARK
Less than three years after arriving at WFAA8,
Shelly Slater
has joined the Dallas-based station's 5 p.m. newscasts as part of a rotating tri-anchor arrangement.
She began her new assignment this week, teaming with incumbents John McCaa and Gloria Campos, who's still on vacation. The day-to-day mix of anchors isn't firm yet, but Slater will be vacating WFAA8's Saturday newscasts while remaining in place on Sundays for a while, according to her August 1st tweet on the station's website. WFAA8 will use fill-in anchors on Saturdays while searching for a permanent replacement.
Sharply declining ratings for the preceding
Oprah Winfrey Show
have knocked WFAA8 from what used to be a dominant perch at 5 p.m. The station now is in a tight three-way fight with Fox4 and NBC5 for both total viewers and 25-to-54-year-olds, the main advertiser target audience for news programming.
"We have made a series of adjustments to our early evening news broadcast, making it even more relevant for our viewers," WFAA8 vice president/news Michael Valentine said in a station news release. "Adding Shelly to this mix will continue to enhance what we have already done."
Slater also will continue to report on other newscasts, Valentine said in the release, praising her as "an outstanding street reporter" whose expanded role "is an excellent growth opportunity." He declined to comment further.
As previously reported on unclebarky.com, WFAA8's 5 p.m. newscasts lately have been
notably more lifestyles oriented
, with anchors stepping away from their desks to conduct live interviews elsewhere in the station's Victory Park studios. On Tuesday's show, McCaa interviewed a coupon-clipper indoors while Slater ventured into the sweltering heat for a live interview on child swim safety.
The addition of Slater also might make the newscasts a bit more lippy.
"You are so full of it. It's entertaining, though," she told weathercaster Pete Delkus after he said he'd be kissing babies and running for political office during an appearance at Friday night's Roughriders baseball game in Frisco.
"That's part of the job requirement, Shelly," Delkus assured her.
WFAA8 hasn't used a rotating tri-anchor system since August 2002, when Scott Sams went to the early morning shift after helming 10 p.m. newscasts with McCaa and Campos.
"We were saddled with Scott Sams for a while, and to be brutally honest with you, I really kind of resented that," Campos said in a profile of McCaa I wrote for the March 2009 issue of
D CEO
magazine. "I felt like they didn't have confidence in John and me to navigate this boat."
Sams now is working the early morning shift at rival CBS11 while McCaa and Campos continue to co-anchor WFAA8's 6 and 10 p.m. newscasts.
Slater
joined WFAA8
in fall 2006 from WDAF-TV in Kansas City.