WFAA8 anchor Gloria Campos now has official end date
02/19/14 02:41 PM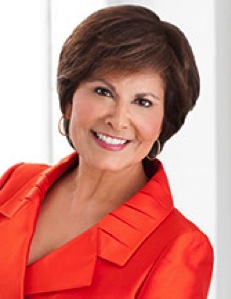 By ED BARK
@unclebarkycom on Twitter
She's made no secret of her decision to leave Dallas-based WFAA8 at some point this year after a long, trailblazing career.
Now anchor Gloria Campos and the station have reached an agreed-upon departure date. Her last 10 p.m. newscast will be on Friday, March 7th, Campos has just tweeted. She's been a part-timer since leaving WFAA8's 6 p.m. anchor desk on August 17th of 2012.
Campos, 59, joined the station in 1984 from KGBT-TV in Harlingen, TX. In January of 1990, she began co-anchoring WFAA8's weekday 5 p.m. newscasts with the late Chip Moody. Later in that same year, Campos became the first Hispanic of any gender to co-anchor 6 p.m. weekday newscasts in D-FW.
In spring of 1999, she joined a tri-anchor 10 p.m. team before WFAA8 settled on a Campos-John McCaa duo in August of 2002. They've been together ever since, and in the November 2013 ratings "sweeps" presided over the only WFAA8 weekday newscast to win its time slot in both total viewers and 25-to-54-year-olds (main advertiser target audience for news programming).
As
previously posted on unclebarky.com
, Campos had signed an 18-month deal with WFAA8 that was officially supposed to expire at the end of February 2014. But no one anticipated at the time that WFAA8 would be sold by Belo Corp. to Gannett Co., Inc., which officially took control of the ABC affiliate late last year. So Campos had been in meetings about possibly staying a bit longer even though she ached to begin a "new chapter" after 30 years at WFAA8.
"Life is full of transition, and I'm ready for that transition in my life," Campos told unclebarky.com when she confirmed her move to part-time status at WFAA8. "To be honest with you, I've been preparing for this for quite a while." She first approached WFAA8 management about cutting back in 2008, said Campos, who was elected to the National Association of Hispanic Journalists' Hall of Fame in 2010.
WFAA8 has been interviewing candidates to replace Campos, but so far has not made an official announcement.
WFAA8 is on track to win the 10 p.m. newscast races again during the ongoing February sweeps, which end on Wednesday, Feb. 26th. But the results will have an asterisk this time out due to prime-time Winter Olympics run-overs that will end up making it a three-way race on 11 of the 20 weeknights figuring into the final Nielsen totals. On all of those nights to date, the 10 to 10:30 p.m. portion of the Olympics has easily outdrawn any of the three competing local newscasts.
Campos is married to fellow journalist Lance Brown and they are the parents of twin sons Greg and Tony, who are now 20.
"We don't live lavishly," Campos said. "We don't have any debts. Believe it or not, I've always had that mindset that this job could disappear tomorrow. No one is irreplaceable. I certainly am not queen around here. I want to be the mate of my fate as much as I can be. I think that's quite remarkable in this business."
Email comments or questions to:
unclebarky@verizon.net