Local Nielsen ratings snapshot (Tues., Feb. 1) -- super-sized news numbers as North Texas remains in icy grip
02/02/11 10:33 AM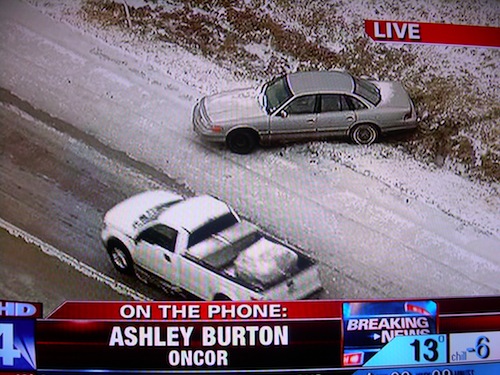 Frightful weather sends Super Bowl week skidding out of control.
Photos: Ed Bark
By ED BARK
Hungry for the latest news and hunkered down in their homes in many cases, North Texans invested heavily in Tuesday's local newscasts.
The 6 p.m. editions on Fox4, NBC5, WFAA8 and CBS11 drew the biggest overall audiences of the day while extended morning editions also figured heavily in viewers' plans. Let's look 'em over.
WFAA8 led the 6 p.m. parade, but all four stations were in the hunt with a combined audience of more than 1.25 million viewers. Here's the breakdown:
WFAA8
-- 360,136
Fox4
-- 304,731
NBC5/CBS11
-- 297,805 each
Fox4 topped the field, however, in the principal 25-to-54-year-old advertiser target audience for news programming, beating runnerup WFAA8 by a score of 161,548 to 142,908, with NBC5 and CBS11 trailing in that order.
Sizable audiences also were up for the usually little-watched 5 a.m. portions of local waker-uppers. Fox4 edged NBC5 in total viewers from 5 to 6 a.m., with 193,920 to the Peacock's 180,068. But NBC5 won the hour with 25-to-54-year-olds, averaging 127,375 viewers in this age range to Fox4's 114,948.
Ratings further heated up from 6 to 7 a.m. Here's how they finished in total viewers.
Fox4
-- 242,400
NBC5
-- 235,474
WFAA8
-- 173,143
CBS11
-- 124,663
NBC5 again took the gold, though, with 25-to-54-year-olds before dominating in both ratings measurements during the extended 7 to 9 a.m. weather coverage on all four stations. Here's the breakdown in total viewers for those two hours:
NBC5
-- 360,136
Fox4
-- 290,879
WFAA8
-- 173,143
CBS11
-- 117,737
In Tuesday's other local news derby results, WFAA8 ran the table at 10 p.m., drawing 318,582 total viewers with 127,375 in the 25-to-54 age range. And NBC5 controlled the 5 p.m. competitions, grabbing 332,434 total viewers, including 167,762 in the 25-to-54 demographic.
D-FW viewers also settled in Tuesday with a new episode of CBS'
NCIS
, which had more total viewers than any other single program with a very robust 588,635.
But the day belonged to the market's local newscasts, which were at it again Wednesday with more extended morning coverage. Among the reporters out in the field was CBS11's resident Marlboro Man, Bud Gillett. We'll leave you with him.