Local Nielsen ratings snapshot (Fri.-Sun., Feb. 7-9) -- return of The Walking Dead tarnishes NBC's Olympic gold
02/10/14 10:00 AM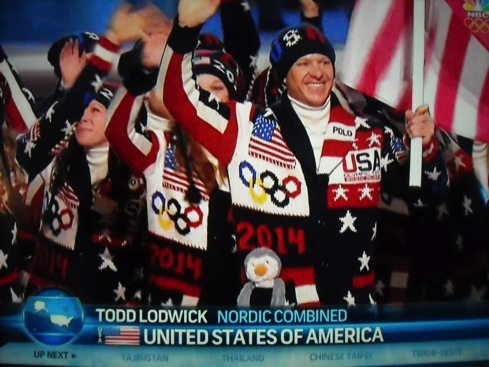 U.S. Olympic team enters Opening Ceremonies Friday in ugly Christmas sweaters, er, official team uniforms. Photo: Ed Bark
By ED BARK
@unclebarkycom on Twitter
NBC's prime-time Winter Olympics blitz dominated the weekend D-FW Nielsen numbers with one rather shocking exception.
AMC's return of
The Walking Dead
Sunday night topped the Games from 8 to 9 p.m. among advertiser-prized 18-to-49-year-olds. In the North Texas viewing area, that has to be the first time a cable attraction has flexed that kind of muscle opposite the Olympics.
Walking Dead
amassed 296,360 viewers in the 18 to 49 age range while the competing hour of the Olympics pulled in 273,563. The Olympics otherwise won the 8 to 9 p.m. hour in total viewers by a score of 582,307 to 411,875. The entire 6 to 10 p.m. bloc of Olympics coverage averaged 575,205 total viewers.
Over on CBS, the network's 7 to 9:30 p.m. 50th anniversary celebration of The Beatles' first appearance on
The Ed Sullivan Show
drew a nice-sized 284,052 viewers, with 87,931 in the 18-to-49 motherlode. That gave The Beatles an overall second place showing for the night among the Big Four broadcast networks.
A new episode of PBS'
Downton Abbey
logged 177,533 total viewers; just 32,567 were of the 18-to-49-year-old persuasion.
The Olympics easily led Saturday night from start to finish with 539,699 total viewers and 198,659 in the key 18-to-49 demographic.
On Friday, the Olympics' opening ceremonies rolled up a commanding 731,434 total viewers, with 267,049 in the 18-to-49 age range. So for the entire weekend,
The Walking Dead
ranked as the No. 1 individual attraction for 18-to-49-year-olds. Again, that's an astonishing achievement.
Here are Friday's local news derby numbers:
WFAA8 had the most total viewers at 10 p.m. in a downsized three-way race with Fox4 and CBS11. Fox4 ran first with 25-to-54-year-olds, the main advertiser target audience for news programming.
Fox4 swept both the 6 a.m. and 5 p.m. competitions while WFAA8 did likewise at 6 p.m.
Email comments or questions to:
unclebarky@verizon.net