This just in: A night in the lives of D-FW's late night newscasts (Fri., April 30)
05/02/10 05:32 PM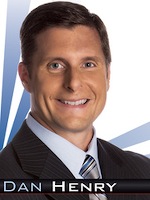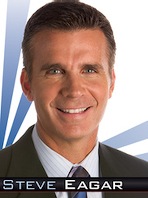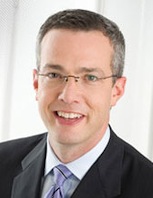 A pair of Fox4 veterans and WFAA8 reporter David Schechter
By ED BARK
The way they do the things they do remains a source of constant amazement. Latest Exhibit A: Fox4's 9 p.m. Friday newscast.
While rival stations for a change stifled their scare weather tactics, Fox4 decided that the night's top story was a "Chance of Storms."
"Don't put away that rain gear just yet," warned co-anchor
Steve Eagar
before temperature taker
Dan Henry
forecast "a slight risk of severe weather."
Brace for possible "pop up showers and thunderstorms," said Henry, who frankly might have been a bit embarrassed to be put in this position. We did learn, however, of a "high risk of severe weather in central Arkansas." Arkansas? Why not include the Dakotas, too?
As repeatedly noted in these spaces, weather is deemed a bigger selling point than ever by newscast consultant types. But how many times can you cry wolf with these top-of-the-newscast howlers? NBC5, WFAA8 and CBS11 at least waited until their appointed weather segments Friday night. Henry hit in the lead-off spot before Fox4 segued to reporter
Lynn Kawano
's extended report on a very disturbed 18-year-old who dug up a grave for the purpose of severing a corpse's foot and then putting it in his duffel bag.
Fox4 later was alone in fueling the flames of the immigration reform debate with a semi-breathless "Breaking News" story on the shooting of a deputy sheriff in Pinal County, Arizona. Anchor
Eagar
's initial summation said that a car with suspected illegals had been stopped for a traffic violation before the deputy was shot in the stomach with an AK 47. He described the deputy's condition as critical before quickly backing off and telling viewers, "His condition, excuse me, has not been released. The injury is said to be very serious."
He was wrong on both counts. Later in the newscast, Arizona-based Fox reporter Britt Moreno said the deputy is "supposed to be OK at this point" after being "grazed in the back by a bullet." While patrolling by himself, the deputy "encountered bales of marijuana and then he stumbled upon five suspected illegal immigrants," Moreno said rather clumsily. (He was released from the hospital after treatment Friday night.)
Technical difficulties further gummed things up after co-anchor
Heather Hays
asked Moreno how the shooting might affect an already "volatile situation" in Arizona and elsewhere. "I think it's going to fire people up on both sides," Hays told her.
"Well, I tell you, people
have
been fired up out here," Moreno readily agreed after first fighting a losing battle with her earpiece. "The air is certainly charged."
Fox4 certainly did its level best to stir the pot on the eve of Saturday's Mega March in downtown Dallas in protest of Arizona's new and controversial immigration reform law. It turned out to be a peaceful event that drew only about one-quarter of the 100,000 participants predicted by organizers.
The station also was alone in bothering to cover a Forney tanning salon customer's allegation that a worker had peeped at her through an air vent while she nakedly bronzed herself.
"I feel violated. I am distraught," the unidentified woman told Fox4 reporter
Peter Daut
. She later added, "(He) has taken something from me. He has taken my pride away." That seems a bit dramatic under the circumstances. But perfect for Fox4's purposes.
A tanning center spokeswoman said of the accused peeping Tom, "Under no circumstances do I believe he was looking at her." The man was arrested, charged with disorderly conduct and declined to be interviewed, viewers were told. Fox4 both identified him and showed his police mug shot.
In contrast, the night's best story came from WFAA8's
David Schechter
, who reported on efforts to help the homeless in times when they often are their own worst enemies. Outreach programs such as Dallas Crisis Intervention strive to get them back on their feet rather than burdening taxpayers with their constant visits to hospitals.
Schechter said that one man's recurring hospitalizations and releases are costing one hospital $600,000 a year. Another homeless woman who is both schizophrenic and a cocaine addict told Schechter she'd been to Parkland Hospital about 30 times in the past year. In better times she had been a fast food restaurant manager.
Winford Cross of Dallas Crisis Intervention nonetheless keeps offering a helping hand. And there are occasional success stories amid the constant setbacks.
"For financial and moral reasons, it's Winford's job not to give up on her," Schechter said at story's end after the aforementioned homeless woman again had fled to the streets. This was both a compassionate and an eye-opening story by one of local television's better enterprise reporters.
CBS11 led its 10 p.m. newscast with "team coverage" on the immigration reform debate, with veteran reporters
Stephanie Lucero
and
Jay Gormley
gamely trying to put things in perspective. Lucero's piece unfortunately was marred by a transposed "Border Over the Battle" tagline that took a while to correct to "Battle Over the Border."
Anchors
Karen Borta
and
Doug Dunbar
later rhapsodized over
Carol Cavazos'
piece on a World War II veteran and former German prisoner of war who was honored at a Denton Church.
"Wow, what a great story!" Borta exclaimed.
Dunbar readily agreed -- and then some. "Bless all of our veterans out there," he concluded.
WFAA8 anchors
John McCaa
and
Gloria Campos
also lapsed into preachment mode after
Gary Cogill
's story on an expensive new painting acquired by Fort Worth's Kimbell Art Museum.
"If you haven't been there . . . " McCaa began before Campos interjected, "Shame on you for one thing."
That's a great way to alienate a sizable chunk of viewers who no doubt lack her refinement.
Meanwhile on NBC5 it was casual Friday. Substitute anchors
Kevin Cokely
and
Kristi Nelson
stood in for first-teamers
Brian Curtis
and
Meredith Land
on the second night of the May sweeps. There also were no live reports from anyone, which frankly is no big loss on most nights. Standing alone in the dark for the sole purpose of being live often is a waste of resources.
NBC5's featured story, by
Grant Stinchfield
, was an unusually long taped piece on the one-year anniversary of the Dallas Cowboys' practice field collapse, in which two team assistants were seriously injured.
Time and again, a "KDAF-THE 33" bug was used for replays of the collapse. It only served to reinforce the fact that NBC5 had no one there at the time.
In fairness, though, NBC5's newscasts appear to be notably improved over the past year. Friday's 10 p.m. edition almost miraculously came and went without a single same-day crime story. Not a one. NBC5 for years had been the station where no wrongdoing was deemed too petty to report. The station used to routinely hit double-digits in a single newscast, with a few fires and car wrecks also thrown in.
The emphasis now is on "people" stories, such as
Scott Gordon
's harmless piece on more people doing their own home repairs with the intent to live in better surroundings rather than sell.
I'm not nearly sold on NBC5 yet. But there's a notable and welcome difference in story selection and presentation.