This just in: a night in the lives of D-FW's late night newscasts (Thurs., Nov. 15)
11/16/07 10:34 AM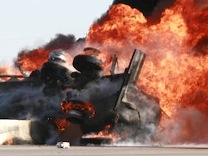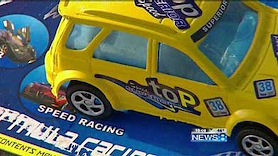 By ED BARK
A tragic, traffic-clogging oil tanker explosion and a lengthy investigation into lead-footed toy trucks figured prominently in Thursday's late night local news
coverage.
All four stations led with the big rig blowup that shut down both sides of Interstate 35E near Lake Dallas Thursday afternoon. Three relied on viewer video and still pictures for backup, with only CBS11 a holdout -- at least on its 10 p.m. news.
Such images increasingly are commonplace and also perfect for Web site promotion. NBC5 was the most active solicitor.
"Anytime you see news happen, you can email images to us from your cell phone," anchor
Jane McGarry
urged viewers.
The still-image above, from eyewitness Gregory Martin, is from Fox4's
Internet arm
. But Belo8 had the best overall coverage, thanks primarily to reporter
Bob Greene
's companion story on continued failed efforts to get funding for another exit off the oft-crowded Lake Dallas portion of I-35E. It was the only station to go this extra mile in a situation that put thousands of motorists on hold for several hours.
Fox4's
Lynn Kawano
also had a good sidebar on a day care center's extra efforts to keep kids fed and amused while their parents were powerless to pick them up.
CBS11 had surprisingly brief coverage, with only
Carol Cavazos
on the scene during the station's 10 p.m. program. That should be a topic of discussion during Friday's post mortems. Even though it happened in daylight hours, this was still a huge story.
Belo8 immediately followed its extended tanker explosion coverage with
David Schechter
's likewise lengthy report on what he called "a shadowy chain of toy suppliers" funneling dangerous miniature trucks and other playthings to mostly mom-and-pop bargain stores.
Schechter, a neat-nik with a Clark Kent-ish look, led a small task force into some area merchants and also journeyed to Los Angeles in hopes of investigating three L.A. importers. In all cases, he traveled with the Rev. Peter Johnson, who heads the Texas chapter of the Southern Christian Leadership Conference. Rev. Johnson believes that the lead-laced toys present a particular danger to underprivileged kids, whose parents can't afford to shop at more expensive stores.
"These toys are poisoning or children," he asserted.
Two of the merchants implored Schechter to call off his camera crew. And in L.A., one importer called the police, Schechter said.
Frankly, that's understandable. Try walking unannounced into any TV news lobby with a video camera rolling and see how long it takes security to respond to your efforts to speak to a news director.
Schechter's efforts had value, but also seemed a bit much. He wound things up live at the anchor desk, holding a still-packaged, lead-comtaminated race car that he had just bought. He more or less treated it like a hand grenade, telling anchor
Gloria Campos
, "That's about as close as you're gonna want to be" after handing the toy to her.
Over on NBC5, consumer advocate
Grant Stinchfield
also jumped on the contaminated toy bandwagon by telling viewers that some of these things are still being sold on ebay.
"All posing a threat to children," he told viewers before a seemingly coaxed mother agreed. "I definitely think it's -- worrisome."
Both of these reports came almost a week after CBS11 newcomer
Nerissa Knight
's Friday (Nov. 9) piece on recalled toys still being dumped off at Goodwill stores while its employees try to separate the good from the bad. Frankly, that was the most telling and unsettling look at this whole sorry mess.
In other news, CBS11 investigator
Robert Riggs
laid into the UT Southwestern Medical Center for the second time in a week. Again obtaining documents under the Public Information Act, he reported that more than $125,000 in high-end wine purchases had been made by president Dr. Kern Wildenthal and his assistant for distribution as gifts to hospital donors. Most of the wine was bought through a very pricey New York purveyor.
Last Friday, Riggs questioned the propriety of UT Southwestern's VIP list of more than 6,000 prominent North Texans earmarked for preferential treatment at the facility.
The Dallas Morning News
, which has several executives and reporters on the VIP list, beat him to the punch with a same-day story that essentially said it was no big deal.
In his latest report, Riggs sought comment from Dr. Wildenthal after camping out near his home. As Wildenthal drove off to work, his windows closed, Riggs shouted, "Dr. Wildenthal, Dr. Wildenthal! We'd like to talk to you about your wine purchases!"
Again, imagine trying this at the offices of one of your friendly local TV news providers.
The CBS11 web site edition of Riggs' story includes
lengthy statements
from UT Southwestern in defense of its wine rewards to well-heeled donors. They seem to provide reasonable justification, even if all of this is way too rich for most of us.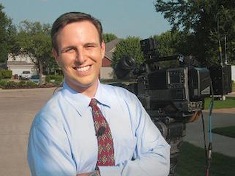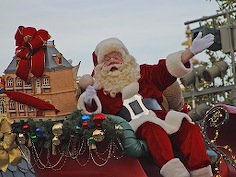 Fox4's under-recognized Jason Overstreet and you-know-who.
THIS AND THAT***
Fox4's
Jason Overstreet
is one of the market's best and most thorough reporters. Neither flashy nor trashy, he reports on matters of both import and human interest. On Thursday's 9 p.m. news, he got double-dipped.
Overstreet first reported on charges that Plano police officers repeatedly stopped a man for bogus traffic violations, in one case charging him with driving under the influence. The hitch: Musician Tray Boswell is involved in a bitter custody battle with his wife, who has strong connections within the Plano police department. His lawyer contends that officers were trying to hurt him in court, and for a while succeeded. The police wouldn't talk to Overstreet, but the matter now is under investigation.
Later in the newscast, Overstreet bounced back with a feel-good story on the city of Fort Worth's weight loss incentive program for government workers. They can receive up to $250 a year or two extra vacation days for slimming down. The city says it increases productivity. Interesting.
***
Belo8 sports reporter
Erin Hawksworth
had a story on Cowboys wide receiver Patrick Crayton, dubbed the team's new, lippy bad boy after Terrell Owens' decision to holster his mouth. CBS11's
Steve Dennis
got there first, though. His like-minded story on Crayton aired the previous night.
***
No. 3 on Fox4's addictive "Greatest Cowboy" list is running back Emmitt Smith. I would have put him No. 1, but sports anchor
Mike Doocy
said the remaining candidates for the top spot are quarterbacks Roger Staubach and Troy Aikman. The final order of finish will be announced Sunday night, with Staubach the likely topper.
***
Fox4 and Belo8 messed with Australia's efforts to re-program their department store Santas. It's being suggested that his trademark "ho ho ho" be changed to "ha ha ha" because "ho" could be offensive to some women.
Belo8's Campos and co-anchor
John McCaa
double-smacked this dumb idea.
"It's a little lame, lame, lame," she said.
"That's just a bunch of garbage," he said.
In a startling development, weatherman
Pete Delkus
had nothing to say. And sports anchor
Dale Hansen
had the night off.