Last call for KTXD-TV's The Broadcast
03/16/15 10:49 AM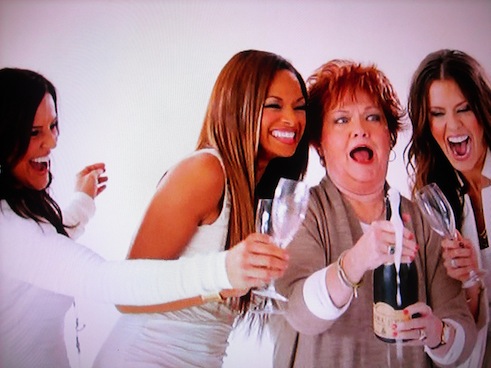 Original leading ladies of The Broadcast: From left: Lisa Pineiro, Pat Smith, Suzie Humphreys and Courtney Kerr. Only Pineiro remained for Friday's last broadcast on KTXD-TV (Ch. 47). Photo: Ed Bark
By ED BARK
@unclebarkycom on Twitter
After a little more than two years as a mid-morning, locally produced alternative to Gannett8's longrunning
Good Morning Texas
, KTXD-TV's (Ch. 47)
The Broadcast
breathed its last with Friday's one-hour show.
Originally
launched in partnership with D Magazine
on Feb. 18, 2013, the program never found anything close to a sizable audience in D-FW but did serve as a friendly watering hole for area merchants pitching their products.
GMT
still provides that service, via a pay-per-view, mini-infomercial system in which several guests per day buy five-minute spots.
The Broadcast
at its height ran from 9 to 11 a.m. daily and was repeated in the afternoons. It later was downsized to a 10 to 11 a.m. weekday slot. The original hosts were former CBS11 morning anchor Lisa Pineiro, veteran radio/TV personality Suzie Humphreys, Hall of Fame running back Emmitt Smith's wife, Pat Smith, and reality TV personality Courtney Kerr, best known for her stint on Bravo's short-lived
Most Eligible Dallas
, in which she was cast as a high-maintenance handful with she-devil tendencies. Only Pineiro remained with the program for its duration.
Former London Broadcasting chief operations officer Phil Hurley, who birthed both
The Broadcast
and
The Texas Daily
while running KTXD, said Monday that he hoped the station's laid-off employees "quickly find another opportunity. They're good people that worked hard."
Hurley, who remains in Dallas in a new position with Gannett, Inc. (owner of WFAA-TV), said it was "probably time to shelve"
The Broadcast
. "It never had the promotional money to help it find an audience in a very competitive morning news/information market like Dallas."
A repeat of
The Broadcast
aired Monday morning. There's no word yet on what will replace it. Rumors are that other locally produced KTXD programs also are being dropped as part of the station's latest makeover.
The Texas Daily
, which gathered a wealth of earlier prominent newscast stars in hopes of appealing to an older baby-boomer audience, was
canceled a year ago
.
Email comments or questions to:
unclebarky@verizon.net