CBS11 naming Phoenix's Kaley O'Kelley as Karen Borta's 5, 6 and 10 p.m. anchor successor
12/19/14 12:56 PM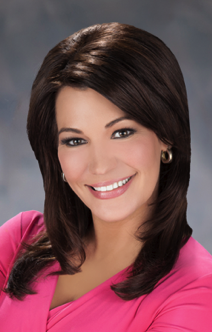 By ED BARK
@unclebarkycom on Twitter
For starters, she should be a big hit on St. Patrick's Day.
Sources at D-FW-based CBS11 have disclosed that veteran anchor Karen Borta's successor on the station's 5, 6 and 10 p.m. weekday newscasts will be Kaley O'Kelley from Phoenix's KTVK-TV. She's set to join the station on Jan. 19th and will begin anchoring with incumbent Doug Dunbar a bit later but in time for the February ratings "sweeps."
CBS11 management declined to confirm O'Kelley's hiring pending a Friday afternoon meeting with newsroom staffers.
O'Kelley, who also has been a weather anchor at Phoenix's KNXV-TV, joined KTVK in 2009 as "co-anchor, reporter and host" of
Good Morning! Arizona
, according to her
station bio
. KTVK is owned by Meredith Corporation as part of a duopoly with the market's CBS affiliate, KPHO-TV.
The Pepperdine University graduate also previously hosted
The Emmitt Zone
with former Dallas Cowboys Hall of Fame running back Emmitt Smith, whose last two years in the NFL were with the Arizona Cardinals.
A native of East Wenatchee, Washington, O'Kelley is a member of the Native American Journalists Association. She also has filled in as a weekend weather anchor on ABC's
Good Morning America
, hosted the daily magazine show
Sonoran Living Live
and was the climate expert on History Channel's
Life After People
.
CBS11 news director Mike Garber praises O'Kelley's "rare ability to connect with just about everyone" in official comments obtained by unclebarky.com before the station held its newsroom gathering. "She has some big shoes to fill, but we are confident that the Dallas-Fort Worth community will soon embrace Kaley and her unique style."
O'Kelley, in her station-approved statement, says that "my husband and I have always felt right at home in Texas, whether spending time with family in Dallas-Fort Worth or vacationing in the Hill Country. We're proud to make our home in North Texas and raise our kids here." O'Kelley's husband lived in Dallas before moving to Phoenix and meeting her.
In a
surprise shakeup Thursday
, CBS11 confirmed that Borta would be re-locating to the early morning shift after 19 years of late night and early evening newscast anchoring. On Jan. 12th she'll be replacing Adrienne Bankert, who has decided to "purse other opportunities" and will leave CBS11 on New Year's Eve, according to the station.
Borta didn't actively lobby for the move, but told station staffers in a since-posted video that she has enthusiastically embraced it after feeling guilty for the past several years about not spending more time with her three children, who are all now in junior high or high school.
"It's been very challenging for the last several years . . . I knew right away that this was a blessing," Borta said of the big switch.
CBS11 has long ranked fourth in the early morning ratings race and also is looking for a second news anchor to pair with Borta as well as a traffic reporter after the departures of Brendan Higgins and Whitney Drolen. The station additionally has a 4 p.m. weekday newscast vacancy following the recent departure of anchor Tracy Kornet.
O'Kelley's departure from KTVK and pending move to CBS11 was first reported by the national media website
FTVLIVE
, which posts "Gossip And News From Inside TV Newsrooms Around The Country," according to its masthead. The site later speculated that O'Kelley could be Borta's successor in a post headlined, "Taking Over the Main Chair in Dallas?"
Here's video of O'Kelley's tearful goodbye to her
Good Morning! Arizona
co-anchor, Scott Pasmore, who offered some parting gifts.
Email comments or questions to:
unclebarky@verizon.net