Post-Snyder 10 p.m. era ushers in subs for now on NBC5
07/08/09 08:25 AM
Kristi Nelson took Mike Snyder's long-held seat, with Jane McGarry in her usual spot on Tuesday's 10 p.m. NBC5 news. Photo: Ed Bark
By ED BARK
Hyperactive NBC5 sportscaster Matt Barrie -- but hey, he's growing on me -- found himself the only man in the house on Tuesday's 10 p.m. NBC5 newscast. He quickly swung from the lip.
"Me and the trio of female anchors will be back after the break!" said Barrie, flashing a satisfied thumbs-up to the accompaniment of off-camera male laughter.
So began the Fort Worth-based station's
post-Mike Snyder era
, at least in the late night arena. Kristi Nelson, co-anchor of NBC5's
First at Four
newscast, stepped in for Snyder, Samantha Davies subbed for meteorologist David Finfrock and Jane McGarry continued her 19-year run as 10 p.m. co-anchor.
Obviously this is temporary. But how long will NBC5 wait until announcing a permanent (as far as these things go) replacement for Snyder, who's downshifted against his will (despite the news release pronouncements) to the 5 and 6 p.m. editions?
Currently running third in the 10 p.m. total viewer ratings, NBC5 presumably will give McGarry a new partner before the scheduled Sept. 14 premiere of
The Jay Leno Show
, which will occupy the weekday 9 to 10 p.m. slot in one of the riskiest moves in network TV history. There's a very slim possibility that McGarry could fly solo, but that might be even riskier.
Prime candidates for the job appear to be three in-house staffers, all of whom are currently anchoring at other hours. In no particular order, let's handicap the field: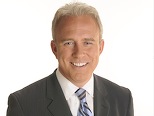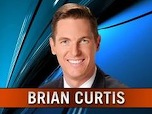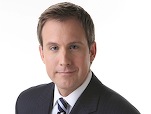 NBC5's Brendan Higgins, Brian Curtis and Scott Friedman
BRENDAN HIGGINS
(co-anchor of early morning newscasts)
Upside:
Quick on his feet and glibbest of the three. Graying mane might be a better match for aging Jane.
Downside:
NBC5 has shot back to No. 1 in the key early morning ratings, with Higgins and Deborah Ferguson an appealing, seasoned team. Why would you mess with that?
BRIAN CURTIS
(co-anchor of
First at Four
newscasts)
Upside:
Personable, exceedingly telegenic and a smooth operator with a TelePrompTer.
Downside:
Not that this necessarily matters any more, but he'd be the softest reporter ever to ascend to this market's showcase newscast. On Tuesday night he did a story on a new wrinkle reliever. Also specializes in lightweight "Big Fat Savings" features. Might look a little too young next to Jane, but could pass for baby brother.
SCOTT FRIEDMAN
(anchor of early morning weekend newscasts)
Upside:
Not that this necessarily matters any more, but he easily has the strongest reporting credentials of this group. In fact he's one of the market's best. Solid behind a desk, too, and can be congenial when required.
Downside:
May like reporting too much to take a job in which it's really not a requirement unless NBC5 decides to return to the old days of long-forgotten early '80s anchor Dave Layman. He once told your friendly content provider, "My thing is traipsing through weeds, knocking on doors and covering a story. That's what I enjoy doing. The anchoring to me is secondary, much to the disgruntlement of management sometimes." Management eventually responded by firing him.
JANE MCGARRY
-- as a solo act.
Upside:
It'd be lots cheaper in the long run. So why not get viewers used to the idea now?
Downside:
Boy-girl anchor teams long have been a staple of local newscasts, particularly in late night. Too many viewers might be put off their feed at a time when the impending Leno initiative already has Peacock station managers sweating like sumo wrestlers in a sauna.
That said, whadda I know? What do you think?