Dale Hansen's opinions are his own -- and he's again taking some home run cuts in a pre-World Series interview
10/26/10 01:04 PM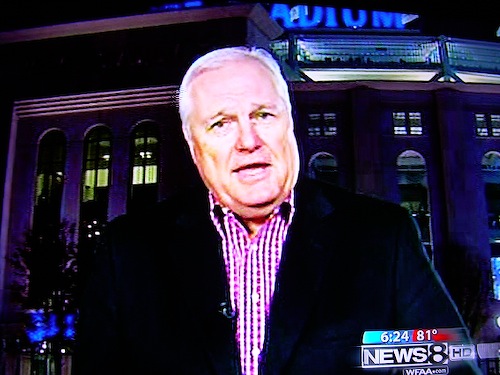 WFAA8 sports anchor Dale Hansen goes live in New York during last Wednesday's Game 5 ALCS matchup between the Yankees and the Texas Rangers, who begin World Series play Wednesday. Photo: Ed Bark
By ED BARK
WFAA8 sports anchor Dale Hansen, entrenched in D-FW for nearly three decades, has made his bones by letting his opinions fly in all directions.
So he's not about to bunt when chided about his "newfound love" of baseball during the Texas Rangers' unprecedented post-season exploits.
"I think my treatment of the Rangers since I've been here has been dead-on," he says in a telephone interview Monday before boarding an early morning Tuesday flight for San Francisco. "I follow the big stories. I follow the good stories. Not everybody, but too many viewers say they don't like it when they see me at the ballpark (after years of mostly staying away). As arrogant as this sounds -- and I mean it to be incredibly arrogant -- I feel sorry for fans and franchises that feel it's necessary for me to be there to validate their sport."
So there. Hansen pretty much sees himself as the emperor king of D-FW sports anchors after outlasting numerous rivals over the years. And furthermore, "It's not that I'm trying to jump on the bandwagon or fake my enthusiasm for the Rangers or whatever. It's a huge story . . . It offends me that some people have a hard time understanding that."
Hansen's Bay City excursion, tied to the first two games of the World Series between the Rangers and Giants, will include a Tuesday, 6:30 p.m. special titled
Rangers Live: Hansen Style
. He taped interviews with pitcher Cliff Lee and outfielder Josh Hamilton on Sunday, and remains both astonished and impressed that both star players were made available after he requested them on short notice.
"I asked for them while hoping like hell that I at least get Ian Kinsler and Colby Lewis," Hansen says. "There's not a day in hell I could get Tony Romo three days before the Cowboys were in a Super Bowl. Or Dirk Nowitzki three days before the Mavericks were in the NBA Finals. It's what I particularly love about this particular group of Rangers."
In short, Hansen doesn't like being crapped on. And he'll oftentimes respond accordingly.
"I'm the only one that's probably dumb enough to admit that if you treat me poorly, I'm going to take every opportunity to treat you poorly unless you're really good," he says. "I've just never denied it. I like media friendly people. Was my coverage of (former Cowboys coach) Barry Switzer colored by the fact that I think he was a complete ass? It probably was. And it's been vice-versa in the case of (current coach) Wade Phillips, who's a very decent man."
Dallas Mavericks owner Mark Cuban currently isn't talking to him, Hansen says. Ergo, " I love the hell out of" the Mavericks playing their regular season opener in relative obscurity Wednesday night opposite Game 1 of the World Series. "I just think it's laugh out loud funny. I really hope that the Rangers game gets over early enough for us to show highlights, because if it does, I probably won't even mention the Mavericks opener."
Hansen says that baseball was "probably far and away my favorite sport" as a kid. And during his early years in D-FW, "I used to go nuts over the Rangers," he says. "But they were some tough-ass guys to deal with, and I just got tired of the rudeness . . . Far and away baseball players are the most difficult guys to deal with. Most of them have never dealt with the media before. Hell, in Texas, high school football players are more media savvy" while baseball players at the high school and college level generally play in comparative obscurity.
The current Rangers are a major exception, Hansen says. They're a winning team willing to accommodate the media. And that's the way to Hansen's heart.
Team president Nolan Ryan, who was "fantastic" with the media as a player, has taught those same lessons to the new Rangers, Hansen says. There's also longtime face-of-the-franchise Michael Young, who in Hansen's words, "tells the players, 'You will be cooperative with the media. You will be fan-friendly. We're going to be the class organiation.' "
"I don't make any apologies for loving that," Hansen says.
Several seasons ago, he got to the point of pretty much loathing the Rangers, whose losing ways made them all that much easier to dump on or ignore all together during Hansen's sports segments.
He remembers former owner Tom Hicks enticing him to spring training with a vow that the players would be accommodating. Instead, Hansen says he was pretty much stiffed while trying to do a piece on baseball being the hardest sport to play at the highest level. The impetus was former NFL player Brian Jordan, who had made the transition to baseball with the St. Louis Cardinals, Atlanta Braves and Los Angeles Dodgers, and at the time was trying to make the 2004 Rangers roster.
Young as usual was cooperative, but pitcher Kenny Rogers said he "didn't have time," Hansen recalls.
"And then (former Rangers infielder) Hank Blaylock looked up at me and said, 'Aw bullshit, hockey's the hardest game to play.' "
Hansen wanted to hear more, but says Blaylock instead cursed him while ordering a WFAA8 cameraman to point his lens elsewhere. Former Rangers pitching coach Orel Hershiser wouldn't talk either. And after 15 minutes had passed, Rogers was still hanging around to say he didn't have time, Hansen says.
"I said, '(Bleep) this boys, we're outta here,' " Hansen recalls. "Of course stuff like that can carry over into the coverage. My personal feelings on a lot of things will have a bearing."
Hansen since has warmed to the Rangers and their success, but can't tolerate the restrictions placed on coverage during the playoffs and World Series. During the American League Championship Series, showing highlights or doing interviews in the Rangers club house or on the field were prohibited until TBS cable had ended both its game and post-game coverage. Fox will exercise the same exclusive rights this week and next.
In New York for the Yankees-Rangers series, Hansen and rival station anchors and reporters also weren't allowed to report live or on tape from inside Yankee Stadium while a game was still in progress. And Hansen says that his vantage point in the ballpark was less than ideal before he had to exit outside to do live reports while Games 3-5 were still in progress.
"Here I am, on one of the highest-rated stations in the country, sitting in the top row in right field where I can't see much of anything and I'm freezing my ass off," Hansen says. "And then you have to go outside the building to do your report. That is just so offensive to me. I can't get it out of my craw."
Hansen and his WFAA8 cameraman also were banned from shooting inside the stadium during pre-game hours, he says. Even an intendedly humorous story on the Yankee Stadium food, which has calorie counts affixed, was nixed by security, he says.
"I said, 'You can't show the bratwurst?' I think that was more Yankee Stadium than it was Major League Baseball restrictions. The place is run by fascists."
Hansen will be on site anyway for Games 1 and 2 of the World Series in San Francisco. And if he doesn't like something, then obviously he'll say it. So will his detractors.
"People say, 'Sure, now you're with the Rangers, now you're talkin' baseball,' " Hansen says. "And I say, 'What was I supposed to talk about before this season?' . . . It's not a newfound love of baseball. It's just that this is a very, very good baseball team. And now I'm just along for the ride."