Local Nielsen ratings snapshot (Mon., July 25) -- numbers for Night 1 of Dem convention reflect rampant viewer polarization
07/26/16 10:21 AM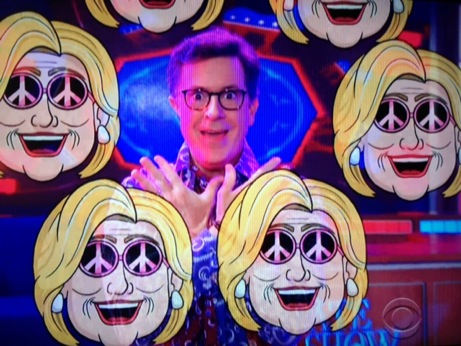 Stephen Colbert went psychedelic on his live post-convention show.
Photo: Ed Bark
By ED BARK
@unclebarkycom on Twitter
Fox News Channel fell from first to last among the three cable news networks while MSNBC vaulted from an overall last to first for Monday's Night 1 of the Democratic National Convention in Philadelphia.
Such are the times we live in, with many viewers opting for their "home team" network while CNN remains firmly but solidly caught in the middle. Last week's Republican convention coverage had put FNC in the ratings driver's seat, particularly on closing night.
ABC, CBS and NBC again waited until 9 p.m. to join MSNBC, CNN, Fox News Channel and PBS in covering the Dems. Everyone went long when the night's climactic speech from Bernie Sanders began late and stretched to 10:22 p.m. The Big Three broadcast networks all had exited by 10:25 p.m. while the cable networks plowed on deep into the night.
Nielsen measures in 15-minute increments. Here are the D-FW ratings in both total viewers and 25-to-54-year-olds (main advertiser target audience for news programming) for the convention coverage from 9 to 10:30 p.m.
Total Viewers
NBC/MSNBC -- 106,236 apiece
CNN -- 99,154
Fox News Channel -- 77,906
ABC -- 70,824
CBS -- 56,659
PBS -- 35,412
25-to-54-Year-Olds
MSNBC/CNN -- 50,597 apiece
NBC -- 47,621
ABC/FNC -- 29,763
CBS -- 17,858
PBS -- 8,929
On Fox Sports Southwest, the Texas Rangers returned home and delivered a dramatic walk-off homer win to beat the Oakland A's. Adrian Beltre hit it and the Rangers averaged 141,648 total viewers. But the biggest single-network number came from NBC's 7 to 9 p.m. edition of
American Ninja Warrior
, which had 198,307 total viewers.
Monday night's 9 to 10:30 p.m. Democratic convention coverage on all seven networks drew 552,427 total viewers and 205,365 in the 25-to-54 age range. Both exceeded the respective Night 1 numbers for the Republican convention, which had 524,098 total viewers and 181,533 in the 25-to-54-year-old demographic.
Here are Monday's local news derby numbers, with the 10 p.m. editions not counted due to the convention run-overs.
Two stations collected all of the gold. Fox4 as usual won at 6 a.m. in both total viewers and 25-to-54-year-olds. NBC5 swept the 5 and 6 p.m. competitions in both ratings measurements.
Email comments or questions to:
unclebarky@verizon.net