It's sex for sale as D-FW's top two 10 p.m. ratings-getters get into "sweeps" mode
02/01/11 01:24 PM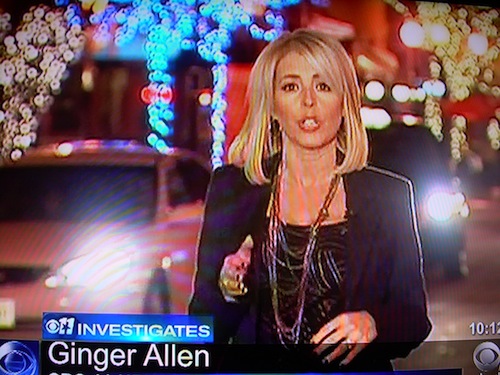 CBS11's Ginger Allen reports on Super Bowl sex trade. Photos: Ed Bark
By ED BARK
Never mind that irksome arctic blast. Whether by plane, train, automobile or snowmobile, the hookers are coming, the hookers are coming to sully D-FW's big Super Bowl week.
Actually it depended on which station you watched Monday night. The February "sweeps" don't start until Thursday, but 10 p.m. ratings kingpins WFAA8 and CBS11 already have warmed up with a time-worn audience lure.
Both stations had heavily promoted reports on underage sex trafficking, Super Bowl style, with WFAA8's Jason Whitely questioning whether it's a reality while CBS11's Ginger Allen pretty much assumed that it is.
"Well, it's called the seedy side of the Super Bowl," WFAA8 anchor-reporter Shelly Slater told viewers from her live perch at Fort Worth's Sundance Square. "We've been hearing for weeks now that there is a wave of prostitutes coming to North Texas for the big game. So is any of this really true?"
Then came Whitely, who noted that "predictions are dire" when it comes to minors being enslaved by pimps for the purpose of playing for pay at mega-sporting events.
Deena Graves of Traffick 911 said that the infestation of Super Bowl XLV "will be like nothing we've ever experienced before." She forecast "an alarming increase in underage girls sold for sex."
Whitely then went against the grain, researching whether the previous three Super Bowls in fact had become hooker havens. Police Sgt. Tommy Thompson of Phoenix, which hosted the 2008 game, said via telephone that "we did not notice an increase (in prostitution) or anything out of the ordinary." And for the last two Super Bowls, in Tampa and Miami, only 11 and 14 prostitution arrests respectively were made in the week leading up to the game, Whitely said.
Organizers of the most recent Winter Olympics in Vancouver likewise found no discernible increase in sex trafficking, said Whitely, whose story was slugged "Super Bowl Myths."
"Critics blame some women's groups for these rumors, trying to raise awareness without the facts," he then said, lowering the hammer.
Maybe police and event organizers were looking the other way? Or maybe Whitely was a little too intent on proving his thesis -- and thereby knocking down a competing station's plan of attack?
He did say at story's end that "no one disputes that trafficking is a serious and a sickening problem." But whether a Super Bowl "intensifies it is a prediction that no one can yet prove."
CBS11's Allen went the conventional route, never questioning predictions that Super Bowl XLV will be a magnet for rampant prostitution.
"One organization says that thousands of under-age girls will be brought here as sex slaves," Allen said, referring to New Friends, New Life. Its executive director, Katie Pedigo, contended that "every two minutes a child is sold into (the) sex life."
Allen also interviewed a silhouetted woman named Amanda, whose previous life as a teenage sex slave has put her on "a mission" as Super Bowl week intensifies.
Amanda specified some telltale signs that an underage girl is being held against her will. They include "inappropriate clothing" tattoos and bleach blonde hair, none of which in reality would narrow it down all that much.
Depending on which station you believe, teen sex trafficking will be either a flood or a bare trickle this week. Whitely seemed to have more basic facts in his corner, though, while Allen interviewed a couple of women without raising any further, bigger questions.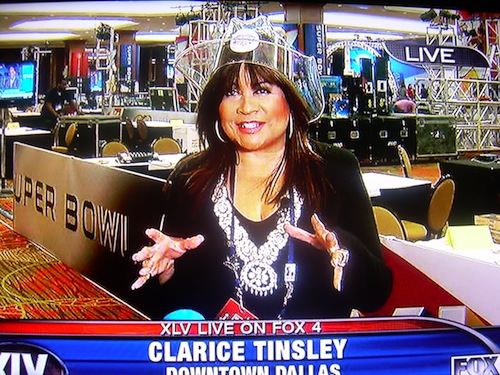 Show 'n' tell: Fox4's Clarice Tinsley wore an "Acrylic cowboy hat."
Earlier Monday, Fox4 launched its week-long
XLV Live
program, which will be supplanting the syndicated rag mag
Access Hollywood
at 6:30 p.m.
"You are looking l-i-i-ve at Cowboys Stadium," anchor Steve Eagar said for starters, channeling Brent Musburger's scene-setting tagline while he shared the stage with his usual on-air partner, Heather Hays.
They sat outside Jerry's Palace in chilly but comparatively balmy weather while warning viewers of a frigid cool-down that in fact came to pass on Tuesday morning.
The program included trusty Richard Ray's solid piece on Tom Landry's place in Super Bowl history and longtime anchor Clarice Tinsley's silly display of the "swag" being given to each member of the visiting media. This amounted to a couple of magazines, a map, a miniature squeezable football and a "coveted media pin" that Tinsley cooed about before Hays carped that she hadn't been given one during her earlier check-in at the Super Bowl "Media Center."
Tinsley also donned an "Acrylic cowboy hat" -- and looked kinda goofy doing so. She said that celebrities would be signing it as part of the Super Bowl festivities.
Veteran sports anchor Mike Doocy, his hair looking newly dyed (but tastefully) and definitely spikier, nonetheless was portrayed as "The Old Man" during a taped football-tossing competition at the NFL Experience in downtown Dallas. Doocy lost 3-2 to a 10-year-old boy, prompting a big dose of ribbing from his colleagues and a printed on-screen jab that read, "You are TOAST, old man."
Obviously it's going to be a long week of Super Bowl nonsense on the part of all four major D-FW television news providers. Fox has the game, so Fox4 is intent on "owning" this story. But at least WFAA8 sports anchor Dale Hansen, who will have his own special on Wednesday at 6:30 p.m., can always be relied on to puncture various over-inflated balloons.
Noting the Green Bay Packers and Pittsburgh Steelers arrivals in Dallas Monday, Hansen said during Monday's 10 p.m. newscast: "If they wake up early tomorrow, see (weatherman Pete) Delkus in shirtsleeves and no coat, acting like the world is about to end, they're bound to be asking themselves, 'What's
wrong
with these people?' Of course it's their fans who wave towels and wear cheese on their heads. So it's not like they can make fun of us -- too much anyway."
Delkus and co-anchor Gloria Campos could be heard chortling at that one before Hansen signed off with, "If there is a tomorrow, I will talk to you then."
Tomorrow's here -- cold, windy, icy snowy and temperate in the eyes of all those prostitute-prone visitors from Wisconsin and Pennsylvania.