This just in: a night in the lives of D-FW's late night newscasts (Thurs., Nov. 11)
11/12/10 12:53 PM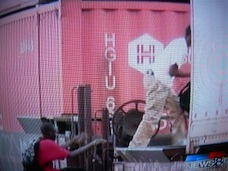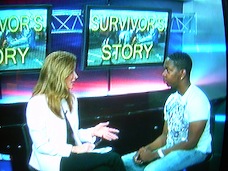 WFAA8 and Fox4 both had innovative lead stories. Photos: Ed Bark
By ED BARK
Temperatures will be dipping a bit over the weekend and some intermittent rain is expected, too.
Ooh, scary. Not really. Still, NBC5 and CBS11 went the all-too-easy routes by leading their 10 p.m. newscasts with weather updates Thursday.
"We'll be going from short sleeves and sunglasses to jackets and umbrellas," CBS11 co-anchor
Karen Borta
warned before tossing it to meteorologist
Larry Mowry
.
This is hardly cataclysmic, and none of the stations' weathercasters portrayed it as such. But whether the weather is frightful is often beside the point. Newscast consultants say it's hard to go wrong by leading with it. So NBC5 and CBS11 succumbed while Fox4 and WFAA8 resisted in favor of topping their newscasts with distinctive stories that no one else had.
Fox4 wasn't alone in reporting on Wednesday's early afternoon I-30 pileup that left traffic in place for hours on end. But it was the only station to interview the driver whose recently purchased red Ford Focus was caught right in the middle of it when a cement mixer truck plowed into him.
"It was like a really bad horror movie," survivor Xeaver Dupree told co-anchor
Heather Hays
during a live in-studio interview.
He had been driving to a job interview, Dupree said, when the truck crossed over into opposite direction traffic and leveled his car while he was heading to a job interview. Soft-spoken and still clearly shaken, Dupree said he squeezed his way out of his car and helped another lady out of hers before he passed out. He didn't know if he'd be able to sleep Thursday night.
This was a prime grade human interest story, made all the more immediate in a live interview setting. Fox4 sometimes sinks with its latter day turn toward oft-lengthy in-studio segments tied to current issues or events. But this one was a keeper.
WFAA8 also had an eye-opener, leading its late nighter with
Gary Reaves'
"Dangerous Crossing" story on Union Pacific trains that regularly violate city ordinances by blocking an intersection in Pleasant Grove for more than an hour at a time. The station had video of Skyline High School students climbing over the train between car couplings rather than wait for it to start moving again.
This obviously is a dangerous gambit. And Reaves' story underscored this by telling viewers that "exactly 27 second later, another train roared through on the neighborhood track." WFAA8 had the accompanying video to prove it.
Trains make these lengthy stops to unload automobiles at a close-by rail yard, Union Pacific told WFAA8. But in a statement, the train company said it is "very concerned about the safety of the students and will explore how we can alleviate this situation for them."
The whistleblower in this case, interviewed by Reaves, was a neighborhood man who said he had been complaining about the situation for years. Oftentimes it takes a companion TV story to vividly illustrate the problem and force action. This apparently will be one of those times.
All four major late night TV news providers devoted time to Veterans' Day, with WFAA8 offering comparatively scant coverage while Fox4 had story after story.
The standouts were Fox4 reporter
Brandon Todd's piece on an impressive start-from-scratch World War II museum in Fort Worth and Fil Alvarado's piece on a 73-year-old veteran who journeys to DFW Airport almost every day to greet arriving troops.

On CBS11, co-anchor Doug Dunbar had an affecting story on a non-profit "Honor Flight" program that takes North Texas WWII veterans to Washington, D.C. to see various war memorials for the first time.

The station also had a second intended heart-tugger by freelancer Jane Slater, who interviewed the widow of a North Texas man (Kerry James) who perished four years ago in a mountain-climbing tragedy that received heavy national coverage. The story went on way too long, though, with Slater needlessly asking at its end, "Do you think he'd be proud of you right now?"

"Yeah," said Karen James, fighting back tears.

One can empathize with anyone who has lost a loved one. And I'm not trying to diminish anyone's long-held grief. But perhaps it's time for something of a moratorium on stories of this sort. They've almost reached the epidemic -- if not the exploitive -- stage, with WFAA8's Rebecca Lopez doing an "exclusive" interview Thursday night with the parents of a deceased 10-year-old boy. They had decided to talk on TV "for the first time" about their son's death two years ago. While riding his bike in the night he was struck by a police officer who allegedly was driving 30 miles per hour over the speed limit while responding to a non-emergency situation.

NBC5 reporter Scott Gordon had a story of far more immediate import. He interviewed the widow of a man who was shot and killed on Oct. 26th while walking his dog. The couple had been married for just two months when the murder occurred. And police still have no leads or witnesses.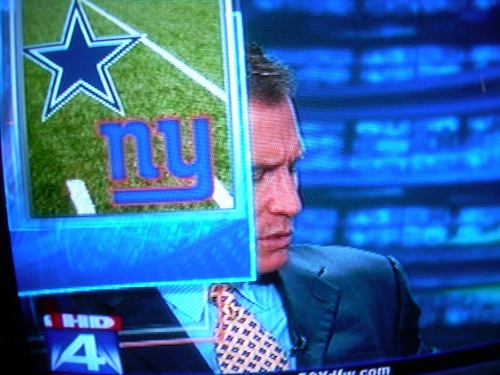 Fun with audio -- or lack thereof. Sports anchor Mike Doocy partly vanishes behind a Cowboys logo while trying to be heard.
IN OTHER DEVELOPMENTS . . .
Fox4's 9 p.m. news stopped being a talkie for several very long seconds when sports anchor
Mike Doocy
's mike went dead.
He eventually borrowed anchor Hays' mini-mouthpiece and held it to his own mouth while doing what comes naturally -- another Dallas Cowboys story.
***
WFAA8 had a nice change of pace from sports reporter
Ted Madden
. He had a story on the largely overlooked FC Dallas pro soccer team, which had a 19-game winning streak this season and now is vying for a conference championship against a Los Angeles Galaxy team fortified by soccer superstars David Beckham and Landon Donovan.
***
CBS11 reporter
Jack Fink
usually does his own reporting, and has proven to be quite capable at it. But on Thursday the station had him narrating a prominently played interview with two North Texas survivors of the now infamous Carnival Splendor cruise ship breakdown.
The interviews were done in a Los Angeles hotel room, obviously by someone other than Fink. He said as much by signing off with "In Dallas, Jack Fink. CBS11 news." Memo to station management: Don't make him do this stuff.
***
Fox4 reporter
Shaun Rabb
had an "exclusive" sit-down with U.S. Rep. Pete Sessions of Dallas County, a key Republican player who said at one point, "The poor have a president in Barack Obama that they overwhelmingly elected. And the president has unemployment numbers that have never been seen by this country. The African-American unemployment is as high as it's ever been."
Rabb later followed up, telling a notably clammy-looking Sessions, "A minute ago you referred to him as the president of the poor. Is he the president of the rich as well?"
"I did
not
refer to him as the president of the poor," Sessions replied. "I referred to him as an African-American president. And African-Americans have very high unemployment."
Make of this what you will.