Former NBC5 reporter Jay Gray arrested for drunk driving after attending party thrown by attorney for accused child molester Jerry Sandusky
12/21/11 07:46 AM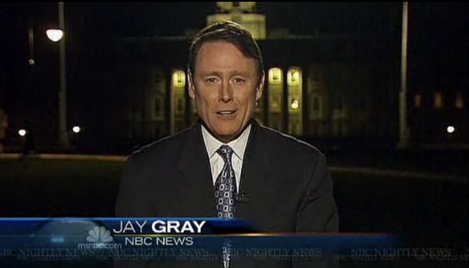 By ED BARK
NBC reporter Jay Gray, formerly a nightside reporter and investigator for Fort Worth-based NBC5, is not likely to have a terrifically joyous holiday season.
Based on official police reports,
TMZ reports
that Gray was arrested for driving under the influence early on the morning of Dec. 12th after attending a Dallas Cowboys-New York Giants watch party at the Pennsylvania home of accused child molester Jerry Sandusky's attorney, Joe Amendola. The story since has spread all over the Web.
Gray and other reporters attended the party in hopes of landing an exclusive interview with Sandusky, the central figure in a sexual abuse scandal tied to the Penn State University football program.
Gray, who still lives in the Dallas area with his family, reportedly was initially stopped for a traffic violation by a Pennsylvania State police officer. He worked at NBC5 until the early 2000s, and is occasionally seen on the station's local newscasts from the scene of breaking stories.