McGarry makes maiden voyage on WFAA8's Good Morning Texas
01/24/13 10:56 AM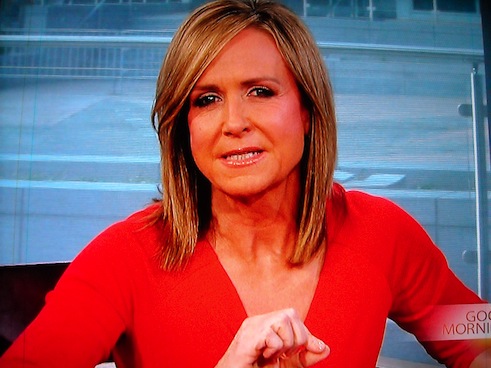 Jane McGarry wraps up her first GMT segment Thursday. Photos: Ed Bark
By ED BARK
@unclebarkycom
Starting over in her own right, former NBC5 anchor Jane McGarry returned to local television for the first time since last May for her inaugural "Starting Over" segment on Thursday's edition of WFAA8's
Good Morning Texas
.
It was OK for starters, although McGarry rather fixedly read a TelePrompTer in the program's opening minute after being warmly welcomed by co-host Paige McCoy.
"After all, every single day, someone among us is -- starting over," she intoned before returning midway through the program with a story on a Tolar, TX couple whose son was killed four months ago in Afghanistan.
McGarry's arrest on a DWI charge last May received heavy publicity before she eventually
pleaded "no contest"
and apologized on July 10th while NBC5 simultaneously accepted her "resignation." Although she's been almost hyper-active on Facebook and Twitter, McGarry hadn't been seen on a TV screen in more than eight months. There was no mention of her travails during the
GMT
appearance.
The "starting over" theme of these pieces -- four more are scheduled on consecutive Thursdays -- was hammered home both during the taped piece and in a live studio interview with surviving parents Mic and Joann Stephens. An empathetic McGarry helped to steady Mic by occasionally putting her hand on his knee.
Toward the end of the live interview, disconcerting whistle sounds could be heard several times off-camera. Joann reacted with a bit of laughter while McGarry said, "It's OK" and encouraged her to continue.
Joann and Mic spoke of all the help they had received from the community after their son Riley's death. "We've learned that a family isn't all about blood," Mic said.
McGarry closed with "The Take Away," ticking off five ways of "Helping Others With Grief." In the end she came off as equal parts counselor and reporter, which seemed to be the overall goal.
GMT
long has accepted pre-paid segments in which product-pushers pay the station to hawk their wares in five-minute segments. But McGarry's "Starting Over" series is not one of those. Her stories are produced by WFAA8 -- and McGarry presumably is paid, not vice-versa.
She's scheduled to return next Thursday in what so far is a trial run. But it's easy to envision McGarry becoming a staple -- or someday even a co-host -- of
GMT
. The show could use a ratings boost, and it will be interesting to see if her first appearance moved the Nielsen needle.
unclebarky@verizon.net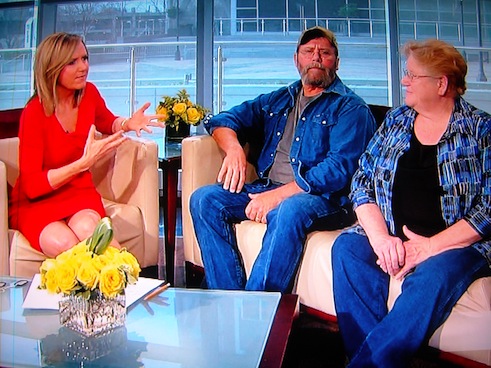 McGarry on the GMT set with Mic and Joann Stephens.