Local Nielsen ratings snapshot (Tues., July 19) -- numbers down for Night 2 of GOP convention
07/20/16 10:25 AM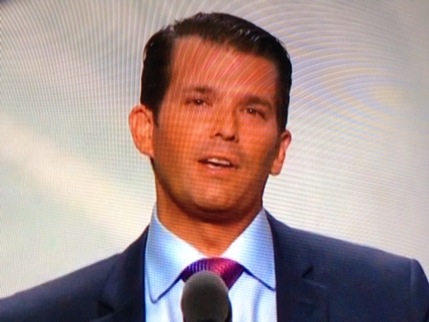 Don Jr. showed dad how to do it Tuesday night. Photo: Ed Bark
By ED BARK
@unclebarkycom on Twitter
Donald Trump Jr. led off the 9 p.m. magic hour with a forceful and well-delivered speech on behalf of his dad.
But after that, Night 2 of the Republican National Convention filled the rest of prime-time with a discombobulated Dr. Ben Carson and a former soap star. The D-FW ratings reacted accordingly, dipping significantly from Monday's opening night.
The night's biggest single-network draw, NBC's 7 to 9 p.m. edition of
America's Got Talent
, had more total viewers (276,214) than the combined 9 to 10 p.m. convention coverage on ABC, CBS and NBC.
AGT
also led among advertiser-prized 18-to-49-year-olds with 85,744 while ABC's coverage courted "hashmarks" (no measurable audience) before ending with a sub-teeny 952 viewers in this key demographic. No, that's not a misprint.
Here are the 9 to 10 p.m. convention numbers for both total viewers and 25-to-54-year-olds (main advertiser target audience for news programming).
Total Viewers
NBC/Fox News Channel -- 113,318 apiece
CBS/CNN -- 63,742 apiece
ABC/MSNBC -- 28,330 apiece
PBS -- 21,247
25-to-54-Year-Olds
NBC -- 56,550
CNN -- 32,739
FNC -- 26,787
CBS -- 17,858
ABC/MSNBC -- 5,953
PBS -- 2,976
The combined total audience of 432,027 was down from 524,098 on opening night. And the number of 25-to-54-year-olds fell from 181,533 to 148,816.
Second nights of political conventions tend to be the lowest draws. Still, the Republicans oddly scheduled Chris Christie, Paul Ryan and Trump's youngest daughter, Tiffany, before the 9 to 10 p.m. portion carried by both broadcast and cable networks. Donald Trump himself also appeared briefly via satellite from New York City well before the "window" opened. (Fox4 again stayed with its regular 9 p.m. local newscast, which drew 84,989 total viewers and 38,692 in the 25-to-54 age range opposite convention coverage.)
Over on Fox Sports Southwest, the struggling first-place Texas Rangers lost another late night road game to the Angels. It averaged 120,401 total viewers.
Here are Tuesday's local news derby results.
NBC5 had a big day, sweeping the 5, 6 and 10 p.m. competitions in both total viewers and 25-to-54-year-olds. Fox4 again had twin wins at 6 a.m.
Email comments or questions to:
unclebarky@verizon.net