This just in: A night in the lives of D-FW's 10 p.m. newscasts (Wed., Nov. 11)
11/12/09 01:54 PM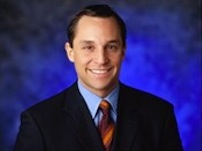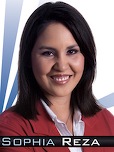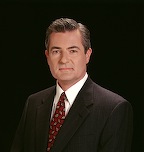 Local TV newsies Bennett Cunningham, Sophia Reza, Ken Kalthoff.
By ED BARK
All four stations led their 10 p.m. editions with Dallas police chief David Kunkle's surprise resignation. Let's get to the important news, though, such as stories on sickness-spreading little turtles and restaurants that also can make you upchuck.
CBS11 gumshoe
Bennett Cunningham
spread things a little thick again with another of his "Dirty Diners" exposes. This latest adventure, in the tradition of WFAA8's thrilling "Eat, Drink and Be Wary" escapades of yesteryear, even included a brief cartoon rendering of a humanoid making a barfing sound while sucking on a thermometer. Viewers got a glimpse of this after Cunningham spotted a basket of raw shrimp daring to exist near room temperature at the Grand China Super Buffet in Fort Worth.
"Eat this shrimp and it could make you very sick," said Cunningham before the cartoon character blecched.
The story also included an animated mouse, bird and roach scampering/flying across home screens during Cunningham's subsequent visits to Cowtown's Cattlemen's Steakhouse and Fried Chicken Deluxe. The latter restaurant now has a "spotless" kitchen after a previous inspection uncovered roaches in the chicken batter, Cunningham noted.
He ended by telling viewers that "all of the restaurants in this story passed a re-inspection and did much better." But the obvious implication is that they'd still be serving potentially stomach-turning food without Cunningham's interventions. Cattlemen's obliged by kicking him out, which is always a welcome touch when cameras are rolling.
The "Dirty Diner" jaunts make for "entertaining" news, I guess. And Cunningham has them down to a science, as did long-gone WFAA8 investigator Charles Duncan during his rodents 'n' roaches patrols. But the populace at large likely wouldn't suffer unduly if Cunningham stuck a fork in this thing. At best it's strictly a "show-and tell" sweeps gambit -- and an old one at that.
Over at Fox4, reporter
Sophia Reza
tried to crack down on sales of miniature turtles, which are ripe with salmonella according to zoologists. Sales are supposed to be illegal, but some mall kiosk vendors and online entrepreneurs still dare to peddle 'em. Little kids, we're told, tend to put their fingers in the turtles' tanks and then in their mouths. Result: they could get sick.
Maybe so, but this extended report seemed more alarmist than alarming. In primitive times, Little Barky and his brothers all had little pet turtles. None of us got sick from constantly picking them up and having races with 'em. But what did we know? Perhaps the little shell-shockers merely spread sickness in the head, eventually turning one of their grown adult former masters into a TV critic.
On the Kunkle front, CBS11's
J.D. Miles
got the most extensive comments from him via printed excerpts from their phone conversation. In contrast, NBC5's
Grant Stinchfield
told viewers, "Chief Kunkle did not return my email requesting comment."
Later on NBC5, veteran reporter
Ken Kalthoff
did double-duty with two stories of decent interest. His first piece was on advance party-planning for the 2011 Super Bowl at Jerry's Palace. Then, in a return visit, Kalthoff reported on the greatly diminished use of checks in recent years. Neither story was earth-shaking, but both had some interesting facts and figures.
Peacock reporters
Ashanti Blaize
and
Omar Villafranca
also had worthwhile pieces. She reported on Wal Mart's plans to avert the "Deadly Shopping Stampede" that left one Valley Stream, NY employee trampled to death during last year's "Black Friday" frenzy. He reported on the high costs to high schools that want to have a playoff game at Jerry's Palace. But the $7,500 per team asking price is well worth it, the teams say.
WFAA8's marquee story, again by
Jason Whitely
, was on the growing number of inattentive airline pilots. In the last decade, more than 6,100 were either warned or disciplined, according to a federal data base reviewed by the station.
Most of these problems, initially reported by air traffic controllers, are dealt with "behind closed doors that you and I aren't going to hear about unless there's an accident," aviation attorney Don Swaim told Whitely. Hmm, kind of sounds like the standard operating procedures at your basic TV news operation, both locally and nationally.
WFAA8 also had a pair of nice Veterans Day heartwarmers by
Shelly Slater
and
Chris Hawes
. And all four stations reported on a former Vietnam War POW who at long last had his dog tags and wedding ring returned to him after captors confiscated them.
Fox4 easily had the most extended coverage of D-FW's Veterans Day ceremonies, with all of the collected footage narrated by anchor
Baron James
. Compared to its competitors, the station again was notably short on stories with on-camera reporters attached to them. There were just three on Fox4; NBC5 had six, WFAA8 had five and CBS 11 had five plus a sports segment story on the Cowboys by
Steve Dennis
.
It's true that Fox4, by its own choosing, has five fewer minutes at 10 p.m. than its rivals. Still, the station seems to be going through the motions at a time when continued poor ratings for Jay Leno's 9 p.m. show afford an opportunity for Fox4 to slip ahead of NBC5 into third place at 10 p.m.
The 10 p.m. ratings instead show Fox4 sinking to a distant fourth at that hour mid-way through the November "sweeps." Energy, people. Energy. No wonder sports anchor
Mike Doocy
silently stared straight ahead during Wednesday's closing jabber among James,
Clarice Tinsley
and weatherman
Dan Henry
.
Doocy didn't look at all happy or comfortable. Maybe he played with a miniature turtle earlier in the day.