Last day for 12 off-camera WFAA8 staffers taking the TEGNA buyout (But across the TEGNA landscape, numerous anchors, reporters and meteorologists were allowed to exit) *Updated
04/22/16 12:58 PM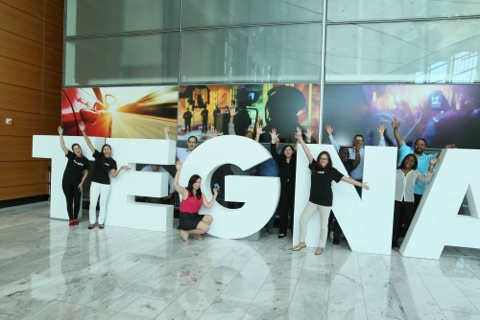 By ED BARK
@unclebarkycom on Twitter
The buyouts at TEGNA-owned, Dallas-based WFAA8 became official on Friday, April 22nd, with 12 newsroom personnel, all of them off-camera, taking the package, according to sources.
They received an official sendoff at an afternoon staff gathering while a number of other TEGNA-owned stations also said goodbye to longtime employees this month. WFAA8 is unique in this scheme of things. No on-camera staffers were offered a buyout package, although news anchor John McCaa, sports anchor Dale Hansen and reporters Jim Douglas and Brett Shipp all meet the stated criteria of being at least 55 years-old with a minimum of 15 years of service.
Shipp, a longtime, award-winning investigative reporter, had no intention of opting out anyway.
"I will be rolled out of Channel 8 on a gurney -- dead or alive," he
told unclebarky.com in February
after the TEGNA buyout offers became public.
Based on a compilation of reports from various TV markets, a significant number of on-camera staffers have been allowed to take buyouts at other TEGNA-owned stations. Here is a list, which may only be a partial one, of 25 confirmed departures from 15 TEGNA stations across the country, including two in Texas.
Houston's KHOU-TV
-- Reporter Doug Miller (after 23 years with the station) and weekend meteorologist Mario Gomez (30 years).
Austin's KVUE-TV
-- Chief meteorologist Mark Murray (26 years).
Seattle's KING-TV
-- Anchors Jean Enersen (45 years) and Dennis Bounds (25 years), chief meteorologist Jeff Renner (39 years) and investigative reporter Linda Byron (26 years).
Atlanta's WXIA-TV
-- Reporters Donna Lowery (30 years), Kevin Rowson (22 years) and Keith Whitney (23 years).
Sacramento's KXTV-TV
-- Reporters George Warren (35 years), Tim Daly (25 years) and Dave Marquis (23 years)
St. Louis' KSDK-TV
-- Meteorologists Cindy Preszier (18 years) and Mike Roberts (20 years).
Minneapolis' KARE-TV
-- Anchor Diana Pierce (33 years) and reporter Allen Constantini (32 years).
Tampa's WTSP-TV
-- Sports anchor Dave Wirth (32 years).
Jacksonville, Florida's WTLV/WJXX-TV (a TEGNA duopoly)
-- Meteorologist Steve Smith (25 years) and reporter Roger Weeder (31 years).
Charlotte's WCNC-TV
-- Reporter Glenn Counts (28 years).
Portland, Maine's WCSH-TV
-- Meteorologist Joe Cupo (37 years) of WCSH-TV.
Bangor, Maine's WLBZ-TV
-- Meteorologist Steve McKay (22 years).
Louisville's WHAS-TV
-- Anchor-reporter Melissa Swan (31 years).
Grand Rapids, Michigan's WZZM-TV
-- Anchor-reporter Lee Van Ameyde (39 years).
According to a staff memorandum obtained by unclebarky.com, the 12 off-camera WFAA staffers taking the buyout number three from engineering; four from "news"; one from production; one from community marketing; one from sales; one from "creative" and one from wfaa.com.
(The names are listed in the memo, but it's uncertain how many of these departing staffers want to go public. So we're omitting any names for now.)
The station's human resources department director, Deidre Davis, said in the memo: "Within the next couple of weeks some of our colleagues will be leaving us for the next chapter in their lives. We'd like to celebrate them on April 22, 2:00 p.m. in the lobby. This will be an employee only celebration. Retirees may invite their family, spouse or significant other."
A second sendoff, organized by investigative reporter Shipp, is set for Friday from 6 to 10 p.m. at Chicken Scratch/The Foundry, 2303 Pittman St. @W. Commerce St. "All come, all welcome," Shipp said in an email to WFAA personnel. "Should be a reunion of sorts for the whole WFAA family and an opportunity for all to say thanks for all the years of greatness."
Several WFAA sources said there is concern that some of the 12 off-camera positions affected by Friday's departures have not been filled. "They don't even know what some of these new job descriptions will look like," said one source.
A "Dear Colleague" letter signed in February by WFAA8 president and general manager Mike Devlin, said that "today's dynamic media landscape requires us to embrace change to continue to succeed."
Devlin, who was recuperating from hip replacement surgery at the time and wasn't present when the letter was distributed to 27 targeted employees, also noted that WFAA8 has a "strong foundation but we must continue to innovate and adapt to better meet the rapidly changing needs of those we serve. Recently, Dave Lougee (president of TEGNA media) shared his strategic roadmap for our future. 2016 will be a year of accelerated progress across WFAA-TV and every one of us will need to acclimate to today's evolving environment. As we move forward, we have created a strategy at WFAA-TV that will enable us to better the needs of our station and our audiences."
Specifically, that means buyout packages "aimed at giving our team the flexibility we need to do just that. This program will allow us to reinvest our resources to focus on our transformative content and sales strategies."
A veteran staffer at WFAA8 wasn't so sure about that, saying when the buyout packages were first offered: "TEGNA corporate feels we are a bloated whale living in the past. But viewers can decide for themselves if they want to watch a newscast with all the technical issues that cheap automation brings."
Email comments or questions to:
unclebarky@verizon.net