This just in: A night in the lives of D-FW's 10 p.m. newscasts (Thurs., Nov. 16)
11/17/06 03:06 PM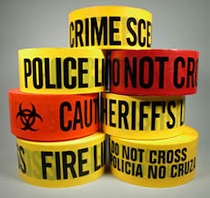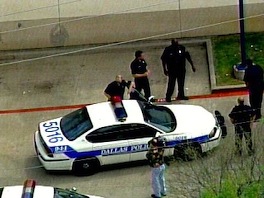 Fear factor: NBC5 shoots and scores with high crime counts.
By ED BARK
Some readers are saying it's a crime that NBC5's 10 p.m. newscasts again are topping the Nielsen ratings.
NBC5 might say in turn, "It's the crime, stupid." The station is thriving on nightly onslaughts of bad things happening and maybe worse things yet to come. It's calculated and it's working like gangbusters. Viewers aren't about to shoot the messenger, though. They're too busy watching.
Night 11 of the ongoing November "sweeps" provided more evidence, and right from the opening bell.
"A shadowy figure in your hallway," anchor
Mike Snyder
intoned at the start of Thursday's 10 p.m. show. "Would you know what to do?"
Sinister music accompanied his tease before viewers were whisked to mistress of the dark
Susan Risdon's
story of a Frisco woman who verbally drove an intruder from her living room after taking a course at the Citizen's Police Academy. He then supposedly took a crack at a neighbor's house, but was foiled again.
"He had a bad night for a crook ... He was caught by every person that he tried to steal from," said resident Susan Blessing.
NBC5 reeled off a total of 11 crime stories Thursday, easily besting runnerup Fox4 (seven) and more than doubling the five crime stories apiece on Belo8 and CBS11.
"And here's another one," said anchor Snyder, speaking volumes after viewers were treated to a "smash and grab" at a supermarket.
The night's centerpiece was reporter
Brian Curtis'
heavily promoted chiller on North Texas' most dangerous shopping malls. Generic horror music kicked in as the station re-created what it must be like for a lone woman to walk through a dark, dank, covered parking ramp. Surely someone must be following her. And sure enough, viewers could catch a fleeting glimpse of a looming "crook" wearing a black stocking cap. Actually the crook was an extra or perhaps a hapless station intern deployed to dress the part. Or maybe it was Curtis himself. Gotta multi-task in times when ongoing NBC Universal layoffs reportedly have sent two news staffers packing.
Curtis, who usually sings the joys of bargain shopping, examined police records from last year's holiday season. A total of 12 malls went under the knife, and what the reporter found shouldn't shock anyone with a more than room temperature IQ.
The Parks shopping center in Arlington led all comers with 25 thefts from cars and eight assaults last November and December. North East mall chalked up five stolen vehicles to lead the league in that category.
Curtis and anchor
Jane McGarry
did note that millions upon millions of shoppers visit these malls annually, with The Parks having some of the heaviest traffic. What wasn't mentioned is that seven of the 12 malls surveyed by NBC5 had no reported physical robberies during the last holiday season. Eight had no assaults and eight also had fewer than 10 thefts from unoccupied cars. You can see for yourself on the nbc5i.com website.
Reporting that kind of information on the air doesn't set off any alarm bells, though. So NBC5 closed this particular case with more footage of a woman walking to her car while eerie music doomed her to a likely purse-snatching or beating.
Serious, solid reporting, some of it crime-related, also hit home screens Thursday. NBC5 somehow missed the day's most interesting crime story, which led the late night newscasts on both Fox4 and Belo8.
A northeast Dallas man wired his home with video cams after being previously burglarized. He then was startled to see someone robbing him again. But the victim had to watch from afar on his office computer, which had been programmed to alert him of any intruder. Police ultimately arrived too late to catch the thief, but video of the robber and robbery is posted
here.
Fox4's
Jeff Crilley
out-reported Belo8's
Bob Greene
on this story by getting an extra detail that his competitor missed. The possessions taken from the victim's home include recent videotape of his engagement ceremony. "I need to get that back," he said. Crilley also began his story by putting himself in the lens of one of those in-home surveillance cams. Effective touch.
Fox4 likewise outpaced its rivals in detailing why so many people are camping out to buy the new PlayStation3. Many want to sell it on eBay and make a quick killing. CBS11's
Tiani Jones
noted this, but told viewers that the "older gamers just didn't want to talk about it, at least on camera."
Some of those older gamers did talk to Fox4's
Lari Barager
after she noted that only one person in line, a kid, planned to keep his PlayStation3. Not so Aaron Whitelock, who urged, "We'll list it tomorrow (on eBay). So watch."
CBS11's
Ginger Allen
checked in with another solid investigation, this time on identity thieves who hole up in area hotels with a new CD that can generate thousands of credit card numbers from a single card theft. Once a frenetic hand-talker, Allen has matured into one of the area's better gumshoes.
For laughs -- or gags -- viewers could go to Belo8, which increasingly is programming bursts of "happy talk" into the 10 p.m. news. Thursday's takeoff point was reporter
David Schechter's
throwaway piece on what lousy listeners men are. Anchor
John McCaa
helped to set it up by feigning not listening to partner
Gloria Campos'
introduction. Hoo-hah.
Weatherman
Pete Delkus
later joined in the merriment, saying that men can't win no matter what they say. Not to be outdone, McCaa laboriously tried this one on Delkus after a commercial break: "Well, we want to promise that we do listen, all the time. Right? What's your name?"
Only nine more nights to go.