Selling Fox4 the John Kukla way
05/21/07 01:02 PM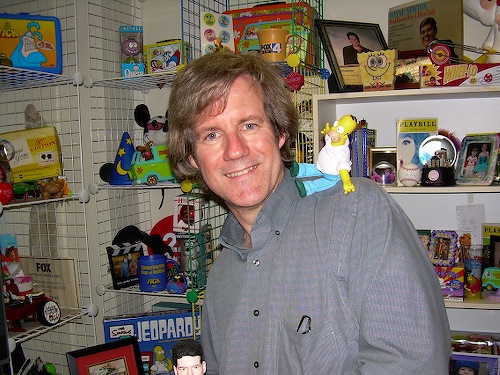 Coming to play: John Kukla in his well-appointed office. Photo: Ed Bark
By ED BARK
Clearly he enjoys his work.
"I've been a child of television ever since I can remember," says Fox4's John Kukla.
As proof, his office is tastefully dominated by pop culture kitsch. Wayne Newton's "Red Roses For a Blue Lady" album from TV's
Ed Sullivan Show
era. An early home edition of
The Newlywed Game
. A Simon Cowell bobblehead doll. An old pocket-sized
TV Guide
with a cover boy caricature of his idol, David Letterman.
Kukla, the station's vice president of creative sales, says his mother has documented his nearly lifelong affinity for all things television.
"She has a journal where she wrote, 'When Johnny was three, he used to walk up to people and go, 'What is
your
name, please'?"
That's what emcee Bud Collyer used to ask two pretenders and the real deal on TV's original
To Tell the Truth
.
All these years later, Kukla, 48, retains his buoyancy and boyish enthusiasm. He's still in there pitching for whatever has to be promoted at Fox4 and sister station MY27, which lately is regrouping after flopping as a national carrier of nightly English language telenovelas.
On the My27 front, it might have been easier selling peanut butter sandwiches in the Mojave Desert. But most of Kukla's efforts are devoted to Fox4's daily seven-and-a-half hours of local newscasts, easily the most in the D-FW viewing area.
"I can't think of any other market in the country where there's not at least one weak station," he says. "Everybody is big, powerful, well-funded, smart and competitive. I'm always impressed by the creativity and strong marketing among all of us. And of course motivated to top it."
Instant daily ratings and audience demographics are spit out each morning via an updated Nielsen Media Research "people meter" system that hit the D-FW market in January 2006.
But even though every day's a report card, this is money time. Just three days remain in the four-week May "sweeps," which end on Wednesday. And in the increasingly important early morning race, Fox4 and Belo8 are virtually tied in the battle for advertiser-coveted 25-to-54-year-olds. That's why you're seeing such a heavy prime-time emphasis on
Good Day
anchors Tim Ryan and Megan Henderson. Belo8 is doing likewise with its early morning personalities.
"Promotionally you've got to represent what you really have," Kukla says.
For Fox4, it boils down to three words. "The News Station" has been the station's overall promotional slogan ever since Kukla arrived in 2000 after 18 years at WAGA-TV in Atlanta.
"It's direct. It's not catchy or whimsical. But it's what we are," he says.
Kukla, with a big assist from staff producer Chris Ivey, also co-wrote Fox4's undeniably catchy
Good Day
jingle rather than pay the oft-expensive rights to an existing feel-good song.
"John understands that the pen is mightier than the special effect," says his first lieutenant, "Promo Joe" Kozlowski. "Departments here flock to him for ideas."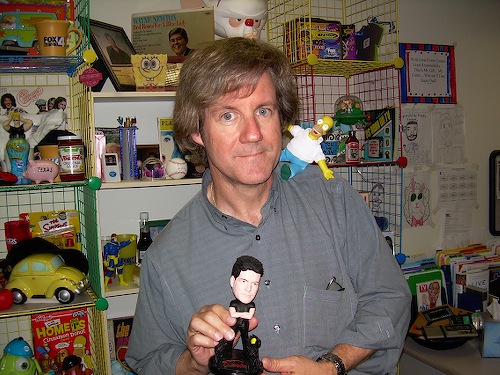 Raised in Macon, GA, Kukla graduated from the University of Georgia with a broadcasting degree before landing an entry-level job at Atlanta's WAGA-TV, then a CBS affiliate.
"I was just a shlepper guy" with
PM Magazine
, he recalls. Virtually every major market had its own homegrown version, but most of them died at the hands of
Wheel of Fortune
in the mid-1980s. So Kukla joined WAGA's promotions department in 1986. Cable TV was growing and times were changing.
"Up until that point, our promotion was, '
Dallas
is on at 8. You're all going to watch. We don't really have to tell you much more.' Everybody made a lot of money, and it was great."
Kukla met his wife, Catherine, at WAGA, where she was a floor director.
"She knows the business and understands the crazy hours," he says. "TV is the store that never closes, and God bless her for putting up with it -- and me. The term 'breaking promo emergency' sounds ridiculous, but we have them at least once a week."
Their two daughters, Bailey and Emma, now are teenagers and students at Ursuline Academy in Dallas. But station salesmanship had to come of age in a much bigger hurry during the mid-1980s. Wall Street demanded fatter profits of broadcasters that had gone public and were newly vulnerable to stock price ups and downs.
A consultant firm told WAGA that its news anchors were perceived as "very unfriendly, cold, too businesslike."
"So we did a 'Good News Atlanta' campaign," Kukla recalls. "Jingles, balloons and an orchestra in the park. It was gorgeous. Everybody loved it and nobody believed it for a second. It just wasn't who we were."
He rebooted with the slogan "Dedicated, determined, dependable," which WAGA used for 20 years before recently retiring it. But in 1994 the station experienced a seismic shift -- in prime-time at least -- when Fox rattled the broadcast terrain by buying a number of CBS stations.
"We went from Jessica Fletcher (on
Murder, She Wrote
) to Bart Simpson in the space of a week," Kukla says. "And we never looked back."
He spent six more years at WAGA before Fox asked him to make a switch to KDFW in Dallas. Kukla arrived well after the former CBS station used Jim Varney's imbecilic Ernest P. Worrell character to pitch the 10 p.m. news. KDFW also had shown incoming anchor John Criswell with tape over his mouth to spoof a "non-compete" clause that prevented him from immediately joining his new station from neighboring Belo8.
Kukla had his moments at WAGA, though. He once promoted CBS' coverage of the Lillehammer Olympics by having his sports anchor talk in Norwegian. He also had a barber shop quartet sing the praises of the news team. And on another occasion, anchors went knocking on doors as part of a "Honey, it's Forrest and Pam" gambit.
"Now we just mock them mercilessly," Kukla says.
Fox4 has had big promotional platforms this year with
American Idol, House
and
Are You Smarter Than a 5th Grader?
, the season's surprise new hit. Hard-edged newscast promotions about murder investigations or other violent crimes are out of bounds on
Idol
and other family-friendly Fox fare, Kukla says.
"Promotion is an ambush, really. You pop a promo in there that comes at you without warning. So we've got to be careful that we're not upsetting somebody during certain kinds of shows."
His teenage daughters have grown comfortable watching TV on their iPods, but "I can't do it," Kukla says. My head hurts. It's too little."
"TVs and computers are melding together, too, but I hope that the act of sitting down and being entertained will never go away. At the end of the day, I like to turn on the set and have somebody talk to me."
Kukla is asked how he'd promote himself, and the question initially throws him a bit.
"A man who loves TV and hopes you do, too," he says. "I don't know, something like that."
He's not at a loss for long, though. On the following morning, he emails "the Top 10 other slogans to sell John Kukla."
They include:
"Good and good 4 you."
"Dedicated, determined, dependable . . . dad."
"There's a million ways to sell
The Jeffersons
. . . I've done almost all of them."
"I'm not sure what it is I do, either."
Spoken like a true vp of creative services. But every station's gotta have one. And John Kukla has proven he's better than most at gettin' 'em to stay tuned.