This just in: A night in the lives of D-FW's late night newscasts (Wed., May 6)
05/07/09 04:35 PM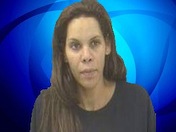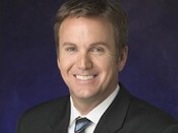 Cristal Taylor, Dirk Nowitzki and CBS11 reporter J. D. Miles
By ED BARK
We'll have an abbreviated edition today, in large part because breaking news in the unseemly Dirk Nowitzki-Cristal Taylor situation kept your dutiful content provider
otherwise occupied
for part of the day.
Fox4, NBC5, WFAA8 and CBS11 all led their Wednesday late night newscasts with reports on that day's arrest of Taylor on fraud charges. But CBS11's
J.D. Miles
, who first broke this news earlier in the day, had the only significant advance on the story.
Miles quoted unnamed sources saying that "a private investigator, possibly working for Nowitzki, was involved" in uncovering information that led to Taylor's arrest and incarceration.
Nowitzki's relationship with Taylor remained "unclear" Wednesday night, Miles said. On NBC5, reporter
Ellen Goldberg
ventured further, telling viewers that Taylor "indeed was his girlfriend."
Over on WFAA8,
Jason Whitely
described Taylor as a "female friend" of Nowitzki's. Fox4's
Sophia Reza
ventured no characterization during her live standup outside the Dallas Maverick star's North Dallas home. Instead she interviewed sports agent Scott Casterline, who said, "It's very easy to associate with the wrong people and not know it."
Reza and Whitely repeatedly pronounced the "w" in Nowitzki's name, although any self-respecting sports fan knows it's supposed to be "Na-VIT-ski." Both are relative newcomers to D-FW -- at least compared to Miles and, to a lesser extent, Goldberg.
Miles got another big jump on the story late Thursday morning, when he first reported on CBS11's Web site that Taylor was both engaged to Nowitzki and apparently is pregnant. His source is "the best friend" of Taylor, who otherwise insisted on anonymity. WFAA8 soon after reported the same information, crediting its own unnamed sources.
CBS11 lately has beaten the usually dominant WFAA8 to the punch on two major breaking stories, both with big-time sports angles. Its live, almost instantaneous coverage of Saturday's Dallas Cowboys practice stadium collapse gave the station a big ratings boost that afternoon while rival stations were much slower off the mark. A new promotion capitalizes on that fact. Airing during Wednesday's 10 p.m. newscast, it touts CBS11 as:
"First to break the story"
"First with video"
"First with live reports"
"First from the air."
The kicker: "When the big story breaks -- Count on us first."
Those are fighting words. And you can bet that WFAA8 is rededicated to fighting back with occasional assists from
The Dallas Morning News
, with whom it retains a synergistic relationship.
ENTERPRISING EFFORTS
-- WFAA8 had three interesting and unduplicated stories on Wednesday's 10 p.m. newscast.
Jim Douglas
detailed a move to remove the alcohol license of a sports bar that kept serving a man with a long DWI rap sheet. The man later caused a well-publicized accident that left a two-year-old boy alive but permanently brain-dead.
The station's
Gary Reaves
had an interesting story on Carrollton residents who want the city to pay the costs of repairing a storm-damaged retaining wall that has left their backyards literally losing ground. And WFAA8's
Shelly Slater
brought viewers in touch with homeowners making ambitious use of solar paneling.
On CBS11,
Stephanie Lucero
reported on an increase in eating disorders among young boys in particular. She used a recovering pre-teen as the story's focus, noting that his parents' divorce and a perfectionist mindset might have been contributing factors.
None of these stories were "dynamic" on the face of it. But all had useful, relatable information, which is a nice respite from a lot of the stuff that passes for "news" these days.
RIM SHOT
-- Round 3 of WFAA8's weeklong "Rumble in the Plaza" went to sports anchor
Dale Hansen
, who out-shot weatherman
Pete Delkus
in a game of H.O.R.S.E. Hansen, as is his wont, then strove to make a horse's ass of himself.
Four upper crust married women were in Victory Park to cheer him on, he bragged. "Then we were celebrating the rest of the night, and there are four housewives from Highland Village who don't have a happy marriage now."
"A-w-w-w-w, you homewrecker you!" news anchor
Gloria Campos
riposted.
Thursday night's sport will be ping-pong, and Hansen said he's "very good" at that, too.
"You're good at B.S. as well. Good night, everyone," Campos added.
I'm tellin' ya, that Gloria's growin' on me.
Halfway there. Ten nights to go.