Toasting the late Bert Lozano during a Sunday celebration of his life
10/10/11 02:06 PM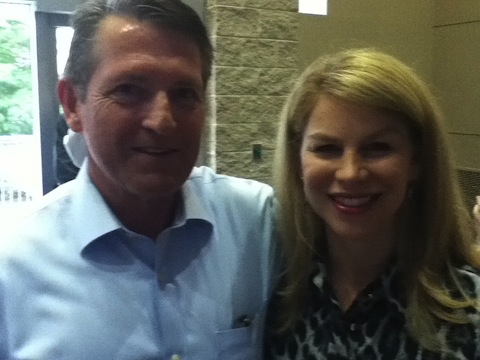 Former Dallas police chief/mayoral candidate David Kunkle and his wife, Sarah Dodd (formerly a CBS11 reporter), were among the attendees at Sunday's memorial for Bert Lozano. Photo: Ed Bark
By ED BARK
Former WFAA8 reporter Bert Lozano's life and good times were fondly remembered early Sunday afternoon at "A Celebration" of the way he was and the many lives he touched.
Lozano died on August 30th at age 42 after suffering a heart attack. Funeral services were held early last month in his hometown of Mission, Texas. But Sunday's memorial in the downtown TXCN building afforded hundreds more a chance to say goodbye in an upbeat manner that belied the gloomy weather outside.
Mimosas and cookies were served, with organizer Chris Heinbaugh noting that Lozano would have wanted a festive atmosphere to prevail. Still, his voice broke on several occasions as he remembered his close friend and onetime WFAA8 colleague.
"Losing a part of our family is very, very hard," said Heinbaugh, who later became Dallas mayor Tom Leppert's chief of staff.
WFAA8 reporter Rebecca Lopez, who was among five speakers at the noontime memorial, remembered Lozano arriving at the station in 2004 and being "really excited about working with Gloria Campos, who of course is the diva of news in Dallas. And of course, Bert loved divas."
Campos could not attend because of previous family commitments, she said on a Facebook page publicizing the memorial. But Heinbaugh credited Campos and Lopez with securing the TXCN building. Another veteran WFAA staffer, production manager Jerry Cadigan, arranged the audio and sound for several slide shows.
Among other attendees were WFAA8 investigative reporter Brett Shipp, Fox4 reporter Saul Garza, former WFAA8 reporter Brad Hawkins and David Duitch, who hired Lozano while he was WFAA8's news director and now holds that post at Dallas-based CW33. Former Dallas police chief David Kunkle and his wife, Sarah Dodd, who used to anchor and report for CBS11, also were on hand, as were Lozano's parents, his brother, Rick, and his nephew, Orlando.
Lozano left WFAA8 in 2007 to join the Dallas offices of the Weber Shandwick public relations firm. One of his co-workers at the firm, Denny Shields, joined Lopez in noting that Lozano loved to sing on a moment's notice, whether at work or at play.
"He was so very special, and had a way of lighting up the place," Lopez said.
"Oh my God, it was a life well-lived," said Shields.
Garza and Lozano worked together at KRGV-TV in the Rio Grande Valley before eventually making their ways to Dallas.
"He also took my wife and I to our first drag show," Garza noted.
That brought another big laugh amid the occasional tears for Lozano, whose on-air reporting career in Dallas included the time a horn-tooting streaker ran past him while he did a live shot in 2006 from the site of a grass fire near Lake Lewisville. The
video received heavy exposure nationally
, and of course was replayed near the end of Sunday's celebration.
In life and in death, Lozano wouldn't have wanted it any other way.