TNT will re-do Dallas -- in Dallas
07/08/11 12:15 PM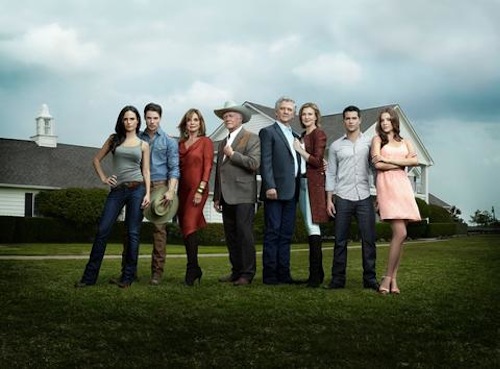 Dallas remix, with old gushers and new blood. TNT photos
By ED BARK
Dallas
will ride again -- and in these parts, too.
TNT announced late Friday morning that it's going ahead with a 10-episode first season of its
Dallas
remix. And although a network publicity release makes no mention of this, TNT spokeswoman Jennifer Greene confirmed in an email that "Yes, we will be shooting in Dallas."
A
Dallas
pilot was filmed in North Texas earlier this year, with a new generation cast joining three original Ewings -- Larry Hagman (J.R.), Linda Gray (Sue Ellen) and Patrick Duffy (Bobby). TNT said the
Dallas
series will premiere sometime in summer 2012. Sources say that on-location shooting in North Texas tentatively will resume in mid-October.
The original
Dallas
, portions of which were filmed in North Texas during hot weather months, ran on CBS from April 1, 1978 to May 3, 1991. It ranked among prime-time's Top 10 most popular series for seven consecutive TV seasons, from 1979-80 through 1985-86.
In the 1980-81 "Who Shot J.R.?" season,
Dallas
ranked No. 1 with a bullet, averaging a national 34.7 Nielsen rating to beat No. 2
The Dukes of Hazzard
by a whopping 7.2 ratings points. The Nov. 21, 1980 revelation episode still ranks as the second most-watched scripted program of all time, behind only the Feb. 28, 1983 finale of
M*A*S*H
.
Dallas Film Commission head Janis Burklund was out of the office Friday and could not immediately be reached for comment. But TNT's decision obviously is a big boon to the area TV production community, particularly after three network series filmed last season in North Texas -- NBC's
Chase
and Fox's
The Good Guys
and
Lone Star
-- all were canceled either during or after their first seasons. Burklund has estimated in previous interviews with unclebarky.com that each episode of a network TV series shot in Dallas pumps roughly $1 million into the local economy.
The city of Dallas recently offered a deal sweetener with a $235,000 economic development grant that would provide air-conditioning for a warehouse at 2901 St. Lamar St. in downtown Dallas. Also included in the agreement is six months of free rent for a TV or film project using the facility.
A website for the upcoming
Dallas
re-do already has been set up at
www.dallastnt.com
. And "sneak peeks" of footage from the pilot episode will be included in the Monday, July 11th season premieres of TNT's
The Closer
and
Rizzoli & Isles
, which air at 8 and 9 p.m. (central).
TNT executive vice president of programming Michael Wright said in the publicity release that his network had "explored the possibility of an updated version of
Dallas
for several years," but didn't bite until reading executive producer Cynthia Cidre's (
The Mambo Kings
and the failed CBS serial
Cane
) outstanding pilot script. "It is incredibly exciting to see both new and familiar characters in the hands of a dream cast . . . We couldn't be more pleased at how
Dallas
has come together."
The new
Dallas
also will star Jesse Metcalfe as Bobby and Pam Ewing's adopted son, Christopher; Josh Henderson as J.R. and Sue Ellen's son, John Ross III; Julie Gonzalo as Christopher's fiancee, Rebecca Sutter; and Jordana Brewster as Elena Ramos, whose "love triangle" includes both John Ross and Christopher. Plus, Brenda Strong from
Desperate Housewives
will be playing Bobby's new wife, Ann.
Here's a closer look at the younger cast members: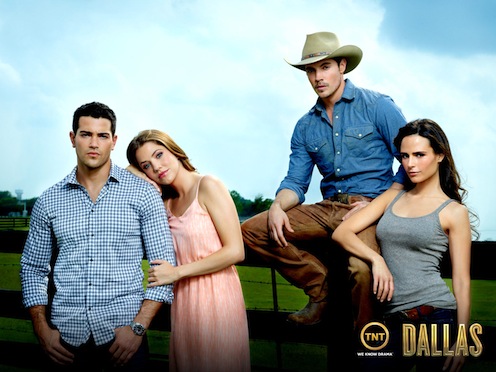 Left to right: Joining the old hands are Jesse Metcalfe as Christopher Ewing; Julia Gonzalo as Rebecca Sutter; Josh Henderson as John Ross Ewing III and Jordana Brewster as Elena Ramos.