Ka-boom town: D-FW's picture providers planning big blowouts for Texas Stadium blowup
04/06/10 02:10 PM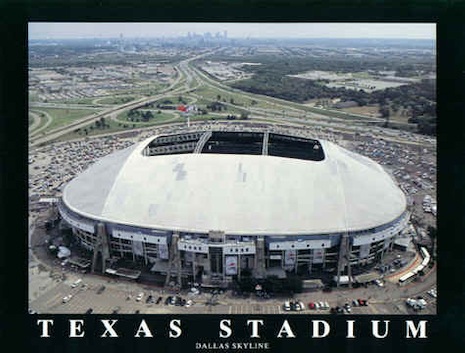 By ED BARK
That famed hole in the roof will be reduced to a big hole in the ground after demolition crews have their way with Irving's historic Texas Stadium early Sunday morning. D-FW's major TV news providers plan to be all over it.
WFAA8 has been touting its special live coverage for the past few weeks. Now CBS11 is promising an even bigger spectacular while Fox4 and NBC5 confirm that they also will give viewers the opportunity to watch the hallowed earth shake.
WFAA8's special will be titled
End of An Era: the Implosion of Texas Stadium
, with
Daybreak
co-anchor Cynthia Izaguirre presiding with help from backup sports anchor Joe Trahan. Coverage starts at 6:30 a.m., with the station promising a closeup look "shot from every angle, in the air and on the ground."
Meanwhile, CBS11 will be sending a veritable task force under the direction of new news director Adrienne Roark. Its one-hour
Texas Stadium: The Final Farewell
, also starting at 6:30 a.m., will be anchored by its featured 10 p.m. weekday team, Doug Dunbar and Karen Borta.
Sports anchor and former Dallas Cowboys backup quarterback Babe Laufenberg, will "provide perspective from his personal experience," with Hall of Famer Randy White also in the live mix.
After the dust settles, reporters Jay Gormley and Stephanie Lucero will interview spectators while -- get this -- chief meteorologist Larry Mowry contributes "on-site analysis of the effects of wind and weather on the event, as well as the path of the dust cloud."
Add traffic reporter Teresa Frosini, who will report on -- traffic. According to a publicity release sent Tuesday, the CBS11 coverage will "include 13 camera angles of the implosion, including various locations inside Texas Stadium, multiple vantage points around the perimeter and an airborne camera in Chopper 11."
Fox4 and NBC5 haven't sent out any news releases. But station spokespersons confirm that they'll be very much on the scene.
Fox4's special Sunday edition of
Good Day
, preempting the usual array of paid programming, will be subtitled
Bringing Down the House
. Coverage starts at 6 a.m., with weekday
Good Day
co-anchor Tim Ryan presiding with reports from sports anchor Mike Doocy.
NBC5 also will start at 6 a.m. with a special edition of its usual early morning show. Weekday waker upper anchor Scott Friedman will join weekenders Lindsay Wilcox and Samantha Davies, who will offer implosion-themed weather updates. Reporters Grant Stinchfield and Kim Fischer will be in the field, with Chopper 5 hovering above.
"No special title. Just spectacular coverage," says Brian Hocker, NBC5's vice president of programming.
Compared to this, all Reunion Arena got was a lousy t-shirt. Its recent implosion -- after much of the Dallas Mavericks' former home already had been stripped bare -- got a minute or two of taped coverage on local evening newscasts. WFAA8 ended up settling for grainy, ground level video shot by a
Dallas Morning News
reporter.
There will be no scrimping this time. Texas Stadium, which officially replaced the Cotton Bowl as the Cowboys' home field on Oct. 24, 1971, will go down for the count with cameras blazing, choppers whirling and anchors emoting. Is it all a manifest example of gross overkill? Perhaps. But all local TV stations live by this basic creed: You can't over-cover the Dallas Cowboys -- no matter how hard you try.