This just in: A night in the lives of D-FW's late night newscasts (Thurs., Feb. 24th)
02/25/11 12:07 PM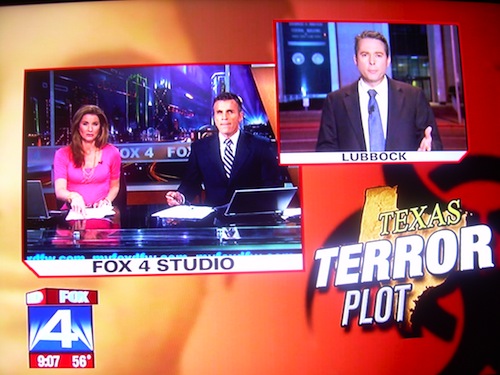 Action anchors Heather Hays and Steve Eagar shared a screen with reporter Brandon Todd during Fox4's big dose of "Texas Terror Plot" coverage Thursday. All four stations led with it. Photos: Ed Bark
By ED BARK
Their lead stories turned out to be no-brainers for the second straight night.
On Wednesday it was the excessive force firing of a Dallas cop, complete with an incriminating squad car dashcam video. On Thursday, Fox4, NBC5, WFAA8 and CBS11 all topped their late nighters with the foiled terrorist mission of 20-year-old Khalid Ali-M Aldawsari. His would-be targets, outlined in emails, included "The Tyrant's House," a k a George W. Bush's residence in the plush Preston Hollow area of Dallas.
Fox4 went all in during its one-hour 9 p.m. edition, hitting viewers with 14 minutes of continuous coverage. That was more than double the amount on any rival station, although they have just 35 minutes to fill with their featured 10 p.m. newscasts.
Fox4 began with reporter
Matt Grubs'
Dallas-based summation of the story before going to
Brandon Todd
in Lubbock, where the accused/arrested terrorist had been a student at Texas Tech and most recently at nearby South Plains College.
Todd interviewed Aldawsari's next door apartment neighbor, Carrie Skinner ("It's scary. It's upsetting."), as well as a Tech student who learned from Todd that he lived just below Aldawsari. Co-anchor
Steve Eagar
then joined former U.S. attorney Richard Roper for a live sit-down interview in the studio.
CBS11's
Jack Fink
likewise went to Lubbock and also talked to Skinner. The station then positioned
J.D. Miles
for a live shot near the Bush home, with some nearby residents telling him they'd always been a bit worried about living near such a potentially big target.
WFAA8's
Craig Civale
trumped his rivals, though, by interviewing two men who actually had lived with Aldawsari in Lubbock before he changed apartments. Both were shown in silhouette, telling Civale that Aldawsari "rarely spoke" to them and seemed interested only in soccer. But he "lost interest" when told that his native Saudi Arabia wasn't in the World Cup competition.
Jokes about Aldawarsi being a terrorist were deflected by his former roommates. "Guess we were wrong," said one of them.
WFAA8 also displayed Aldawsari's MySpace page, where he went by another name.
NBC5 was the only station that declined to spring for a plane ticket to Lubbock. Veteran reporter
Scott Gordon
instead did the best he could on the story while standing in the dark somewhere in Dallas.
"It is frightening to think about, that's for sure," co-anchor
Brian Curtis
added innocuously.
The station fared far better with reporter
Grant Stinchfield's
eye-opening "Only on 5" story about a scrapped airport security system -- Trace Detection Portals -- that the U.S. government blew $30 million of taxpayers' money on before deducing they didn't work.
AND IN OTHER NEWS . . .
Fox4's Eagar said the station tried to interview the victim, Rodarick Lyles, of the excessive force beating that led to the police officer firing. But Lyle's mother "ran interference" and thwarted an interview, he said, as Fox4 showed video to that effect.
Momma apparently was busy brokering WFAA8's exclusive interview of Lyles by reporter
Gary Reaves
.
"Lyles denies fighting police," Reaves told viewers. "He says he just stumbled as they tried to force his short arms behind his massive torso."
Viewers were shown some of his remaining visible wounds from the police beating, but Lyles otherwise had little to say while sitting next to his far more talkative mother. Police "kicked him like he was a dog," she said. Reaves lent a very sympathetic ear throughout.
***
Longtime Fox4 investigator
Becky Oliver
apparently isn't about to take it down a few notches. And this continues to mar the overall impact of her stories.
Thursday's presentation, which targeted the allegedly abusive owner of a ramshackle Dallas residence for the homeless and mentally challenged, included footage of Oliver slamming a stack of code violations on a police car hood before she literally yelled out her script from a squad car-filled parking lot..
"It just seems like, 'Wow,what a drain on city services!" she later exclaimed rhetorically to Dallas city attorney Tom Perkins, who said they were doing the best they could under the circumstances.
It looked like a sad situation all around. But Oliver's brawling, braying style really could use a makeover. She's done some laudable investigative work during her many years at Fox4. And she'll be the first to tell you that. But her reports increasingly are becoming the equivalents of excessive and obnoxious end zone celebrations. This was particularly the case on Thursday night, when viewers got two doses of the same footage of Oliver pounding on the residence door and saying, "Can we please speak with Sarah (owner Sarah Thomas)? We know she's in there."
Would you answer the door? Hell no. Oliver doesn't necessarily need to go to charm school. But maybe she should hang out with colleague
Matt Grubs
for a few days. His understated style is bracingly effective. He gets the goods and the details without putting on a show. Oliver doesn't have to dial it down to that point. But she needs to do something.
***
In the gaffe department, WFAA8 co-anchor
Gloria Campos
promoted a followup report on Friday's early morning
Daybreak
program. It was tied to the decision to remove a controversial anti-abortion billboard that was displayed in Manhattan but has ties to a North Texas preacher. It wasn't her fault that the station showed a dated companion graphic of Thursday's
Daybreak
interview with Dallas mayor pro-tem Dwaine Caraway, who's filling out the departed Tom Leppert's term.
Also on Thursday's 10 p.m. edition, a very loud off-camera laugh from a male WFAA8 employee rang out while the station touted the "Operation Education" page on its website.
Over on NBC5, viewers were told that Dallas City Councilman and mayoral candidate Ron Natinsky didn't show up at an inaugural candidate forum attended by the other two hopefuls, former police chief David Kunkle and ex-Pizza Hut CEO Mike Rawlings.
Actually he
did
show up, but was 25 minutes late, according to a first-hand account on
The Dallas Observer's
"Unfair Park" blog
. WFAA8 pictured the three of them together, but didn't have any audio from any of them. NBC5 had a couple of candidate sound bites, but left before Natinsky got there and then tabbed him a no-show.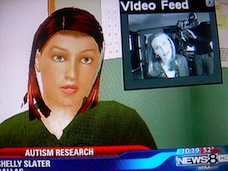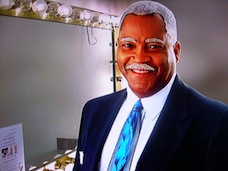 Finally, WFAA8 viewers got a chance to see reporter
Shelly Slater
and co-anchor
John McCaa
in altered states Thursday night.
Slater signed off with an avatar of herself after an interesting story on the effectiveness of virtual therapy for children with autism. And McCaa was congratulated on his "68th birthday" by weathercaster
Pete Delkus
before viewers got a glimpse of the purportedly real McCaa prior to applying his makeup.
Campos said he looked like James Earl Jones. McCaa actually turned 57 on Thursday.