Local Nielsen ratings snapshot (Wed., Jan. 19) -- loud numbers for Season 10 Idol debut
01/20/11 11:48 AM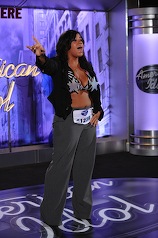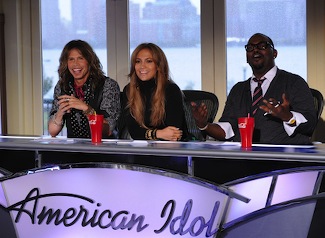 Yikes, the new judges even liked bawdy Tiffany Rios. Fox photos
By ED BARK
Shorn of Simon Cowell and relaunching on a new night, Wednesday's Season 10 premiere of Fox's
American Idol
at times seemed intent on giving everyone a ticket to Hollywood.
New judges Steven Tyler and Jennifer Lopez were notably kinder as advertised. And the rejects had appreciably less air time during the two-hour trip to New Jersey. Meanwhile, D-FW audiences were more than willing to play along, driving
Idol
to total dominance from 7 to 9 p.m. over an array of first-run attractions on rival networks.
Idol
amassed 602,536 viewers locally, with 256,667 of them in the coveted 18-to-49 demographic. The best showings for competing programs were 311,657 total viewers for CBS'
Criminal Minds
and 134,915 viewers in the 18-to-49 range for ABC's
Modern Family
.
Among the series left for dead were ex-
Idol
judge Paula Abdul's
Live to Dance
(131,588 total viewers in the 7 p.m. hour) and NBC's made-in-Dallas
Chase
(117,737 viewers at 8 p.m. on its new night and time).
(Nationally,
Idol
took a bit of a dip, according to "overnight" Nielsen numbers. Its 26.1 million viewers were down from 29.9 million for the Season 9 launch. And it dropped from an 11.8 to a 9.7 rating with 18-to-49-year-olds.)
Back in D-FW, CBS'
Blue Bloods
prospered in its first trial run on Wednesdays, winning the 9 p.m. hour in total viewers (311,657) over runner-up Fox4's local newscast (235,474 viewers). But the Tom Selleck-driven cop drama badly faltered with 18-to-49-year-olds, drawing just 32,906 of 'em compared to 88,846 apiece for Fox4's news and ABC's new
Off the Map
.
The Dallas Mavericks' gutty home win against the Los Angeles Lakers, which ended a six-game losing streak, had relatively pint-sized audiences on two outlets. TXA21's homegrown telecast averaged 90,034 total viewers while ESPN chipped in with 76,183. Demographically, however, the Mavs did beat
Blue Bloods
among 18-to-49-year-olds.
In local news derby results, CBS11 edged WFAA8 for the 10 p.m. gold in total viewers while NBC5 and WFAA8 tied for the top spot with 25-to-54-year-olds, main advertiser target audience for news programming on most stations.
Fox4 scored twin wins at 6 a.m. and WFAA8 did likewise at 5 p.m. The 6 p.m. race in total viewers amounted to a three-way tie among NBC5, WFAA8 and CBS11. But the Peacock gets the nod if the numbers are boiled down to one-hundredths of rating points. WFAA8 had the 6 p.m. gold to itself in the 25-to-54 demographic.