'Boys will be 'Boys: Dallas finds another way to lose, paving the way for (Jerry as coach?)
10/17/10 07:38 PM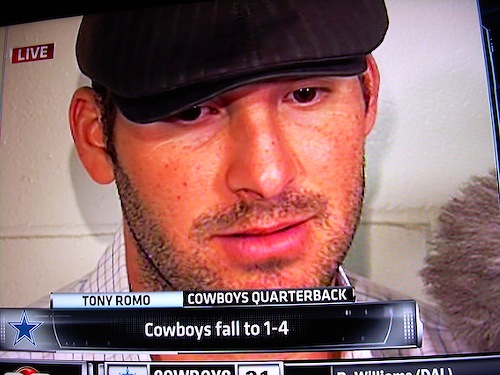 Romo faces music after latest song sung blue. Photo: Ed Bark
By ED BARK
At this point why not?
After Sunday's latest snatching of defeat from victory -- a 24-21 loss at Minnesota -- maybe it's time for Jerry to be the ultimate Jerry.
The Cowboys' owner has always harbored a desire to coach his jocks with socks. So with little to lose at this point, let's see what he can do. And yes, I'm reasonably serious in proposing that Jerry Jones take the field and call the shots for the rest of this so far desultory season. Hell, he calls 'em anyway, so this would only underscore the obvious. The King of the Cowboys has talked big ever since sacking Tom Landry 22 years ago and putting his team in the hands of six different head coaches, including current incumbent Wade Phillips. What if Jones tried it himself? Could he do much worse?
I haven't been a Phillips basher. But the poor old galoot is snake-bitten and plumb wore out after five games of a season that was supposed to end with Jerry's 'Boys playing in Jerry's Palace in February's Super Bowl.
That's now become an extreme long shot, with the Cowboys' schedule only getting tougher. You can't bring in a coach worth a lick at this point. And none of the current assistant coaches looks man enough to handle the head job. That includes former heir apparent Jason Garrett, the onetime presumed play-calling genius who lately inspires less confidence than the return of Dave Campo.
Commentators around the country say the Cowboys are a talented bunch lacking discipline. Perhaps what they need is a whip being cracked by the guy who directly signs their checks. No one fears Wade Phillips. But Jerry as coach would leave no doubt who's in charge, even if it's only for the rest of this season while he tries to lure another authoritarian from an outside world populated by the likes of Bill Cowher and Mike Holmgren.
Meanwhile, imagine the ultra-drama of Jerry on the sidelines with a headset and a clipboard. He's had a facelift and the team desperately needs one. Worse case scenario: Jerry gets coaching completely out of his system after the team tanks under his all-powerful reign. And then he backs off completely in future seasons, becoming an owner who simply enjoys dressing up to come to the games. You know, like that old duffer who bankrolls the Saints.
Best case scenario: the Cowboys actually respond to Jerry -- which isn't utterly out of the question. He fanatically spurs them toward a fantastic finish and a playoff spot. And after that, you never know.
So yeah, I really like the idea of Jerry Jones prowling the sidelines and getting a big dose of his own medicine. Truth in telling, I'm a native Wisconsinite whose Green Bay Packers aren't exactly playing lights out lately either. The Green 'n' Gold, now 3-3, has had a ton of key injuries, though, while the grossly under-achieving Cowboys have been sound of body if not solid on fundamentals.
Something clearly needs to be done with your Dallas Cowboys. Phillips doesn't have the motivational skills required at this point. But maybe Jerry does.
Odds are he'd make a fool of himself as head coach. But what a show it'd be. And besides, there's that little team down the street called the Texas Rangers, who are threatening to steal the Cowboys' thunder by actually standing up to the mighty New York Yankees. Jerry naming himself head coach would nip that right in the bud.
I know. It's crazy. But the timing has never been better.