ABC's Good Christian Bitches gets new name -- and apparently a new out-of-Dallas venue
05/16/11 04:52 PM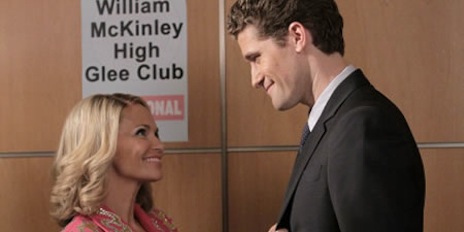 Kristin Chenoweth in earlier guest shot on Glee. Fox photo
By ED BARK
ABC has picked up
Good Christian Belles
for next season after dropping the previous B-word (Bitches) from its working title during filming of the pilot episode in Dallas.
But co-star Kristin Chenoweth said on Monday morning's edition of
Fox & Friends
that the show will go on elsewhere. "We shot the pilot in Dallas. We'll shoot it (the series) in New York or L.A.," she said on one of her favorite TV venues.
ABC officially announces its new 2011-12 plans on Tuesday morning, when a night and time for
Good Christian Belles
will be disclosed.
As
previously posted
, the melodrama is adapted from the book by Kim Gatlin, with Leslie Bibb and Annie Potts also in the cast assembled by ABC.
Bibb plays central character Amanda Vaughn, a scandal-rocked divorced mother of two who returns to her Dallas hometown and becomes the target of nasty back-biting by former Christian schoolmates. Gatlin's official
GCB website
puts it this way: "In the whirling midst of salacious gossip, Botox, and fraud, Amanda turns to those who love her and the faith she's always known. Will the Good Christian Bitches get the best of her, or will everyone see that these GCBs are as counterfeit as their travel jewelry?"
Dallas Film Commission head Janis Burklund could not immediately be reached for comment on Chenoweth's revelation that
GCB
won't be making Dallas its home base. The city still hopes to land TNT's re-do of
Dallas
on a permanent basis if the network commits to a series. The pilot was filmed in North Texas this month, with original cast members Larry Hagman, Linda Gray and Patrick Duffy back in harness along with a younger generation of actors playing their various offspring.
Last year at this time, Dallas was flush with the news that NBC's
Chase
and Fox's
The Good Guys
and
Lone Star
all would be filming in the Dallas area after making their networks' fall lineups. But they were canceled in fairly short order, as was ABC's new Austin-made drama series,
My Generation
.