Cheerleading Fox4 makes ass of self, tweets Rangers win before Cards rally in 9th and eventually win (updated)
10/28/11 12:30 AM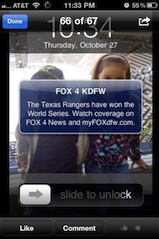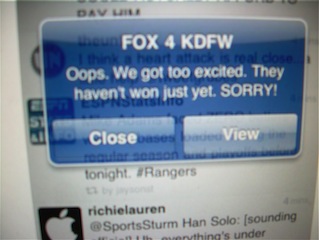 By ED BARK
Yearning to be first in a post it/promote it age, Fox4 just couldn't help itself Thursday night.
Its cheerleading coverage of the Texas Rangers, with both the ALCS and World Series carried on Fox, reached the point of no return when the Dallas-based station tweeted a Rangers' World Series victory during the 9th inning of Game 6 against the St. Louis Cardinals.
Of course it turned out otherwise. Texas blew two-run leads in both the 9th and 10th innings enroute to a crushing 10-9 loss on David Freese's walkoff home run in the 11th inning. Game 7 will be Friday.
Adult news operations aren't supposed to behave this way. But Fox4, led by the histrionics of longtime anchor Clarice Tinsley, had set itself up for this kind of embarrassment for the past two weeks. Of course the station is going to pour on the coverage when it's the official home of both post-season attractions. But the incessant yoo rah rah home team boosterism has become increasingly childish, laying the groundwork for what happened Thursday night.
Still, this is the No. 5 market in the country, not Terrytown. And whatever its allegiance to the Rangers, Fox4 should know better than to tweet an outcome before it in fact happens. The station instead struck out big-time. And its on-air post-game coverage of course made no mention of its major league gaffe.
The station fessed up, to a degree, with an unattributed staff posting Friday morning on the
Fox4 Facebook page
. Here's the verbatim explanation:
"Can we really post anything w/o addressing the premature iPhone app alert last night? Looks like our web writer pre-wrote an iPhone app alert during the 9th while doing other things (cutting web video/pictures) & accidentally sent it out. Only those with the Fox 4 app on their iPhone or iPad received this."
However it went down, D-FW now has its very own
"Dewey Defeats Truman"
faux pas
.