Local Nielsen ratings snapshot (Tues., April 5) -- Aggie victory dance vs. Rangers 5-0 start
04/06/11 05:14 PM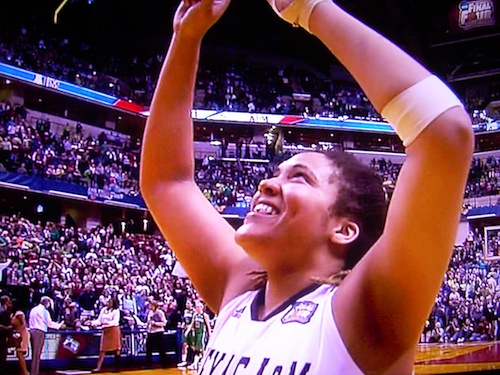 A&M star Danielle Adams celebrates national title. Photo: Ed Bark
By ED BARK
A women's NCAA hoops final that was as good as the men's was bad gave Texas A&M its first national title Tuesday night with a pulsating 76-70 win over Notre Dame.
And the Texas Rangers made it five wins in a row to open the season by beating the visiting Seattle Mariners.
The two high-fiving sports attractions aired opposite each other, with A&M-Notre Dame tipping off at 7:45 p.m. on ESPN while the Rangers had their usual 7:05 p.m. start time on Fox Sports Southwest.
The Aggies peaked at 228,548 D-FW viewers for the final 15 minutes of the game (9:45 to 10 p.m.), averaging 166,217 viewers overall. The Rangers outdid them with a high of 283,954 viewers between 8:45 and 9 p.m. and an overall average of 193,920.
Over in the broadcast network universe, ABC's
Dancing with the Stars
results show (outta here, Wendy Williams) had a commanding 373,988 viewers in the 8 p.m. hour. But Tuesday's biggest draw was CBS' 7 p.m. new episode of
NCIS
(380,914 viewers).
ABC's new
Body of Proof
continued to hold up well at 9 p.m., winning its time slot with 235,474 viewers.
Body, Dancing
and
NCIS
also took their respective hour with advertiser-coveted 18-to-49-year-olds.
TXA21's 7 to 9 p.m. local newscast hit bottom with "hashmarks" (no measurable audience) in the 18-to-49 demographic. It also came up empty in total viewers from 8 to 9 p.m., while drawing a flea-sized 2,770 for its 7 p.m. hour. CW33's 9 p.m. local news qualified as a Goliath in comparison, with a nonetheless puny 20,777 total viewers and 3,291 of them in the 18-to-49 range. That's just not gonna pay the bills for either station.
In the major league news divisions, WFAA8 basked in
Body of Proof
's lead-in before drawing a top-of-the-heap 235,474 total viewers for its 10 p.m. newscast. That's an impressive complete retention of the
Body of Proof
audience, which should be good enough for the 10 p.m. crew to merit at least double scoop ice cream sundaes Wednesday while owner Belo's five principal titans tote home
$1.6 million in cash bonuses
as well as hefty yearly salary increases. Note to sports anchor Dale Hansen, though. No extra nuts.
WFAA8 also won at 10 p.m. among 25-to-54-year-olds, the main advertiser target audience for news programming on most stations.
Fox4 again controlled the 6 a.m. Nielsen competitions while WFAA8 did likewise at 6 p.m. The 5 p.m. spoils were split, with WFAA8 running first in total viewers and CBS11 the winner with 25-to-54-year-olds.