Local Nielsen ratings snapshot (Wed., July 20 -- Cruz-ing for a bruising on Night 3 of GOP convention
07/21/16 02:02 PM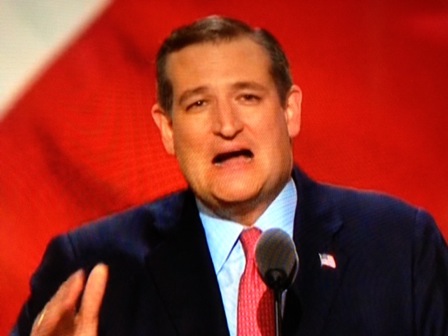 Ted Cruz stole show with non-endorsement speech. Photo: Ed Bark
By ED BARK
@unclebarkycom on Twitter
Although his controversial speech ended shortly before the 9 p.m. "magic window" Wednesday, Texas Sen. Ted Cruz got the lion's share of attention on both broadcast and cable networks.
His ringing non-endorsement of Republican presidential nominee Donald Trump, prolonged by boos, applause and at times deafening overall sound, also served to push vice presidential nominee Mike Pence's speech past prime-time. He didn't finish until 10:13 p.m., but ABC, CBS and NBC all stayed with him before quickly signing off.
Cruz, who doubled down on Thursday morning by saying he wouldn't be a "servile puppy dog" to a man who had attacked both his wife and late father, stole virtually all of Pence's thunder -- as well as Trump's. With just one night to go, the Republican convention from Cleveland has turned out to be a theater of the absurd that began on Monday night when it was found that Trump's wife, Melania, had lifted portions of First Lady Michelle Obama's 2008 convention speech.
First let's look at the convention's 8:30 to 9 p.m. ratings, when the bulk of Cruz's speech was delivered. Since ABC, CBS and NBC weren't covering it live, we'll give you just the three cable news network ratings (plus PBS) in total D-FW viewers and 25-to-54-year-olds (main advertiser target audience for news programming).
Total Viewers
Fox News Channel -- 162,895
CNN -- 56,659
PBS -- 42,494
MSNBC -- 35,412
25-to-54-Year-Olds
FNC -- 29,763
MSNBC -- 17,858
PBS -- 14,882
CNN -- 11,905
Now here are the ratings for the 9 to 10:15 p.m. coverage, during which Eric Trump and Newt Gingrich spoke before Pence came on and received a climactic air kiss at speech's end from the head of the ticket.
Total Viewers
FNC -- 184,142
NBC -- 134,566
ABC -- 56,659
CBS/CNN/MSNBC -- 49,577 apiece
PBS -- 35,412
25-to-54-Year-Olds
NBC -- 77,384
FNC -- 41,668
MSNBC -- 20,834
ABC -- 17,858
CNN -- 11,905
PBS -- 8,929
CBS -- 5,953
Add them all up and that's a combined 559,510 total viewers and 184,531 in the 18-to-49 age range. Both are the biggest convention audiences to date, narrowly beating the marks set on opening night. but Donald Trump's Thursday night acceptance speech assuredly will be the week's biggest draw in both ratings measurements.
The most-watched program on any single network, NBC's 7 to 9 p.m. edition of
America's Got Talent
, had 226,637 total viewers.
On Fox Sports Southwest, the free-falling, but still first-place Texas Rangers averaged 134,566 total viewers for their road loss to the Angels. Decimated by injuries, the Rangers have gone as cold as they once were hot.
Here are Wednesday's local news derby results.
The 10 p.m. newscasts, save for Fox4's were pushed significantly past their scheduled start times and won't be counted in this roundup.
Otherwise Fox4 swept the 6 a.m. competitions and NBC5 did likewise at 5 and 6 p.m. in both total viewers and 25-to-54-year-olds.
Email comments or questions to:
unclebarky@verizon.net