Local Nielsen ratings snapshot (Fri.-Sun., Feb. 5-7) -- another steamrolling Super Bowl
02/08/10 10:36 AM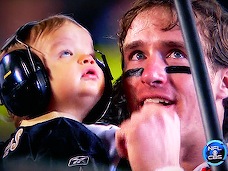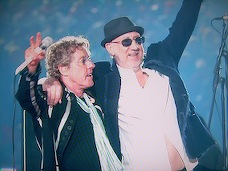 Victorious Saints QB Drew Brees with son, Baylen; The Who's Roger Daltrey and Pete Townsend after Supie halftime show. Photos: Ed Bark
By ED BARK
A little thing called Super Bowl XLIV occupied 74 percent of all D-FW TV sets in use Sunday, topping last year's audience by more than 450,000 viewers.
The New Orleans Saints' 31-17 win over the favored Indianapolis Colts averaged a mammoth 2,599,153 viewers locally on CBS, peaking at 2,911,323 in the game's final 15 minutes.
Last year's down-to-the-wire game, in which the Pittsburgh Steelers edged the Arizona Cardinals, had 2,125,760 viewers with a peak audience of 2,431,338.
Saints-Colts also rolled up a big number among advertiser-craved 18-to-49-year-olds. Of the 2,599,153 viewers, 1,298,117 were in this age range.
This year's halftime act, The Who, are old enough to be the fathers or grandfathers of most viewers in the 18-to-49-year-old demographic. But surviving members Roger Daltrey and Pete Townsend made a very game go of it, even if it's doubtful that Daltrey summoned a live primal scream for the climactic "Won't Get Fooled Again." If he did, the camera didn't catch him, which is a cardinal sin. So I'm guessing they used a recorded "Ye-a-a-a-a-a-a-a-a-a-a-a-a-a-a-h!!!!!!!!!!!!!!!!" from one of the soon-to-be 66-year-old lead singer's better days.
CBS' post-Super Bowl show, the premiere of the reality series
Undercover Boss
, drew 1,133,312 viewers.
Rival broadcast networks wisely threw in the towel against Supie XLIV, with ABC's 6 to 7 p.m. repeat of
America's Funniest Home Videos
the biggest draw (47,504 total viewers).
In Friday's local news derby results, WFAA8 maintained its 10 p.m. lead in the February sweeps' six-weeknight sprint to the Feb. 12th start of the Winter Olympics. The snow/ice competitions from Vancouver then will push NBC5's late nighter out of the mix while also likely sucking viewers away from the three newscasts on Fox4, WFAA8 and CBS11.
WFAA8 won at 10 p.m. in both total viewers and 25-to-54-year-olds, the main advertiser target audience for news programming. The ABC station also swept the 5 p.m. news competitions.
NBC5 ran the table at 6 a.m., with WFAA8 second in both measurements. The usual silver or gold medalist, Fox4, fell to fourth place with 25-to-54-year-olds, just a smidge behind CBS11.
At 6 p.m., CBS11 recorded rare twin wins, edging WFAA8 in total viewers and running first by a more comfortable margin with 25-to-54-year-olds, where Fox4 and WFAA8 tied for second.