NBC5 says sky is the limit for new "Big S" radar and other weather-watchers
11/21/16 03:34 PM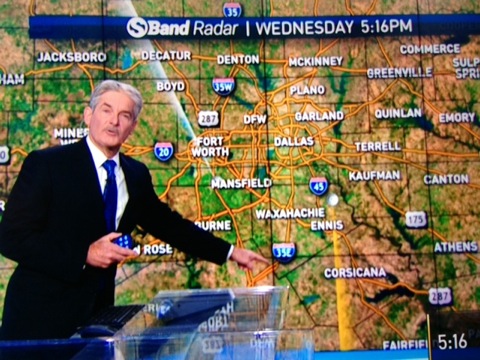 Dean of D-FW meteorologists David Finfrock points to the S-Band radar gold, which he bills as a big "game-changer." Photos: Ed Bark
By ED BARK
@unclebarkycom on Twitter
When in doubt, double down on the weather. Better yet, triple down.
Fort Worth-based NBC5, flush with ratings momentum as the November "sweeps" ratings period winds down, has never messed around on this front. Pure and simple, it wants to "own" the weather franchise in this market. So behold the new "Big S" radar system, latest armament in an "already powerful weather arsenal" that also includes the now grizzled Texas Thunder Truck and a Texas StormRanger mobile Doppler weather radar truck added in August.
"Probably next to the Cowboys, it's the one thing that truly unites the entire community," NBC5 vice president of news Mark Ginther says of whatever Mother Nature visits upon us.
This is not hyperbole. When the weather outside is frightful, the local news ratings tend to spike sky high. As Ginther's predecessor, Susan Tully, once said, "To me, the fun events are ice storms . . . I love ice storms. I hate them personally."
Dean of meteorologists David Finfrock detailed the new S-Band system during last Wednesday's 5 p.m. NBC5 newscast, touting it as a "game-changer" that allows the station to track serious storms with far more precision.
It gets complicated beyond that and will have to be put to the test to see if there's really any discernible difference to viewers. But basically put, the S-band radar, which replaces a C-band in use since 2003, allows NBC5's team of six meteorologists to more easily tell the difference between rain and hail while also spotting transitions from sleet to snow. S-Band also can see much better at night than the old system because it sends out both horizontal and vertical radar beams.
"We think it's the gold standard of radars and we've got a gold radar beam on it," Finfrock told viewers while pointing to his weather map. "When you see that, you'll know you're looking at our S-Band."
The new system was purchased from Enterprise Electronics Corporation in Alabama and now towers above a "strategic" location southeast of Dallas and Fort Worth. NBC5 and its sister NBC Universal-owned station, Telemundo39, currently are the only two Texas TV stations equipped with S-Band. Just one other NBC owned-and-operated combo, Chicago's WMAQ and Telemundo WSNS, is equipped with S-Band, says Valari Staab, president of NBCUniversal-owned Television Stations.
"We are constantly improving our stations' weather forecasting capabilities because we know how important weather is to our viewers," Staab says via email.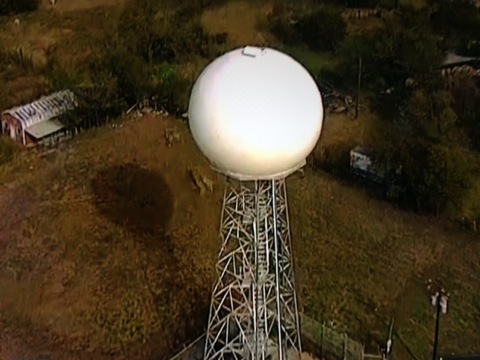 Look, up in the sky. Behold the big ball of Big S radar power.
NBC5 has a long tradition of meteorologist prowess, dating to D-FW's original pathfinder, the late Howard Taft, and continuing with Finfrock, a hand-picked successor who at this point still plans to retire in 2018. All six of the station's weathercasters have full-fledged meteorology degrees.
"I think it really started with having a core group of meteorologists who can use this technology to help inform viewers," says Ginther. "They know how the technology can help tell the weather story better. It's not a gimmick."
Nor is it cheap, although the price tags as usual are under wraps. But in times when rival stations, notably TEGNA-owned WFAA-TV, are squeezing nickels and downsizing their production teams, NBC5 remains buoyed by its parent company's seeming willingness to spend rather than shrink. The station's still
comparatively new studios
, unveiled three years ago, are also still a shot in the arm. Ginther, who formerly worked at WFAA-TV as assistant news director, says he joined NBC5 in August 2015 from Seattle's KING-TV in part because he was wowed by the station's new state-of-the-art operations center.
"I'm telling you, it's a recruiting tool," he says. "I think the company's investment in this facility has also really given the people who have been here a long time some confidence in what we're doing."
S-Band radar is the latest estimable add-on. Time will tell whether it's more show-and-tell than big breakthrough. But NBC5's resolve to rain all over its competitors is both a long-term game plan and a potential ratings windfall for years to come. Weather can be a big troublemaker, but it's also a ratings kingmaker. And for now, NBC5 is its castle.
Email comments or questions to:
unclebarky@verizon.net