Local Nielsen ratings snapshot (Fri.-Sun., Dec. 3-5) -- Cowboys pony upward while Trinity-Coppell pumps up TXA21's late night numbers
12/07/10 05:55 AM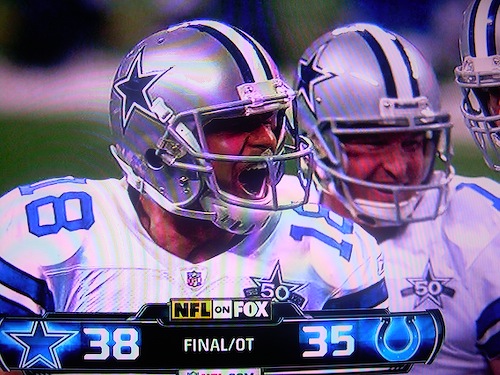 Cowboys kicker Jay Buehler exults in game-winning OT FG.
By ED BARK
The belatedly resurgent Dallas Cowboys flexed like their old selves in the D-FW Nielsen ratings Sunday, averaging 1,343,586 viewers on Fox for a pulsating overtime win against the Indianapolis Colts.
The audience peaked between 6:15 to 6:30 p.m., when 1,613,688 viewers witnessed kicker Jay Buehler's game-winning field goal. It made Dallas a still woeful 4-8, but viewers no longer are tuning out interim head coach Jason Garrett's attitude-enhanced, hard-playing North Dallas Forty.
On Friday night, the relentlessly high-scoring battle of high school football unbeatens Trinity Euless and Coppell ended on the last play of this heavyweight playoff bout. Trinity's winning touchdown in a 41-40 game drew 166,217 viewers during the climactic 15 minutes between 10:30 to 10:45 p.m. That's not much compared to the Cowboys, but it did make TXA21 the market 's No. 1 broadcast station opposite Fox4's syndicated
TMZ
and the network late night attractions on ABC, CBS and NBC.
Overall, Trinity-Coppell averaged 103,886 viewers while CBS'
Blue Bloods
easily had Friday's biggest prime-time haul with 290,879 viewers.
On Saturday night, ABC's prime-time Big 12 championship game between Oklahoma and Nebraska drew 429,393 viewers. It was played on the grand stage of Jerry's Palace.
Sunday's non-Cowboys NFL games were paced by Giants-Redskins on Fox and Steelers-Ravens (NBC), each of which averaged 477,873 viewers.
Friday's local news derby results yielded a split decision at 10 p.m., with CBS11 winning in total viewers and WFAA8 on top among 25-to-54-year-olds, the main advertiser target audience for news programming.
NBC5 perked up in the early morning to sweep the 6 a.m. ratings by narrow margins over Fox4.
WFAA8 ran the table at 5 p.m. and also finished first at 6 p.m. in the 25-to-54 demographic. WFAA8 and CBS11 shared the total viewers gold at 6 p.m.