Former NBC5 reporter/congressional candidate Grant Stinchfield adds full-time Dallas radio show to resume
02/05/14 01:47 PM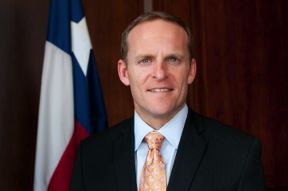 By ED BARK
@unclebarkycom on Twitter
Former NBC5 reporter and Republican congressional candidate Grant Stinchfield will be heard -- but not seen -- in a big way later this month.
After joining Dallas-based KLIF radio (570 AM) as a Saturday night talk host in December 2012, Stinchfield is being ramped up to a four-hour program five days a week. KLIF will air
The Stinchfield Report
from 3 to 7 p.m. weekdays, starting on Feb. 17th. He'll also continue with his one-hour Saturday show, which airs at 9 p.m.
Stinchfield is replacing Kurt Gilchrist, who's been anchoring a news and information program on KLIF for the past two years. Gilchrist "has done an outstanding job" and will remain with KLIF through March, operations/program manager Tyler Cox said in a publicity release Wednesday.
"I don't want it to be the same old/same old 'Let's-Slam-Obama' show," Stinchfield said in a telephone interview with unclebarky.com. "I still want to expose the idocracy that permeates government at all levels. At some level, four hours a day may not be enough to cover all the nonsense that goes on from here to Washington."
Stinchfield
left NBC5 in April 2011
after buying a Kwik Kar Auto Lube and Repair shop in Irving. He still owns the business and plans to keep it running.
In 2012, Stinchfield ran against incumbent District 24 congressman Kenny Marchant, getting more than 30 percent of the vote against the veteran Republican.
He won't be campaigning for any elective office this year, but "I've never ruled out a future run," Stinchfield said. "The timing has to be right for me. With a million dollars, I can win that race. But a million dollars is very hard to raise."
Stinchfield spent seven years at NBC5. During his congressional campaign, he
bought a 30-second ad
that accused his old station of bias and timidity. "Too many times NBC refused to let me tell the stories you needed to hear," he said in a spot that aired during two of NBC5's 4 p.m. newscasts. "Was it liberal bias or simply the fear of losing ad dollars? I believe it was both." The station later issued a statement that said Stinchfield's allegations "are simply not true."
In Wednesday's interview Stinchfield said, "I do not miss TV at all. And I feel that radio has allowed me the freedom to talk about and expose what's important without any handcuffs or orders to be politically correct."
Stinchfield said his new KLIF show will mirror his political campaign in "taking on the establishment and making sure that career politicians and career bureaucrats don't get away with it. My voice on the radio is the people's voice. I'm simply the mouthpiece for every average Texan that feels the way I do. They're just fed up with the direction of the country and the news that they see everyday."
KLIF recently added syndicated national talk shows hosted by Laura Ingraham and Dennis Miller after dropping Geraldo Rivera and Mike Huckabee from its programming mix. Stinchfield, whose lead-in will be Miller's show, is the only "locally originated conservative talk host" on KLIF, he said. "I'm excited. KLIF is on its way to returning to its glory days of conservative talk."
Stinchfield's marriage, to Amy Vanderoef of WFAA8's locally produced
Good Morning Texas
program, has not survived his various post-NBC5 activities. They were divorced a little less than a year ago, he said. They share custody of a son, Wyatt, who was 2 when Stinchfield ran for Congress.
"She's a terrific lady," Stinchfield added. "It was totally amicable. She's a terrific mom. It probably was the smoothest divorce in the history of Dallas."
Email comments or questions to:
unclebarky@verizon.net