New bottom lines on Fox4's 9 p.m. newscasts
02/09/10 11:34 AM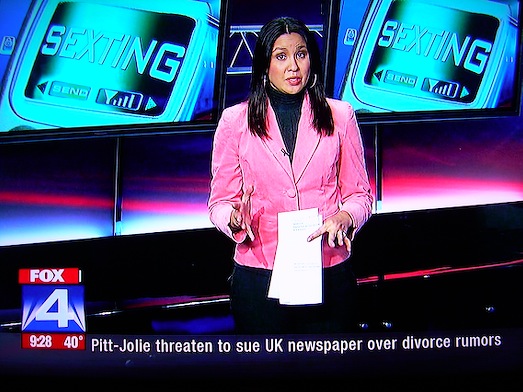 Sophia Reza had company on Monday's 9 p.m. newscast. Photo: Ed Bark
By ED BARK
Your eyes are being asked to multi-task as part of a new look on Fox4's 9 p.m. newscasts.
The Dallas-based station is now deploying news briefs on the bottom of home screens. They rotate rather than "crawl" while anchors and reporters are otherwise occupied with other stories. Interesting combos are always a possibility, of course. In the above picture, reporter Sophia Reza introduced a story on telephone "Sexting" while Brad Pitt and Angelina Jolie contemplated a lawsuit over widely disseminated reports that they aren't having sex anymore because their relationship (not marriage) is on the rocks.
Bottom-of-the-screen news blips are hardly new, although the eye can still encounter a little trouble getting used to them when they pop up in a new venue. All three major cable news networks began implementing right-to-left moving news "crawls" in the immediate aftermath of the Sept. 11, 2001 terrorist attacks.
CNN since has stopped using them, but Fox News Channel and MSNBC persist. HLN, formerly CNN Headline News, retains a rotating device identical to Fox4's.
Whether viewers are served -- or needlessly distracted -- remains an open question. What's your view?