Byron Harris saluted by Press Club of Dallas in memorable night for all
09/29/15 10:50 AM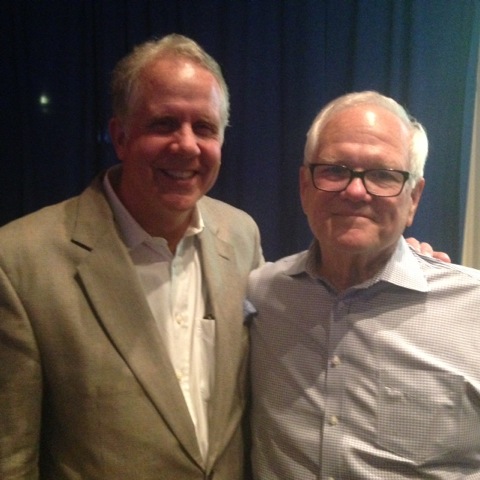 Fellow WFAA investigative reporter Brett Shipp and honoree Byron Harris at Monday night's Press Club of Dallas salute at the 3015 Trinity Groves event center. And what an event it was. Photo: Ed Bark
By ED BARK
@unclebarkycom on Twitter
Both subjectively and objectively speaking, Monday night's
Press Club of Dallas
sendoff for retiring WFAA-TV investigative reporter
Byron Harris
was a beyond expectations success.
Subjectively because your friendly content provider, as a new Press Club board member, helped to set up the event and also served as its emcee. Objectively because it drew a very enthusiastic crowd of 125 or more to the 3015 Trinity Groves event center. Harris, who's leaving the TV news business on Oct. 9th after a stellar 41-year career at WFAA, is clearly very much appreciated by both former and current colleagues. So the night had a palpable vibe of good will and cheer, with Harris genuinely moved and overwhelmed.
Former WFAA staffers on hand to salute him included Tracy Rowlett, Gloria Campos, Debbie Denmon, Midge Hill, Bill Brown, Peggy Wehmeyer, Brad Hawkins, Chris Heinbaugh, Teresa Woodard, Rebecca Rodriguez, Karin Kelly, John Sparks, John Gudjohnsen, David Goldberg, Jim Tapley, P.J. Ward, Sidney Sims, Pat Trapf and Press Club board member Michael Grant. A sizable contingent of Harris' current news room colleagues also attended, including news director Carolyn Mungo, assistant news director Eric Valadez, producer Jason Trahan and reporters Rebecca Lopez, Jim Douglas, Lauren Zakalik, Tanya Eiserer and Philip Townsend. A number of others were unable to be there because of their work schedules.
Brett Shipp, Harris' longtime running mate on WFAA's investigative team, agreed to do the main Q&A with the honoree. Together they've won a total of nine prestigious duPont-Columbia awards and five George Foster Peabody awards. Plus countless other "smaller" national and regional honors during the 20 years since Shipp joined the station in 1995. No local news duo in the land can come close to matching that.
Harris is the gumshoe gold standard, though, as Shipp readily agrees. But he'll turn 69 on his retirement day and it's time to exhale and breathe in some of life's other passions, including fly fishing with his wife, Linda. She was WFAA consumer reporter Linda Metcalf before Harris met and married her.
In his closing comments, Harris noted that "there's too much news" now. It's a constant bombardment both locally and nationally, he said, with viewers wearying of both the repetition and all too often, the sensationalism. When he joined WFAA back in 1974, the constantly spewing cable news networks had yet to be birthed and the number of local news hours were substantially less, particularly in morning and late afternoon hours.
But as he noted in an earlier interview with unclebarky.com, "It doesn't do any good to wish for the good old days. There are never any good old days in anything. It's only today and tomorrow."
As his yesterdays approach -- in the news business at least -- we wish Byron Harris a long and fruitful retirement. It was a privilege and a pleasure to be part of a very memorable night Monday. As everyone in that room will attest.
Email comments or questions to:
unclebarky@verizon.net