Dallas Morning News "Special Contributors" lack certain identifying characteristics
08/17/09 01:17 PM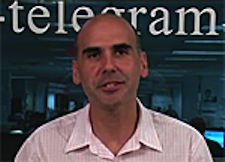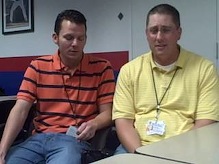 Dallas Morning News "special contributors" Christopher Kelly, Anthony Andro, Jeff Wilson, all of the Fort Worth Star-Telegram.
By ED BARK
Most of the "content-sharing" coverage in these spaces has been devoted to the
common news pool
recently formed among three D-FW television news providers -- Fox4, NBC5 and "The 33."
But the past weekend's editions of
The Dallas Morning News
cry out for attention. Because whatever the aforementioned stations are doing together is minimal so far compared to the continued ruse being played on the paper's readers.
Take Friday's
GuideDaily
, largely devoted to coverage of the latest movie releases. The 12-page section has seven reviews --
none
of them from a
DMN
critic. OK, maybe other assignments, vacations, etc. factored into this. Still, it never should happen at a paper that used to take pride in having
all
of its movie reviews written by staffers.
Here's what's worse, though, and it's an ongoing practice. First a little backdrop.
Since last fall, the
DMN
has partnered with its former arch-rival, the
Fort Worth Star-Telegram
, in a content-sharing arrangement. Editor Bob Mong, in announcing this development to staffers, said in part, "I can assure you we have no intention of diluting our powerful brand. But I do know there are ways to move forward with the
Star-Telegram
, save money and continue to provide the outstanding unique content we are known for. I also believe that collaboration is made possible because of the mutual respect the two newsrooms have for one another."
The "mutual respect" stops, however, when it comes to identifying which stories or reviews in the
DMN
are also appearing in the
Star-Telegram
.
In Friday's
GuideDaily
, the lead movie review, of
District 9
, is written by "Special Contributor" Cary Darling. Two film reviews inside, of
Spread
and
Adam
, are by "Special Contributor" Christopher Kelly.
Both writers, identified no further, are full-time
Star-Telegram
staffers. Not that many readers would know this. Instead they're led to believe that Darling and Kelly are freelancers contributing unique content to the
DMN
.
Also, in case you're wondering, the only outside contributors camouflaged in this way are those from the
Star-Telegram
. All others are specifically identified, either next to their bylines or at the bottom of their articles.
For instance, the frequently used Roger Moore of the
Orlando Sentinel
is labeled as such in his two movie reviews Friday. Christy Lemire of the Associated Press, who also has a pair of film reviews in that day's
DMN
, also is linked to her principal employer.
(In truth, the
Star-Telegram
really isn't any more above board. Its stories by
DMN
writers are labeled
"Special to the Star-Telegram"
-- and nothing else.)
Let's move to Friday's
SportsDay
section of the
DMN
, where the top of the page lead Texas Rangers story is by "Special Contributor" Anthony Andro. Sunday's main story on the Rangers is by "Special Contributor" Jeff Wilson, with "Special Contributor" Andro contributing some companion Rangers briefs. They are, of course, full-time
Star-Telegram
sports writers. The absence of any further identification is a dead tip-off.
As fans know, this is a particularly bad season to turn the Rangers beat reporting over to the
Star-Telegram
. Having its best season in years, the team currently is atop the American League "wild card" chase for a post-season playoff spot. But most
DMN
readers probably are none the wiser. They think Wilson and Andro are writing exclusively for the
DMN
. And the paper isn't about to let them think otherwise.
All other outside
Sports Day
contributions are identified, including Sunday's full page of PGA Championship coverage by the Associated Press and
Washington Post
. Guess that's why there's no mention at all of eventual champion Y.E. Yang's residence in nearby Southlake. The AP and the
Post
of course wouldn't care about that local angle. And the
DMN
didn't bother to insert this rather pertinent fact.
While on this subject, here's another example of the
DMN
's continued partnership with WFAA8, even though they're now supposedly owned by "separate" Belo companies. If anything, though, the synergy between the two is even more evident than it was before the supposed split. So much so that Sunday's
TV Week
had a full-page house ad on the back cover touting WFAA8's
Daybreak
team of Cynthia Izaguirre and Chris Flanagan.
Not coincidentally,
Daybreak
remains in an early morning ratings ditch, fighting to stop CBS11's long downtrodden waker-upper from overtaking it for third place behind NBC5 and Fox4, which soon will debut
new co-anchor Lauren Przybyl.
During such trying times, it's nice to have the
DMN
play its house organ Wurlitzer in support of
Daybreak
. Meanwhile, the paper also will keep feeding readers a steady diet of
Star-Telegram
"Special Contributors." Without telling them, of course. Because that apparently would be a little embarrassing for all concerned.
Also of note:
Sunday's PGA coverage on CBS included prominent roles for two long-ago WFAA8 sports anchors. Verne Lundquist as usual did some of the play-by-play and Bill Macatee presided over the closing trophy presentation to Yang, whom he also interviewed through an interpreter.