Local Nielsen ratings snapshot (Fri.-Sun., Jan. 20-22) -- lopsided NFL championship games result in Nielsen ups/downs
01/23/17 11:27 AM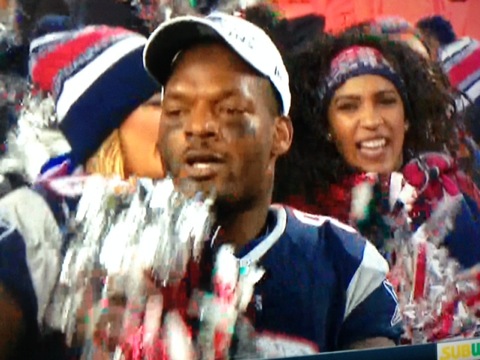 Former Cowboy Martellus Bennett got his pom poms out and is going to his first Super Bowl as a New England Patriot. Photo: Ed Bark
By ED BARK
@unclebarkycom on Twitter
A pair of blowouts Sunday afternoon and evening didn't put any big dents in the local ratings for both the NFC and AFC championship games. In fact, one of the games did slightly better than last year in D-FW.
The Atlanta Falcons and New England Patriots will be going to Super Bowl LI in Houston after respectively pounding the Green Bay Packers and Pittsburgh Steelers.
The Falcons' 44-21 rout of the Packers, which ran from 2:05 to 5:30 p.m. on Fox, averaged 1,141,563 viewers compared to 1,140,266 for the Carolina Panthers' 49-15 pasting of the Arizona Cardinals in last year's game. So that's a very slight bump, even though the NFC had the generally more ratings-friendly late game last January.
On CBS, the Patriots qualified for their record ninth Super Bowl after beating the Pittsburgh Steelers 36-17. Running from 5:45 to 8:45 p.m., the game averaged 1,119,749 viewers compared to 1,232,338 for last year's much closer 20-18 victory by the Denver Broncos over the Patriots.
CBS then waited until 9:08 p.m. to inflict its very contrived new "reality" series
Hunted
, on local viewers. It averaged roughly 232,675 viewers and lost audience in each 15-minute increment measured by Nielsen Media Research. In comparison, the return of
The X-Files
following the 2016 NFC championship game on Fox had 446,191 viewers.
On Saturday night, Lifetime's remake of the 1988 tearjerker feature film
Beaches
drew 50,898 viewers in the 7 to 9 p.m. slot. But well over half of them -- 35,278 -- were in the advertiser-coveted 18-to-49 age range, so Lifetime is smiling. The AFC/NFC championship games and
Hunted
all fell well short of the 50 percent mark with their percentages of 18-to-49-year-old viewers.
Much of Friday was devoted to the inauguration of Donald Trump as the nation's 45th president. Here is the D-FW ratings breakdown in total viewers between 11 a.m. and noon D-FW, when the principal action occurred.
Fox News Channel
-- 247,217 viewers
NBC
-- 159,964 viewers
CBS
-- 138,151 viewers
Fox
109,067 viewers
ABC
-- 101,795 viewers
CNN
-- 43,627 viewers
MSNBC/PBS
-- 7,271 viewers each
Clearly, the "home team," FNC, dominated compared to its rivals; left-leaning MSNBC barely registered.
In Friday's prime-time ratings, CBS'
Blue Bloods
as usual led in total viewers with 254,489 while
BB
and Fox4's competing 9 p.m. local newscast tied for the top spot with 18-to-49-year-olds (48,107 each).
Here are Friday's local news derby results.
CBS11 had the most total viewers at 10 p.m. and NBC5 won among 25-to-54-year-olds (main advertiser target audience for news programming).
Fox4 again swept the 6 a.m. competitions and the Peacock had twin wins at 5 p.m. TEGNA8 had the most total viewers at 6 p.m. while NBC's extended edition of the network
Nightly News
ran first with 25-to-54-year-olds.
Email comments or questions to:
unclebarky@verizon.net