NBC5 hires Harrisburg's Ben Russell as full-time reporter
10/28/11 01:07 PM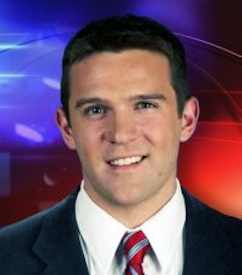 By ED BARK
Ben Russell, who has spent the last five years at CBS affiliate WHP-TV in Harrisburg, PA, is joining Fort Worth-based NBC5 as a general assignment reporter. He's scheduled to make his on-air debut on Halloween, but presumably not in a costume.
NBC5 news director Susan Tully, in an email to station staffers, said that "when it comes to dynamic live shots, Ben had one of the best resume tapes I've seen in a while. He reports on the late news (at WHP) and finds a way to make a story, even a 'non-visual nothing is happening behind me story,' become good live television."
Tully also noted that Harrisburg is a bigger TV market than some might think it is, ranking No. 39 ahead of Las Vegas, Oklahoma City and Austin for example.
Russell is a West Virginia University graduate who earlier worked at WDTV-TV in Bridgeport, WV.
Judging from his 9 minute, 49 second resume tape, which he's posted on youtube, he's clearly a show-and-tell reporter with a fondness for illustrative props. The opening visual on the tape is Russell overhand-tossing a brick through a front windshield to demonstrate the lethal force of that same object being thrown from an overpass by teen "pranksters." And yes, it's a pretty effective way to communicate while also possibly doubling as Russell's pitch for a spot in the Texas Rangers' bullpen.
Here's the resume tape that got Russell hired by NBC5.