This just in: a night in the lives of D-FW's late night newscasts (Fri., Feb. 1)
02/04/08 11:10 AM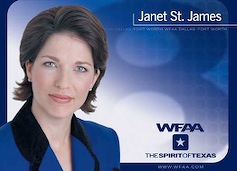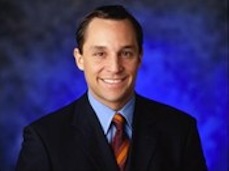 Belo8's Janet St. James and CBS11's Bennett Cunningham
By ED BARK
So who really forced the Food and Drug Administration's hand on the anti-smoking pill, Chantix?
Both Belo8 and CBS11 again took credit on Friday's 10 p.m. newscasts after the FDA issued an advisory saying there may be an association between the drug and "serous neuropsychiatric symptoms."
"The FDA began looking into the popular prescription after a News 8 investigation brought attention to unexplained psychotic thoughts and behaviors in patients taking the pills," anchor
Gloria Campos
told viewers. She referred to earlier reports by the station's
Janet St. James
.
"You may remember CBS11's
Bennett Cunningham
first reported in September on adverse effects of the drug," CBS11 anchor
Karen Borta
said.
Chantix came to national prominence after Dallas musician Carter Albrecht was shot and killed early Labor Day morning after yelling and pounding on a neighbor's door, and refusing to leave. He had been taking Chantix for a week in hopes of quitting smoking and preserving his singing voice.
Internet research of both Belo8's and CBS11's reporting on the incident show that St. James definitely had the first interview with Albrecht's girlfriend, Ryann Rathbone, who had been taking Chantix with him. Her story ran on Sept. 17th, with St. James then traveling to New York to talk about it with
Good Morning America
co-anchor Diane Sawyer on the Sept. 19th edition of the ABC program.
St. James' story also noted that some bloggers had started expressing their concerns about Chantix months before Albrecht's death.
Cunningham also had a story on Rathbone, but not until a week after St. James interviewed her. But Cunningham did stay on the case, reporting on Oct. 25th that Chantix's manufacturer, Pfizer, knew about possible side effects but may have been "using the population as guinea pigs."
The FDA eventually launched a safety investigation into Chantix last November in an effort to document whether the drug might lead to erratic or violent behavior. In a subsequent Dec. 13th report on problems with the drug in the United Kingdom (where it's marketed as Champix), Cunningham said the FDA began investigating "after a series of CBS11 exclusive investigative reports."
Both St. James and Cunningham have worked hard on this story. But who actually got there first? She did. Cunningham's followups were valuable, too, though. And viewers have been served in both cases.
THIS AND THAT***
Belo8 gumshoe
Brett Shipp
led Friday's newscast with Part 2 of his overblown reporting on the Dallas Cowboys' still under-construction Arlington palace and its potential to line the pockets of owner Jerry Jones at taxpayers' expense.
But Arlington mayor Robert Cluck said the Cowboys in turn are giving the city exactly what they promised. And that includes the 2011 Super Bowl.
Shipp ended the piece by telling anchors Campos and
John McCaa
that the Cowboys now tell him they've sold half of the stadium's ultra high-priced 15,000 club seats. The team initially gave him a figure of 1,800, he said. A dozen of the seats have been purchased by "our sales department," Shipp then noted.
"And that part is not unusual," Campos quickly added, toting a little corporate water. "Other stations do that, too. That's the way it works."
"Oh, absolutely," Shipp agreed. "It's a corporate deal. That's what those club seats are for, is for the corporations. And that's why people (some season ticket holders) are saying, 'Adios.' "
Sports anchor
Dale Hansen
later took a shot at Jones' new pricing structure after reporting that the Buffalo Bills will play a regular season game in nearby Toronto next year. Ticket prices will go from an average of $49 a seat in Buffalo's stadium to $250 in Toronto, Hansen said. "They're using the Jerry Jones price-gouging manual."
It was all cookies and cream on CBS11, where reporter
Kimberly Ball
rhapsodized about the upcoming Super Bowl in Arlington and an exploratory visit to Phoenix last week by Dallas mayor Tom Leppert and the mayors of Arlington and Fort Worth.
Oddly enough, CBS11's
Babe Laufenberg
was the only D-FW sports anchor reporting from the site of Super Bowl XLII, even though his network didn't carry the game. Fox4, which had the telecast, didn't send anybody.
***
NBC5 reporter
Grant Stinchfield
had an intriguing story on dog napping in North Texas. Reporting live from his driveway, he used his yellow lab, Bella, as a prop. She obligingly sniffed the camera lens for openers. Stinchfield then closed his report with this advisory: "A warning to thieves out there. If anyone tries to get at Bella, they gotta go through me."
***
The Peacock was barren of Wal-Mart mentions for a second straight sweeps newscast. But it did lean on its old reliable, "scary," for the second night running. This time it was the parent of students attending an elementary school with a possible bacteria problem. "That's scary," said dad.
***
CBS11 led its newscast with reporter
Katherine Blake
's exclusive interview of the widower and son of 68-year-old Mary Ann Wilkinson, who was shot on her doorstep last month. The station's
Nerissa Knight
also had the most detailed on-the-scene report of Friday night's fatal stabbing in Arlington during a brawl among teenagers. Knight was a bit shaky with her live narrative, though, at one point telling viewers, "We talked to one young man who knew him, as he was killed tonight."
***
For the second straight night, Fox4 had a largely lackluster 9 p.m. newscast. The station was a day late on SMU's tentative plans to have an on-campus pub and allow chaperoned drinking in frat houses to possibly reduce student drinking and driving. CBS11's
Jay Gormley
led Thursday's 10 p.m. newscast with that report. Fox4's
James Rose
did a decent job with the followup, though, and also raised a pertinent question being asked by some students. Namely, "If you're of drinking age and living off-campus, why would you want to come on campus to drink?"
***
Belo8's Campos apparently had a bad hair day. Or at least Hansen thought so, asking her after his sports segment, "What the heck did you do to your hair?"
"I stuck my finger in a socket," she riffed before promising that her coif would be "back the way it normally is on Monday." Belo8 weatherman
Pete Delkus
fretted about his hair on Thursday's 10 p.m. news.
Hansen later let it be known that the Beatles' "Across the Universe," to be beamed into deep space by NASA, has absolutely no resonance with him.
"Never heard of it," he said. Obla di, Obla da.