This just in: Przybyl spelled backwards is Lybyzrp
09/10/09 12:21 PM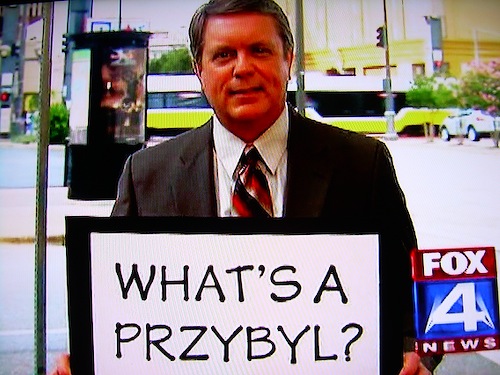 Good Day's Tim Ryan primes pump for newbie. Photo: Ed Bark
By ED BARK
Fox4's
hiring of Dallas native Lauren Przybyl
as
Good Day
's new co-anchor, broken by unclebarky.com in late July, is yet to be announced publicly by the station.
But they've inevitably started playing the name game with her in a new spot in which incumbent anchor Tim Ryan asks various locals, "What's a Przybyl?"
Phonetically it's PRIZ-BULL. Or at least that's the way Ryan's rollin' with it. "I've never heard that word before," an elderly woman tells him.
The spot ends with an announcer proclaiming, "Przybyl -- coming Sept. 21st to
Good Day
." Some viewers might still think that's a new animal mascot or in-house band. But at some point, Fox4 will reveal all to anyone who's still puzzled.
Megan Henderson, now with KTLA-TV in Los Angeles, left
Good Day
at the end of the February "sweeps" ratings period. Various Fox4 staffers have filled in for nearly the past seven months, principally Krystle Gutierrez.
Przybyl arrives at Fox4 from NBC affiliate WHDH-TV in Boston, where she'd been an anchor-reporter for the past five years. The Baylor University graduate also worked at the Belo-owned TXCN cable network in Dallas, and stations in Waco and Abilene.
Fox4 lately has regained some momentum in the 6 a.m. local news wars, battling NBC5 for the top spot. The Peacock remains the defending champ after winning the last major ratings period, the May "sweeps," in both total viewers and advertiser-favored 25-to-54-year-olds.
Also of note in early morning TV
-- Alexa Conomos, traffic reporter for WFAA8's
Daybreak
, will return to the show Friday, Sept. 11th, after a 12-week maternity leave. She now has two children, Alexandros Luka, 2, and baby Alexei Britton.
Doin' what they think they've gotta do
-- The successes or failures of
The Oprah Winfrey Show
and
The Jay Leno Show
are crucial to the ratings fates of WFAA8's 5 p.m. newscast and NBC5's 10 p.m. edition.
So it's hardly surprising -- although not terribly newsworthy -- that anchors for the stations would be sent out of town to interview Winfrey and Leno.
WFAA8 anchor Gloria Campos went to Chicago for her sit-down with Winfrey. It aired during Wednesday's 10 p.m. newscast.
NBC5 anchor Brian Curtis went to L.A. to interview Leno. It aired during Tuesday's 10 p.m. newscast.
The stakes are higher for the Peacock, because
The Jay Leno Show
(premiering Sept. 14th) will be the Monday-Friday lead-in for NBC5's 10 p.m. newscasts. It may be highly cost-efficient for the parent company, but could be a lead-in dead weight on many a night opposite CBS' still very potent crime series. They include
CSI: Miami, CSI: NY
and
The Mentalist
, which has been moved to Thursdays at 9 p.m. as part of a full-blown effort to torpedo Leno.
WFAA8's struggling 5 p.m. newscasts similarly rely heavily on
Oprah
's lead-in performance. Reruns of her show have been a bust all summer, and even the new ones aren't what they used to be. Once dominant at 4 p.m., the show now regularly runs second to Fox4's double dose of
Judge Judy
. And for better or worse, WFAA8 is contractually stuck with
Oprah
for at least two more seasons.
That's why interviews with Leno and Winfrey found their way into their respective stations' most-watched newscasts. And why NBC5 anchor Jane McGarry ordered, "Be there" (for Leno) after Curtis had done his deed.