This just in: a night in the lives of D-FW's late night newscasts (Tues., Feb. 19)
02/20/08 02:46 PM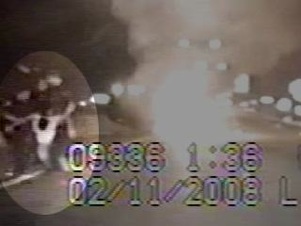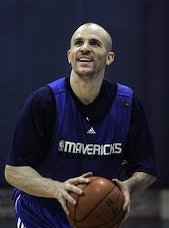 By ED BARK
When in doubt, cue up the grainy police "dash cam" video and roll with it.
Three out of four D-FW stations did just that Tuesday, leading their late night newscasts with the Feb. 11th rescue of a Cleburne man trapped inside his flaming SUV.
Two Fort Worth police officers came in for some much-deserved praise in the process, even if the stories had a very familiar ring to them. Is any term more over-used than "hero?"
"Humble about their heroic efforts," said Fox4 anchor
Steve Eagar
before passing the baton to a sober and almost worshipful
Jeff Crilley
.
"To protect and serve," he told viewers. "Those are not just hollow words. It's not just some slogan that the police use."
The two officers, Adam Coleman and Victor Tapia, pulled the man to safety just in time. It was all on the video, and TV is nothing if not a picture medium. Both rescuers said they were just acting in the line of duty. But anchors and reporters invariably see it otherwise.
"Officers Tapia and Coleman say they're no heroes, just doing what they're paid to do," said NBC5's
Scott Gordon
.
"Tonight, dramatic video that highlights the heroism displayed by police officers," CBS11 anchor
Karen Borta
told viewers before
Carol Cavazos
detailed their story.
The rescued driver declined to be interviewed on-camera, and Cavazos perhaps provided an overriding reason why. She was the only reporter to both name the man and peg him as an "illegal immigrant."
WFAA8 downplayed the rescue in a middle-of-the newscast snippet, instead going in a completely opposite direction by leading off with a story on possible police wrongdoing in the shooting death of a teenager. Reporter
Rebecca Lopez
said the Dallas PD is investigating the matter. All concerned, including the deceased's attorney, acknowledge he was "up to no good" when the shooting occurred.
Later in the newscast, WFAA8 fell back on another newscast staple, video from a merchant's surveillance camera. In this case,
Chris Hawes
reported on a theft in Irving during which a little boy seemed to be in the company of two adult crooks.
"Watch. Boom," said the store owner as the kid tripped while carrying off some merchandise.
"Ow," said Hawes. She later told viewers that the owner hopes the child can be identified by someone before he's sucked into a life of crime.
Tuesday also brought the finalization of Jason Kidd's trade to the Dallas Mavericks, complete with press conference. All of the stations except Fox4 waited until their regular sports segments to talk about it. This gave Fox4's
Mike Doocy
a chance to double-dip with a rare commentary near the end of the newscast.
"The Mavs might regret this deal for a long time," he said before crediting owner Mark Cuban with being "willing to swallow some pride" and make the deal rather than wait for point guard Devin Harris to develop.
"Anything less than a championship and this Kidd deal is a failure," Doocy said. "That's an incredibly high standard by which to judge a trade . . . I still would not have done the deal. But if the Mavs win a title with Kidd, I will be the first to sit here and admit I was wrong."
NBC5 sports anchor
Newy Scruggs
doesn't get enough air time to admit much of anything. So he told viewers, "I like this deal" before urging them to read more at his
"New Dawg blog"
on NBC5's Web site.
CBS11's
Babe Laufenberg
shared Scruggs' opinion.
"Here's all you need to know when analyzing the trade," he said. "(The) Mavericks are a better team today than they were yesterday. And come playoff time, they'll be a whole lot better than they are today."
WFAA8's usually voluble
Dale Hansen
had no further opinions Tuesday night. Perhaps Hansen shot his wad on earlier sportscasts in which he called owner Mark Cuban a liar and said the $4 million payoff to former Maverick Keith Van Horn is "an unbelievably stupid way to run a business and incredibly unfair to your ticket-buying fan."
And In Other News . . .
CBS11 investigator
Robert Riggs
did a nice job of nailing an obviously crooked and arrogant roof contractor who profited from a recent hail storm.
Repairs were never done by Shawn Tatum, who nonetheless cashed a number of homeowners' checks and now has filed bankruptcy while simultaneously claiming that money is owed to him. Outside a courtroom, Tatum figuratively stiff-armed Riggs, asking him, "You mean this is really a story?"
Well, yeah.
"Nobody's suffered any losses," Tatum contended before mockingly telling Riggs, "Thanks for your time, Robert." He then softly shoved him away. Tatum lately is selling hockey gear to youth leagues, Riggs then told viewers. Buyers beware.
***
Fox4 gumshoe
Paul Adrian
had another revealing piece that in fact was more serious-minded than its title -- "How Now Cash Cow?"
Adrian looked at the massive property tax breaks developers are cashing in on under the state's agriculture exemption laws. Tarrant County's chief appraiser, John Marshall, jokingly called it the "developer relief act." About all you have to do is bale a little hay on undeveloped land in order to qualify, Adrian was told.
Fox4 juiced his extended report with those annoying "whoosh" sound effects popularized in another TV era by
A Current Affair
. It's understood that this presents a difficult "picture story," but let's try to find something less intrusive.
***
WFAA8's "Dryer Danger" expose included anchor
Gloria Campos
brandishing one of these lethal hand-held weapons before turning it over to reporter
David Schechter
. It turns out that hair dryers sometimes can shoot flames or even burst into flames on their own. And as one aggrieved woman put it, "Basically, no one wants to have the Fourth of July in their bathroom."
Schechter didn't deploy his Barbie dolls for this one, as he has during stories on decreased spending by consumers. But surely she's very concerned about this.
***
Over on NBC5, reporter
Ellen Goldberg
said that restaurants increasingly are using surveillance cameras in their dining rooms, supposedly to gauge customer satisfaction.
"I'm not watching them eating," said a Subway manager with the foreboding name of David Doom. "I'm watching to see that they're happy."
Lettuce pray.