All miked up with nothing to show as the Rangers demolish the Yankees and the locals stand around
10/20/10 11:55 AM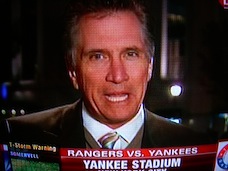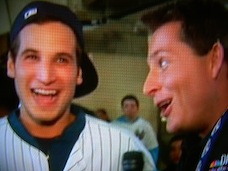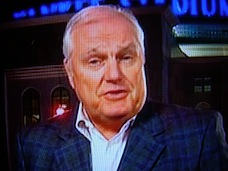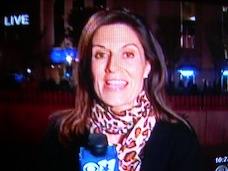 Clockwise from upper left: Fox4's Mike Doocy; NBC5's Matt Barrie (with fan); CBS11's Gina Miller; WFAA8's Dale Hansen. Photos: Ed Bark
By ED BARK
D-FW's four major TV news providers continue to fly their flags outside Yankee Stadium. Unfortunately for them, they're all at half-mast.
Elongated Rangers-Yankees games on both Monday and Tuesday nights have run past the 10 p.m. sports segments on the stations, with Game 4 of the ALCS extending all the way to 11:13 p.m. local time.
It kind of takes the starch out of those live-from-New York dispatches. Prevented from airing any game footage until the TBS telecasts are over, the stations' designated hitters have been left standing outside in the cool NYC air with little to say except that the Rangers are ahead. Meanwhile, anyone with even a passing interest in baseball or the Rangers is watching the live game coverage on TBS. Bang for their bucks? All concerned might as well be in a North Texas sports bar, where at least you can show patrons jumping up and down with excitement.
"I'm still hangin' in here. I have no idea why, but we are," WFAA8 sports anchor told sidekick weathercaster Pete Delkus Tuesday night. Hansen later discoursed on the "incredibly crazy" nature of the game's early innings. "A lot of wild plays -- and we can't show you any of 'em."
It's tempting to say that Hansen, more than any of his colleagues, is getting exactly what he deserves. He largely ignored or ridiculed the Rangers for years, saving them for the butt-end of his sportscasts far more often than not. Still, it's invariably entertaining to have Hansen on any scene, even if the game of baseball is as foreign and palatable to him as a vegan restaurant.
Meanwhile, CBS11 has sent a veritable task force to Manhattan, in no small part because sister station TXA21 has a Friday night Rangers baseball package. Gina Miller handled the live sports segment Tuesday night, urging viewers to tune in for Babe Laufenberg's eventual live post-game coverage and locker room interviews on TXA21.
CBS11/TXA21 news anchor Tracy Kornet also was live from New York earlier in the newscast. She introduced video of herself in a bar with Rangers supporters Jim Weiss and Tom Shirocky.
"So we've got the No. 1 Rangers fan and the No. 1 Nolan Ryan fan," she said, putting her hand on the shoulder of the Ryan fan. "That is pretty darn good. Right here in the middle of Manhattan." No further comment is necessary, save for an ick.
NBC5's co-sports anchor, get-up-and-go Matt Barrie, easily showed the most enterprise. Rather than stand live outside Yankee Stadium, he was inside for a freshly taped interview with Yankee bleacher-ite Jared Macchirole. Along with his brother, Jay, he was the guy who seemed to impede Rangers outfielder Nelson Cruz's effort to snatch Robinson Cano's long drive out of the stands. Cano got a home run out of the deal.
"Now be honest with me, Jared. Could Nellie have caught the ball?" Barrie asked.
"I did not touch his glove," Jared insisted while laughing. "I'm certain I did not touch his glove." Holy Macchirole.
Back in NBC5's Fort Worth studios, co-sports anchor Newy Scruggs said, "Well, looks like it won't matter, because the Rangers are in control."
Scruggs later expressed his new-found disinterest in the team that plays across the street from the Rangers ballpark. Anchor Brian Curtis baited the hook by observing, "We need a little Rangers magic to like drift over to Cowboys Stadium."
Pause, one-two. "I'm not thinkin' about them right now," Scruggs finally mustered. "This is a baseball town now."
Over on Fox4, sports anchor Mike Doocy stood live outside Yankee Stadium to note that Rangers catcher Bengie Molina was looking like the ongoing game's "unlikely hero" after swatting a two-out, three-run homer in the 6th inning to give his team a 5-3 lead that ended up ballooning to a 10-3 final.
Doocy also talked about the "steady attitude" of Rangers manager Ron Washington before segueing to generic tape from an earlier press conference. "We're just doin' what we do -- play baseball," Washington said. Snore.
All four stations will get another crack at actually showing some game highlights or doing live interviews on Wednesday's 6 p.m. newscasts. The Rangers will advance to their first ever World Series if they win a day game scheduled to start at 3:07 p.m. local time. Still, the way things have been going, the game is likely to stretch past 6:30 p.m., once again leaving the locals in the lurch before they all fly back home either Wednesday night or Thursday morning.
Financially hard-pressed stations don't talk about their budgets under these circumstances. But I kind of like the idea of Hansen sleeping on a Central Park bench to save on expenses. Don't think it wasn't suggested.