NBC5 meteorologist James Aydelott heading back home to Tulsa
11/20/08 04:06 PM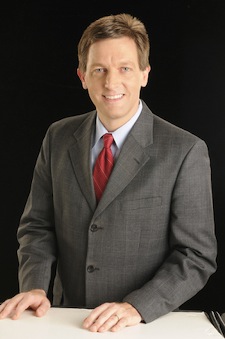 By ED BARK
NBC5 meteorologist James Aydelott, who works weekends and various weekday shifts, is leaving the station to become the featured forecaster at Tulsa's Fox affiliate, KOKI-TV.
Aydelott, who joined NBC5 in June 2005, will remain with the station through this year before returning to his hometown. He previously had spent 10 years as a weatherman for Tulsa's CBS station.
"It's a terrific opportunity to be a chief meteorologist in a severe weather market," Aydelott said in an email to unclebarky.com Thursday. "My mother lives there, and she's thrilled. She already has a four-page 'Sonny-do-list' for me."
Aydelott's wife, Robyn, currently a promotions producer at CBS11, is from Springfield, MO, "and this puts us much closer to her family as well," he said. "This was a very hard decision to make. Robyn and I both love living here and working here. I've grown so much at NBC5, both personally and professionally. I seems there's never a dull moment around here, and every competing station does such a great job with all the non-dull moments, too"
Aydelott praised longstanding NBC5 chief meteorologist David Finfrock as a role model and friend who helped to improve his weathercasting skills. Still, nobody's perfect in fair weather or foul.
"I will take my 'viewer complaint email hall of fame' with me," Aydelott said. "There's nothing like severe weather coverage to generate a full in-box."