Watch out: Mavs men ready to dribble and dunk on home screens near you
10/29/08 11:48 AM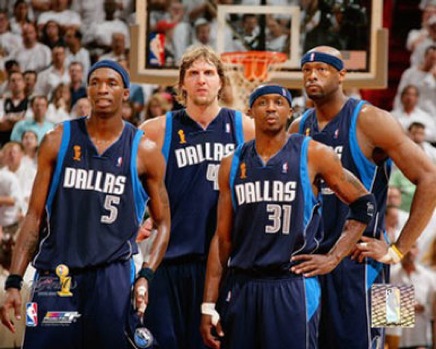 By ED BARK
The same old, same old Dallas Mavericks -- save for new coach Rick Carlisle -- start playing for keeps on Halloween eve. Ooh, scary?
The Mavs' Oct. 30th home opponent, the Houston Rockets, have added the always problematic but still very talented Ron Artest to a lineup that already includes NBA All-Stars Yao Ming and Tracy McGrady.
But what have the Mavs done for fans lately, besides bowing out in the first round of the NBA playoffs in the past two seasons while bringing back the same cast of aging on-court characters? And will the team's TV ratings plunge during this season of very low expectations?
Thursday's opener is on a national stage, with a 7 p.m. tipoff scheduled on TNT. The next six games will air on the usual mix of TXA21 (first telecast at Minnesota on Nov. 1) and Fox Sports Southwest (beginning with a Nov. 7 roadie at Denver). Announcing teams will shift a bit, with Bob Ortegel rejoining Mark Folowill on TV while Brad Davis returns to radio with incumbent Chuck Cooperstein.
Fans who enjoy seeing old favorites in uniform won't be disappointed. Those who wanted a major shakeup remain pissed. Returning from last season's underachieving team are six players in their 30s -- Dirk Nowitzski, Jason Kidd, Jason Terry, Jerry Stackhouse, Erick Dampier and Devean George. There's also troubled 28-year-old Josh Howard, who's had a very hard time acting his age.
Carlisle promises an accelerated offense that will run whenever possible. But can these guys -- puff, puff -- maintain that pace through an 82-game schedule?
Point guard Kidd, the oldest Mav at age 35, says he feels liberated in his first full season with the team after having to adapt to ex-coach Avery Johnson's gut-and-grind offense. Um, don't make me laugh.
Owner Mark Cuban, basically standing pat in the off-season for the first time since he bought the team in 2000, says the 2008-'09 Mavs will be far more formidable than the team's many doubters predict.
First, though, they have to make the playoffs. And after sagging badly in last season's home stretch, that's hardly a given. Then they'd have to win at least one playoff series to gin up viewer interest. Imagine that.
It all points to seriously deflated TV ratings, which sagged last season. But Thursday's opener should do well. And an early curiosity factor always kicks in when a team changes coaches. Also, Carlisle, no NBA virgin, already is a proven a big winner -- in the regular season at least -- as coach of the Detroit Pistons and Indiana Pacers.
Otherwise these upcoming 82 games can't help but be viewed as a faded prelude to next spring's playoffs. Same team, different result when it really counts?
O this eve of a new season, though, the Mavs look w-a-a-ay too much like another rerun. And no viewer likes those.