Storm troopers: D-FW's TV news grunts out in force in early morning elements
02/01/11 08:30 AM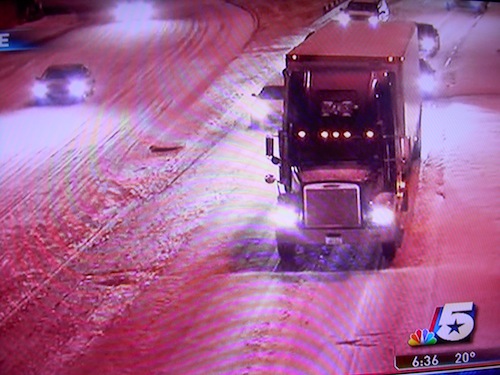 Traffic crept gingerly through early morning snow/ice. Photos: Ed Bark
By ED BARK
Well, they weren't exaggerating.
Monday's dire forecasts of an "arctic blast" garnished with a "wintery mix" and heavy winds proved all too true Tuesday morning. D-FW's early morning news programs responded with team coverage and an array of winter wardrobes for reporters pulling crack 'o' dawn duty on a day when area schools shut down en masse, DART's rail system stopped running and DFW Airport was temporarily closed.
It's easy to criticize. But given the elements and the circumstances, Fox4, NBC5, WFAA8 and CBS11 all provided a valuable service by giving viewers an overall big picture of what was going on. NBC5, WFAA8 and CBS11 all preempted their networks' morning shows in favor of continuous coverage while Fox4 proceeded as usual with the 7 to 9 a.m. portion of its homegrown
Good Day
.
Ratings will end up being double or triple their usual size for all four stations. Anticipating as much, none of them waylaid their usual commercial breaks.
There were some notable excesses amid the live blow-by-blow reporting, none more ridiculous than WFAA8 anchor Cynthia Izaguirre touting the station's live, "exclusive front seat" coverage from a sand truck leading the Green Bay Packers' toward Cowboys Stadium for Super Bowl XLV's mid-morning "media day."
"You are actually watching the Green Bay Packer team within four buses," she enthused. Imagine that.
Over on NBC5, reporter Julie Tam noted that "the cars are also behaving pretty well." She meant the motorists behind their wheels.
Tam also marveled at a lone icicle sprouting from the front bumper of an NBC5 news truck. Back at the station's Fort Worth studios, co-anchor Scott Friedman riffed, "First icicle sighting of the morning right there."
"And she was so impressed by it," added co-anchor Deborah Ferguson. "It sounded so cute. 'Look, an icicle.' "
As noted, though, everyone tried hard. Here's our unclebarky.com picture book of the morning's cold weather warriors.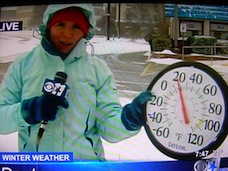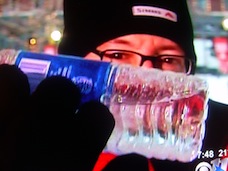 Props department: CBS11 reporters Andrea Lucia and Joel Thomas.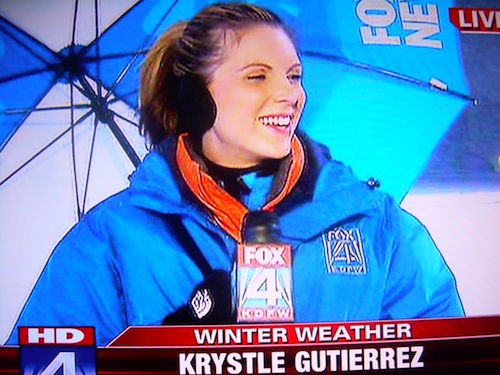 All aglow: Fox4's Krystle Gutierrez let a smile be her umbrella.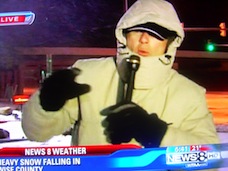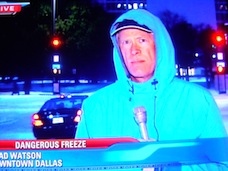 Old dogs: WFAA8's Jim Douglas, Brad Watson are still in harness.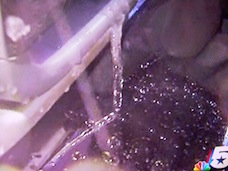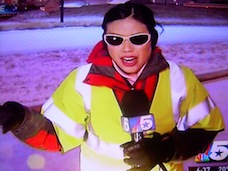 NBC5's intrepid Julie Tam points out her amazing discovery.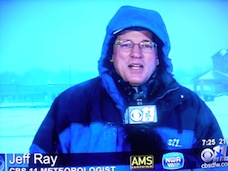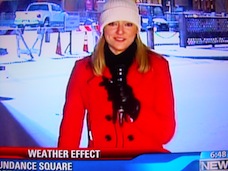 CBS11's Jeff Ray and WFAA8's Colleen Coyle were the only weathercasters to actually get out in the stuff. Good for them.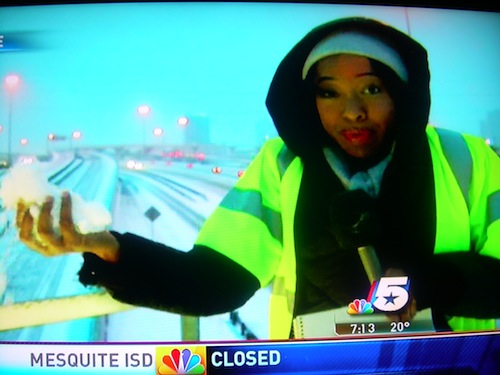 Frosty her snow hand: NBC5's demonstrative Amanda Fitzpatrick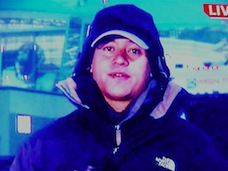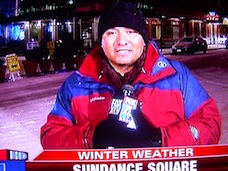 Fox4's seasoned early morn duo of Adrian Arambulo, Saul Garza.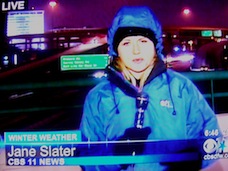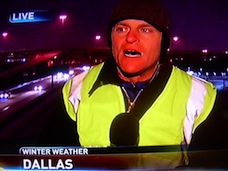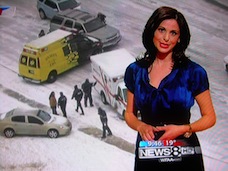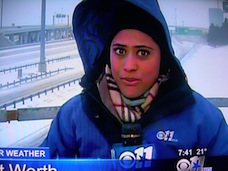 Mix 'n' match: Clockwise from upper left are CBS11's Jane Slater, NBC5's Grant Stinchfield, CBS11's Sana Syed and WFAA8's in-studio traffic reporter Alexa Conomos, who looks as though she'd dressed for a nice 'n' balmy spring day on a morn tailor made for sweaters.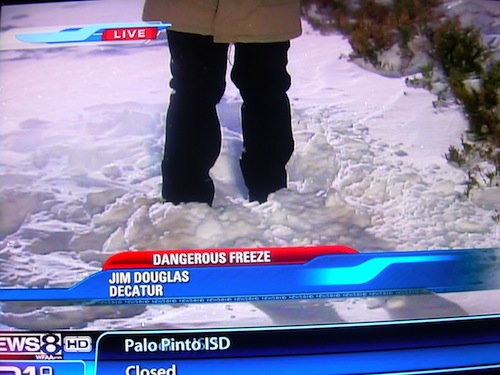 Last impression: the snow-encased feet of WFAA8's Jim Douglas.